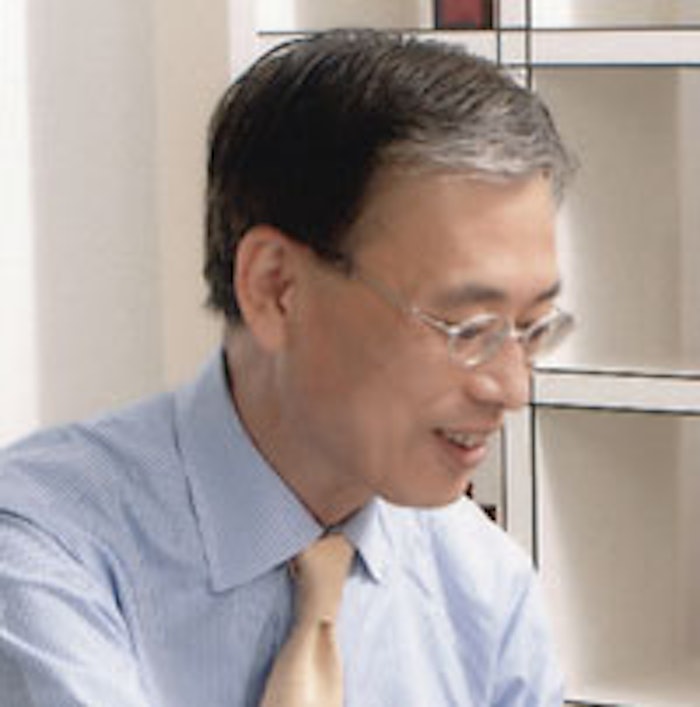 "It's the way you play that makes it … Play like you play. Play like you think and then you got it, if you're going to get it. And whatever you get, that's you, so that's your story." —Count Basie
Shinzo Maeda's story begins to build around the time Glenn Miller's "Moonlight Serenade" first sent a shiver down his spine. He discovered jazz as a trombonist in his high school's brass band, and developed such a craving for the American music genre while at Keio University that he arranged his campus life around the Big Band Club's practice sessions. At the same time his enthusiasm for jazz was growing, he developed a similar attraction to a company whose corporate image and cutting-edge technologies drew his career aspirations. Today, Count Basie is a favorite, and Maeda is president and CEO of that inspiring company, Shiseido, where he started his career in 1970.
Shiseido has grown from its start in 1872 as Japan's first Western-style pharmacy. Maeda oversees an organization whose cosmetics brands include Maquillage, Clé de Peau Beauté, Benefiance and Benefique. Non-Shiseido brands include Jean Paul GAULTIER, d'ici la and IPSA. The cosmetics segment represents 79.5% of the company's total net sales for fiscal year 2006. Sales of toiletries, professional products and pharmaceuticals also contribute to corporate revenue.
Working the Plan
When he succeeded Morio Ikeda as president of Shiseido in 2005, Maeda's charge was to carry out the latest three-year plan, called "Growth & Rapid Progress," which he had worked with his predecessor to develop. An earlier move to the head office and a succession of positions gave him broad experience in fiscal planning, marketing and inventory management, culminating in his appointment as general manager of the cosmetics strategic planning department of the cosmetics marketing division in 1996. It was there that he first became closely involved with Shiseido's three-year plan, one that, at the time, called for brand concentration, mega-brand building and a way to become number one in respective categories.
Now, Maeda leads the company in executing the current plan—which, in broad strokes, promotes becoming thoroughly committed to customer-oriented marketing, building a solid profit structure and improving the execution and speed of all reforms. "By pursuing these themes, we aim to maximize brand value and transform Shiseido into a company that consistently achieves operating profitability above 10% over the medium to long term," said Maeda. Key strategies include reforming domestic marketing activities and accelerating expansion of the company's China business, along with fundamental restructuring. Here's a snapshot of current conditions and a peek at the plan.
Mega-line strategy
Reforming domestic marketing activities means refining brands and product lines that act, in Maeda's view, as a valuable management resource in connecting Shiseido with its customers. "We undertook brand strategy renovation and promoted our 'mega line' concept aimed at acquiring the number one position in each category," said Maeda.
The current three-year plan promotes "thoroughly customer-oriented marketing" by renovating brand strategy to refine brands and lines, valuable assets that Maeda said "link us with our customers." The plan includes a fundamental reorganization of the formerly segmented portfolio for Shiseido's regional lines into two broad categories: lines that expand customer contact points and lines that deeply entrench customer contact points, which cultivate customer relationship in limited retail channels.
The mega line concept aims to create leading lines in their respective categories. Maeda believes that merging and reorganizing existing lines enables intensive, effective spending in nurturing lines with new value that earn the overwhelming support of customers. The August 2005 launch of Maquillage in the makeup category and renewal of the Uno line in the men's category are two such examples. Six months later, sales and recognition levels for these lines had significantly exceeded original projections, said Maeda.
The mega line concept will be put to the test in the current fiscal year. Shiseido will launch Elixir Superieur, a new large-scale skin care line, and Integrate, a new makeup line—both in the first half of the year. "We must achieve successful launches of these new mega lines while thoroughly strengthening those already in the market," said Maeda. "Mega lines introduced during the previous fiscal year all attained high recognition and exhibited strong initial performance."
Overwhelming the Competition
For Maeda, a brand is a valuable resource that links Shiseido with its customers. A brand, he said, can only be called genuine if it embodies all of the following elements: a sense of absolute reliability and reassurance, commanding presence, adoration and pride. "We must continue refining the Shiseido brand as a genuine brand, and the domestic marketing reforms hold the key," he said. Making the Shiseido brand "shine even brighter" has been his goal since becoming president.
His strategy can be summed up like this: To nurture broad and strong brands and lines, it is important to identify competitors in each cosmetic category and provide value that overwhelms them. In April, Shiseido began to develop leading lines by grouping the organization into strategic business units based on product categories and sales channels, enabling selective and concentrated resource allocation. Brand managers, responsible for all marketing, were assigned to each business unit.
Today, brand managers coordinate planning and direction of creating lines, advertising, public relations and sales promotions. "Using this category- and channel-based framework as a starting point, we will review the marketing process in the current fiscal year. By carrying out advertising and promotional planning in tandem with product development from the initial stage, and by incorporating customer evaluations at each stage, we will establish the most effective marketing plan," said Maeda.
The reorganization reduced overlapping business and clarifyed uncompetitive brands and lines. The R&D division, seen by Maeda as the source of value in product creation efforts, brought together the Research Center and the Institute of Beauty Sciences, establishing the Beauty Solutions Development Center, and changed to a system that sees products and beauty methods develop together.
To the plan's second strategy, accelerate expansion of Shiseido's China business, further progress has come in positioning China as the symbol of Shiseido's growth and advancement. At department stores, money was spent on the exclusive China brand, Aupres, and global lines under Shiseido to update sales counters, advertising and sales promotion—resulting in significant increases in sales of these brands. "In the voluntary chain store channel, we aggressively developed our operations by executing contracts with more than 1,000 cosmetic specialty stores, as planned," said Maeda.
China and Beyond
China holds great interest for Shiseido that extends well beyond R&D. The Chinese market has been growing at a rapid pace since the 1990s, and this year, according to Maeda, total cosmetic sales in China were about 96 billion yuan, or about 12 billion U.S. dollars. With exchange rates taken in consideration, cosmetic sales in Japan are slightly over 100 billion yuan, or about 13 billion U.S. dollars. "The market is very close to Japan in size, and we think it will soon overtake Japan," said Maeda. "The Chinese market is a driver of Shiseido's growth.
"In November 2005, as part of our efforts to improve the infrastructure supporting the brand- and channel-specific strategies in China, we strengthened the R&D functions of Shiseido China Research Center by establishing a new facility approximately 3000 meters in area," said Maeda. The new research center is 10 times larger than the previous facility. Research to develop products for the Chinese market goes on there, and the center is responsible for "conveying new beauty value to the rest of the world through research on Chinese medicine," which is gaining increasing global attention.
Shiseido began exporting products to China in 1981, and the business has expanded rapidly. Sales growth exceeded 30% for the fiscal year ended March 2006. However, the retail environment has been changing significantly as major global competitors strengthen their operations in China, according to Maeda. "In order to thoroughly enhance Shiseido's presence in the current Chinese market and achieve further growth in this challenging situation, we must promote a clear, forward-looking brand- and sales channel-specific strategy," said Maeda. "We will work this in the current fiscal year ending March 2007 by launching products and promotions that meet customer needs in each sales channel."
In department stores, Shiseido plan's to further raise the value of the Aupres brand, which has become the top seller in Chinese department stores that carry it, by introducing a line with higher value than the existing selection and ramping-up in-store promotions. Aupres was developed to meet the specific needs of Chinese women, and is still sold exclusively in China. Looking beyond China, Shiseido is not alone in working to develop the next frontiers for the industry. It has sold products in Russia through a distributor since 1999, and is seeing steady growth there. Shiseido has been in India since 2001, also through a distributor, and reports small but steady sales growth.
Spreading Resolve
To address the plan's third strategy, Maeda promoted cost structure reforms to improve profitability. He was able to regain profitability in the toiletries business by concentrating management resources and efficiently deploying expenses in the three cleansing areas: shampoo/conditioners, body soap and facial cleansers.
The current fiscal year ending March 31, 2007, is the second year of the three-year plan, and results this year are critical to the plan's success. Securing the growth levels of the last fiscal year will require acceleration of reforms and the steady implementation of action plans, said Maeda, and priorities include reforming domestic marketing activities, accelerating expansion of the China business and aggressive expansion into growth markets. "We will also take our fundamental restructuring initiatives one step further through measures such as withdrawing from underperforming business and brands and lines and drastically reducing fixed costs," he said. A little more than one year into the three-year plan, Maeda is hitting the numbers, and other ideas are catching on. "My resolve to break down and rebuild the company structure, if necessary, has spread," said Maeda.
Count Basie said, "If you play a tune and a person don't tap their feet, don't play the tune." It sounds like feet are tapping to Shinzo Maeda's tune and his story will continue to develop in double time.