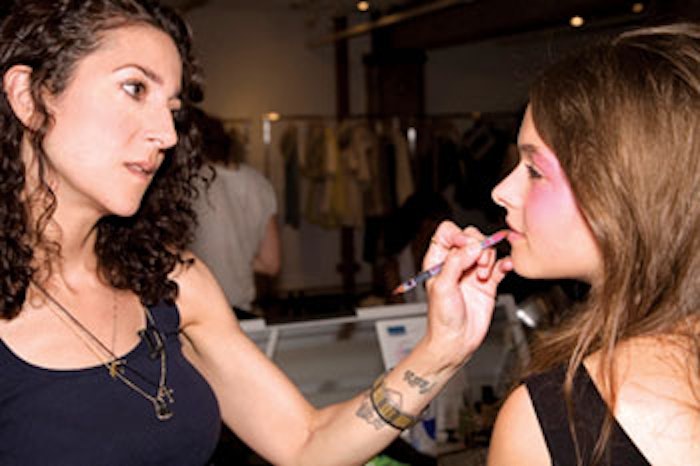 Bringing in outside experts to merge product ideas can lead to innovations and growth.
Product decisions and strategies are driven by consumer feedback.
In the world of beauty brands, Tarte Cosmetics has become known for its successful business collaborations. Bringing in outside experts to merge product ideas, such as on the vitamin-infused Tarte/Borba Inside Out Lipstick and Lip Gloss lines and the Enbrightenmint pen, a dual-sided gel and vitamin-infused lip gloss (the brainchild of Tarte's CEO Maureen Kelly and teeth-whitening giant BriteSmile), have become a staple of the brand's innovations and growth. When it came to teaming up with Scott-Vincent Borba, a cold call from the founder and CEO of Borba encouraged the partnership. For Enbrightenmint, Kelly's idea for a blue-toned lip gloss that would make teeth appear whiter spurred a conversation with Denise Parpard Harrison, vice president of marketing, and other executives from BriteSmile, which had already introduced a popular teeth-whitening gel to the market. But for Tarte's 10-year anniversary in 2010, Kelly turned to celebrity and runway makeup artist Tina Turnbow for her fashion expertise before launching the Flower Child Limited Edition Collection in January to Sephora, Henri Bendel, QVC and online boutiques across the U.S. "The collaboration began with us supporting Tina at award shows, movie premiers and other celebrity-driven events," Kelly says. "During the past two years, our partnership evolved, as she was the lead artist at some of our Beauty.com-sponsored fashion shows, including one for [English fashion designer] Charlotte Ronson."
In 2008, Tarte revamped its image to feature what it called "health couture" beauty —where healthy ingredients meet fashion-forward packaging. To help eliminate environmental waste, Tarte made its cheek stain components recyclable, and the eye shadow palette has a magnetic base, which allows the consumer to refill shadows and reuse the packaging. The brand had also taken its high-performance ingredients to the next level by ensuring what Kelly says are "clinically proven" results.
"To us, that means using groundbreaking eco-technologies that deliver unique and proprietary blends of 100% natural ingredients," Kelly says. "For example, we want foundation to do more than just cover minor imperfections. We want it to tighten and firm skin."
For the Flower Child Collection, Kelly was already planning ways to incorporate the world of eco-beauty and fashion into her cosmetics when she realized how big of an asset Turnbow could be to the new product line.
"Tina embodies the essence of our 'high-performance naturals' motto," Kelly says. "It was really the perfect marriage: natural cosmetics brand meets green celebrity makeup artist. As a natural brand creator, I appreciated her commitment to green beauty and her passion for efficacious, 'good-for-you' cosmetics."
For a meeting of the minds, Kelly invited Turnbow to Tarte's offices in New York. Amid couches in the brand's signature purple color, lit candles to stimulate mood, and fresh flowers, Kelly and her team brainstormed a new makeup collection with Turnbow. "I was there to help guide with the color end of things," Turnbow says. "The way people have played with color throughout the decades has always fascinated me—the way shading is done and how browns and neutrals came in with the natural look in the 1970s. I also love the pops of color that became popular in the 1960s and 1980s. I wanted a natural hippie vibe, and Maureen and her staff ran with it. They also knew I love flowers, so they included them on the packaging."
Turnbow's bohemian fashion influences are visible in the silk-screen flowers imprinted on Tarte's Flower Child cheek stain, the flower décor on the eye shadow palette and the rich earthen hues dispersed among subtle pops of color, evoking spring flowers reminiscent of the time period. Drawn to greens especially, such as her favorite shimmering Tarte jade eye pencil, Turnbow says she chose a diverse palette of warm and cool tones for the Flower Child Collection that could be blended for different looks. "Having dual tones in this collection, it will be a fun for women to play with a smoky purple, a deep green, navy or gray," Turnbow says. "All the colors mix well together. For instance, when the navy blends into the pink, it makes lavender. You can also make a smoky, bronzy brown eye with the colors available. The wide variety gives you the opportunity to play with color but mute the look with neutrals."
As the first makeup artist collaboration for Tarte, Turnbow's insight into the Flower Child Collection stems from her previous experience working with eco-conscious cosmetics and clients. Before joining forces, Turnbow says she was already regularly using Tarte's original cheek stain. She was introduced to the brand during her four years as a spokesperson for Beauty.com.Starting out in the beauty industry in 1998, Turnbow's first job in New York was assisting makeup artist icon Pat McGrath on a Calvin Klein ad with model Christy Turlington. Since then, she's taken on celebrity clients, including Mary-Louise Parker and Keri Russell, on whom she hopes to try Tarte's new color cosmetics.
"I work on fashion shows and beauty editorial shoots with ladies who keep fresh with fashion and style," Turnbow says. "I'm constantly inspired by my clients. I make them feel better about themselves, while they help me hone my craft. I'm thrilled to have had the opportunity to go behind the scenes and create a season, because in this business, we all work so hard to please the consumer."
Like Turnbow, Tarte's dedication to the industry is driven by consumer feedback. "We're constantly tweeting, blogging and Facebooking," Kelly says. 'We want to hear from our customers."
While Turnbow works in the high fashion world, learning about celebrity's makeup needs, Tarte focuses on everyday female consumers of all ages, including the brand's savvy staff. "I like to call it the three Rs: reading, researching and reviewing," Kelly says. "My creative team stays atop of beauty, fashion, health, entertainment and lifestyle trends. It's also in the trenches, trying everything that's available on the market. After doing independent homework, we meet to discuss what we love/hate and what is missing in their cosmetics bags. These Tarte 'think tanks' are where the magic happens."
Thanks to the think tanks and outside expert advice, such as Turnbow's celebrity insight, Kelly says Tarte consumers can expect a lot on the horizon for the brand. "We'll continue to experiment with new natural ingredients, innovative delivery systems, clinically proven formulas and eco-friendly packaging," Kelly says. "We're also expanding complexion shade ranges to meet all our customers' needs."
Leslie Benson is a freelance writer and former editor for GCI magazine.