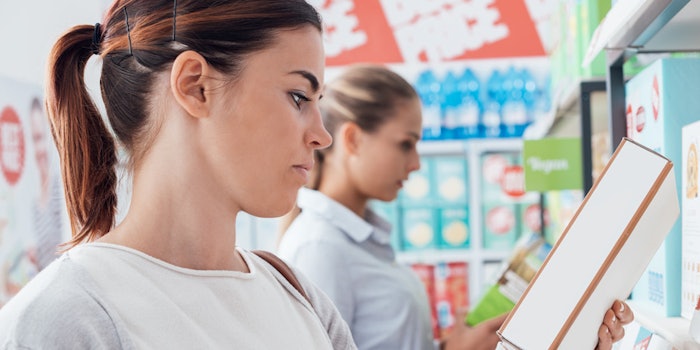 Before hitting "add to cart" or heading to checkout, consumers are increasingly inquiring about how products were manufactured, inspecting ingredient lists and demanding beauty brands be completely honest about product content and ambiguous business practices.
While honesty from retailers is highly valued, consumers say it can be hard to come by; just 21% of Gen Z and millennial consumers completely trust what retailers tell them, according to Oracle Retail's recent Setting the Bar research. 
Beyond conversations with salespeople and online Q&As, consumers are making these growing demands known through their wallets and are using their buying power to make sure their voices are heard. Shoppers around the globe are demanding transparency into every facet of the products they buy, from where the flowers that go into their perfume were grown to what ingredients are really in their favorite nighttime lipstick. 
Consumers want clear information on products to inform their decisions about what to buy and which brands they trust. And, as purchasers with spending power, their choices collectively can spark change and drive industry shifts. 
It's important that brands understand that transparency is a core component for building loyalty with today's shoppers. Beyond openly communicating with their customers, this means brands must go to new lengths to adhere to high standards of transparency, traceability and honesty if they want to acquire, cultivate and retain loyal customers. 
Why Transparency Matters
While they are trendy topics, the concepts of transparency and traceability aren't new; the digital and social media era has just catapulted consumer expectations. In recent years, the beauty industry has faced challenges as ecommerce and globalization have opened new doors for counterfeiters and rising consumer focus has put a spotlight on ingredients. 
The United Kingdom recently faced a health scare related to fake cosmetics, and a seizure of counterfeit goods led authorities to find extremely high levels of mercury and illegal levels of a skin-whitening cream, hydroquinone. Stateside, Estée Lauder—the owner of Estée Lauder, Mac, Clinique and DKNY Fragrance—faced multiple counterfeit claims and filed a lawsuit against a myriad of domain names and online marketplaces after fake and counterfeit products made their way to some of today's most reliable brands such as Target and Amazon. 
Needless to say, the beauty industry has reached a critical turning point and is forced to take action to protect consumers as well as brand and retailer reputations. No brand is perfect, however, if something goes wrong it's important that an accurate and verified record of every step along the supply chain is available immediately so the facts can be determined and communicated to the consumer. For cosmetics manufacturers and retailers, this is no small undertaking. 
Tools for Transparency
In the past, the process of tracking the supplier information needed to validate ingredient and production data was manual and often inaccurate, causing problems of accuracy and immediacy when contamination, recalls or mislabeling arose. To combat this, technology has been put in place to help brands adhere to high standards. 
Originally developed for the grocery industry in the wake of food contamination incidents, tools known as brand compliance solutions substantially reduce the time it takes a retailer to determine the facts of an issue and take the appropriate steps to resolve it. 
Transparency Drives Responsiveness
With the right technology, retailers can now refer to a trusted database and review every detail of a product's journey through the supply chain. This includes where a specific product was mixed or packaged to the details of its ingredients. With such immediacy and detail, this provides retailers with the keen ability to respond to potential issues at a quicker rate, helping to keep customers safe and helping brands maintain their reputations.
For example, if a popular beauty cream is speculated to be contaminated, a retailer can instantly review where their stock of the cream was formulated, packaged and distributed to identify the issue in a quick manner to respond to the public in an accurate and timely way. 
This is critical, as Oracle Retail's study found that 52% of consumers have a heightened trust in retailers that respond immediately and expediently in the event of an issue or recall. Furthermore, 66% of global consumers stated they expect immediate notification of a product recall. This can be a saving grace for brands and retailers, as traceability is a key factor in how companies react to contaminations and recalls. 
Crisis and safety concerns drove the grocery industry to innovate for the sake of transparency, and brand compliance tools have since delivered crucial results. Now, as rising consumer demands change the game for beauty brands, the same tools are helping salon shops and cosmetics retailers keep up.
Transparency Builds Trust
In addition to providing traceability in times of crisis, brand compliance tools also give cosmetics makers the ability to verify claims across their supply chains so they can confidently label products. As shoppers peruse the aisles of major beauty retailers, they are avidly looking for that "Clean at Sephora" insignia, the Leaping Bunnylogoor some other stamp of approval that denotes a company is honest with their product information, including where it can be traced back to and the ethics of how it was produced. 
In 2020, it's important that beauty brands and retailers keep up with the pace of change. Gone are the days when beauty brands could strategically place a graphic on the front of a product, highlight one of the "natural"  ingredients, and expect its sales to go through the roof. Consumers now have access to information with the click of a button and they are determined to dig deep, posing new challenges for brands. 
New demands are continuing to surface, and product claims are continuously being challenged. As a result, brands need to understand these challenges and how to respond to them in a strategic and transparent way. Not responding to public questioning could result in decreased sales and being singled out, and if a particular ingredient comes into question, competitors with a handle on their supply chains may use this to their advantage and market their products as "free-from" the ingredient in question. 
Brands that are ahead of the game and are seeking to meet rising consumer expectations are already using transparency to propel their businesses forward in new and innovative ways. With a comprehensive record of every step, process and component of supply chains on hand, brand compliance tools can enable retailers and suppliers to collaborate from the product development phase and across the entire product lifecycle, laying the groundwork for new, transparently produced products.
Transparency Keeps Brands Competitive 
With consumers hungry for information about product ingredients and their impact, beauty retailers should get ahead and think through how they can be more transparent and authentic. This means brands must practice what they preach and live up to their claims. Consumers don't just want to hear that brands are being more transparent; they want actual tangible results that they can measure for themselves.
Interestingly, Oracle found that 47% of consumers stated that they're more likely to trust new and emerging brands if they are honest and authentic, and 42% are more likely to trust newcomer brands if they are transparent about their products.
As recently as this year, Sephora took a proactive stand with their Sephora Public Chemicals Policy that focuses on strengthening ingredient transparency and safety, and whole plant organic skin care company Laurel actively engages with their customers via social media about their ingredients and the transparency of their sourcing methods. Companies that fail to keep up will be left behind in today's age of the transparency-demanding, socially conscious consumer.
The Future of Transparency 
Today's consumers are not blindly buying products; they are digging deeper into brands and thinking through their investments. Consumers have the true power, and they are embracing and enforcing this to their full extent. More change is to come, and brands need to stay ahead of the curve and implement traceability, information accessibility and most importantly, transparency into their businesses. If a brand is really going to commit to transparency or to a cause, they have to be fully engaged and dedicated to living up to that commitment with a strong foundation to support it. After all, transparency will always be on-trend. 
About Paul Woodward
Paul Woodward pioneered and founded the first collaborative compliance lifecycle solution in the early 1990s, which has gone onto be the world's leading application of its type. He now leads Oracle's global retail supply chain transparency, collaboration, product safety and Blockchain initiatives and works closely with the world's leading grocery retailers.