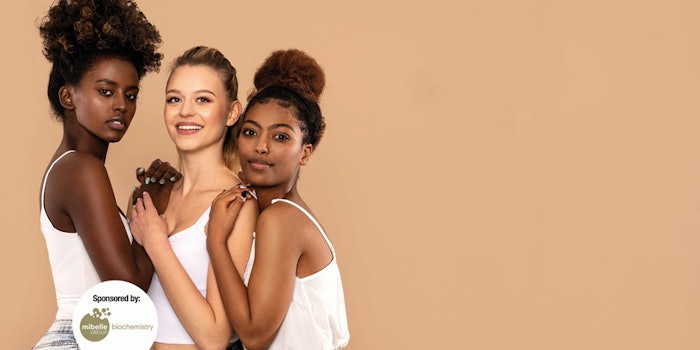 U.S. prestige skin care sales in 2020 declined 11%, according to The NPD Groupa. Key decliners included face cream, face serum and eye treatments, while the majority of growth came from body products such as creams/lotions, exfoliators, cleansers, serums and devices. This reflects the shift in shopper priorities toward self-care. Meanwhile, clinic closures and holds on elective surgeries drove results in at-home microdermabrasion and body sculpting-type products.
Despite the challenges, the most frequent beauty hashtag on Twitter amid COVID-19 was #skincare, and skin-related tweets on the platform numbered 6.4 million throughout 2020, per an analysis by Sprinklr and Twitterb.
Looking ahead, skin care appears poised for further resilience and growth in key areas, tapping into consumers' desire for rituals, efficacy and authentically healthy skin. Here, we survey the broad range of insights and brand and ingredient innovations that will define the categories' next phase.
Who is the Skin Care Consumer?
The nature of the skin care shopper and their needs changed over the last year. As reported by Euromonitorc, 21% of skin care shoppers purchase on digital platforms. Meanwhile, 41% are seeking personalized solutions tailored to their particular needs. This is reflected in the top five skin concerns, as reported by consumers:
Acne-related issues (49%)
Aging skin (44%)
Lifestyle concerns (34%)
Sensitive skin (33%)
Hormone-related (9%)
Recently, The Benchmarking Companyd presented a deep dive into the post-COVID consumer. The company's U.S. consumer surveys found that "the consumer has kept up with their normal skin care regimen during the pandemic. In March 2020, 90% of respondents said they were following their normal skin care regimen, with 84% and 85% doing so in May 2020 and September 2020, respectively."
The researchers added, "Eighty percent of consumers said they are trying to find activities that will lower her stress level during the pandemic, with 66% in March 2020 saying taking care of their skin and hair care needs reduced stress. In addition, 80% agreed it reduced stress in May 2020, and 78% said it reduced stress in September 2020."
Clinical/Efficacy on the Rise
In early January 2021, Larissa Jensen of NPDe reported that 2020 sales of natural skin care were, for the first time, eclipsed by clinical skin care, "which ha[s] now become the largest brand type in skin care."
Meanwhile, Lisa Holmes of Euromonitor reported in a 2020 survey: "Dermacosmetics have not only proven resilient in 2020, but certain brands, such as CeraVe and Dr Jart+, are reported to have achieved exceptional results globally and in Asia, respectively. Just as demand for clean and safe skin care formulations has risen, so have preferences for medically backed and clinically proven brands, which are deeply rooted in efficacy and science-backed results."
The science-backed positioning is particularly successful in categories that require results, including acne treatments.
Consumers are also arming themselves with new tools to easily assess product efficacy. For instance, the What's in My Jar (WIMJ;https://whatsinmyjar.com) platform is designed to help consumers bring science to skin care with an interactive app. The company has tapped into experts in dermatology, AI and science communication to create a tool that consumers can use to look for products that deliver promised results.
The WIMJ algorithm evaluates each product based on two criteria: effectiveness and irritancy potential. It assesses the likelihood that a product will irritate skin based on the clinical and research data available and tells consumers if a product has a low, medium or high irritancy risk. Effectiveness tells the consumer if a product can deliver its promises. WIMJ rates effectiveness on a scale of 1 (lowest) to 100 (highest). The closer the effectiveness score of a product is to 100, the more effective the product is.
• Score between 80-100: This product can deliver on what it claims.
• Score between 35-79: The product delivers some of its claims but will not deliver in full.
• Score between 1-34: This product will not deliver on its product claims.
To evaluate effectiveness, the algorithm decodes the products' marketing description into a claim of a tangible skin benefit. For example, it decodes the marketing speak of "quenching skin's thirst" as a simple promise of moisturization.
Some marketing claims such as "energizing skin" or "detoxing pores" are ignored because these types of claims are, per WIMJ, made up by a brand's marketing department and so the skin's biology does not align with these claims.
For each product promise, the algorithm scans the product ingredient list in search of substances that can help fulfill that promise. If a product claims to hydrate the skin, the algorithm will look for moisturizing ingredients. Each ingredient is then also evaluated based on the scientific evidence available to support its efficacy. If a product contains an ingredient that has been shown to work in multiple human double-blind controlled studies, it will be rated higher than a product with an ingredient that has only been shown to have a positive impact in a lab on cells in a petri dish.
In addition to assessing each ingredient against the product's marketing promise, the algorithm evaluates the product formula as a whole. A good moisturizer, for example, reportedly needs to include a combination of actives with different functions, such as ingredients that bind water or help repair the skin barrier. The algorithm takes this into account, rating the products with better overall formulas as preferable.
Ingredient concentration in the product formula is another factor that the algorithm considers. To be effective, the product must include a certain amount of active ingredients. WIMJ flags ingredients in products that do not meet this effectiveness threshold.
Finally, the algorithm rates products that are formulated to minimize skin irritation risk as higher than potentially irritating products with the same benefits. The reason for this, according to WIMJ, is that even a low level of inflammation caused by irritants can worsen skin's overall health and is bad for the majority of skin concerns such as aging, blemishes, tone, texture, etc. According to the company, products with relatively lower irritation potential are more likely to bring better skin results, even if the skin is not particularly sensitive.
The WIMJ algorithm assesses skin irritation potential for ingredients in the product formula, considering the typical concentrations used. When collecting the data on irritancy potential, WIMJ relies on ingredients' safety assessments conducted by reputable bodies such as scientific committees of the European Union (the Scientific Committee on Consumer Safety, in particular) and the Cosmetic Ingredient Review in the United States. In addition, the algorithm examines clinical data such as cases of dermal irritation, which are reported in dermatology publications. The rating goes as follows:
• Irritancy low (green): This product is unlikely to irritate skin and may work well for sensitive skin.
• Irritancy medium (orange): This product may be irritating, especially for sensitive skin consumers.
• Irritancy high (red): This product is likely to irritate the skin.
If WIMJ algorithm flags a product with a medium or high skin irritation risk, it does not mean the product will certainly cause a problem. Rather, it suggests the chance of irritation is higher for the given product. A product with low irritation risk can still cause a reaction, especially if a consumer has a rare sensitivity or has developed an allergy to a particular ingredient. As recommended, it is always best to patch test new products before using them.
Responding to increased demand for efficacious formulas, iLabs has developed a pair of clinical vitamin concentrates that feature eye-catching colors and impactful ingredients. The Ageless concentrate features effective levels of retinyl linoleate (for brightening and anti-aging benefits); a carotenoid complex comprising carrot root extract, carrot seed oil and beta-carotene (for blue light defense and a livelier skin appearance); and vitamin-packed (A,C,E) and ellagitannin-rich cloudberry oil.
The Hyperpigmentation concentrate features tetrahexadecyl ascorbate, a stabilized and active form of vitamin C (for collagen synthesis and skin brightening/tone-evening), vitamin C-rich dragonfruit seed oil (to reduce redness and inflammation), and hemisqualane (for skin elasticity and suppleness for a smooth, plump finish).
iLabs' Clinical Vita Serum Sticks deliver the efficacy demanded by today's consumers while adding a unique and mobile format that fits easily into daily routines.
The Anti-Aging (Vita-A) stick features technologies found in the Ageless concentrate, such as cloudberry oil, iLabs' carotenoid complex and efficacious levels of retinyl linoleate, as well as hemisqualene (found in the Hyperpigmentation concentrate) and kahai oil, which comprises vitamin E, linoleic acid and natural retinol for improved skin firmness, elasticity and skin resilience.
Meanwhile, the Hyperpigmentation (Vita-C) stick features cloudberry oil, hemisqualane, kahai oil and efficacious levels of tetrahexadecyl ascorbate, offering a vitamin C-rich formulation.
Making Skin Care More Inclusive
Kimberly Hairston-Hicks, founder of Good Beaute' Skin Care, recently collaborated with BASF to improve skin care efficacy for all. The beauty veteran has held roles with major firms but found herself on the losing end of a battle to get leadership to think about the needs of Black skin in a meaningful way.
When Hairston-Hicks launched Good Beaute' Skin Care, she focused on delivering vitamin C for melanated skin. Still, she felt limited by the known effective range of ingredients in the space. Wanting to venture deeper into the available technology, she engaged BASF to test combinations of existing technologies.
Black skin tends to have higher levels of sebum and lower levels of ceramides. This combination is what creates skin conditions that are simultaneously shiny and dry from moisture loss. By focusing on moisture and mattification for melanated skin, BASF's team was able to focus on a real consumer need to reduce shine while boosting hydration.
Meg Mullen, BASF's marketing manager—actives, North America, noted that, to address the challenge, BASF's team explored its array of ingredients that had previously proven efficacy to see if, in combination, they could offer solutions for melanated skin.
As a result, BASF researchers paired Mat-XS Bright (INCI: water (aqua) (and) butylene glycol (and) sarcosin (and) xanthan gum), which supports skin mattification, with Hydagen Aquaporin (INCI: glycerin (and) glyceryl glucoside), which supports hydration. This combination is COSMOS-certified and provides moisturization that lasts for 24 hours, per BASF, and was even noted by the company to outperform glycerin in consumer trials (all users self-identified as Black). The clinical study yielded a 36% reduction in sebum, a 12% reduction in shine and a 10% improvement in hydration after 14 days.
Inclusive beauty is BASF's goal, said Mullen, and so research continues into other potentially useful combinations to address all skin types. As for Hairston-Hicks, her wishlist for future melanated skin innovations include clean and sustainable materials, as well as organic SPF. She noted that her best-seller is the Vita C Moisturizer SPF 50 and that further consumer education is necessary to communicate the importance of SPF defense for melanated skin. Looking ahead, Hairston-Hicks would like to launch her "SPF 2.0" featuring mineral sunscreen ingredients.
Finally, said Mullen, brands seeking to break into inclusive beauty should follow BASF's lead by consulting with experts to ensure consumers' issues are being addressed effectively.
Microbiome Claims & Trust
Efficacy concerns are also shaping the microbiome sector. In January 2021, the U.K. Advertising Standards Authority (ASA) cited a paid 2019 Facebook post by Boots for Unilever's Baby Dove wash and lotionf. The post claimed, "Every baby is born with a unique microbiome, a living layer that protects its skin, nourish it with Baby Dove wash and lotion." The accompanying video claimed, "Baby Dove gently nourishes with prebiotic moisturizer."
ASA ruled that the ad breached rules on misleading advertising and claims substantiation. The organization concluded: "We told Unilever UK Ltd and Boots UK Ltd to ensure that they did not state or imply that their products had a beneficial, protective effect on the skin specifically as a result of their impact on the skin microbiome, unless they held sufficient evidence to demonstrate that was the case."
Trust, as ASA noted, is critical when it comes to the microbiome. In May 2018, Givaudan surveyed more than 1,500 female consumers and found that 8% "were scared by the skin microbiota." Post-pandemic, this number jumped to 27% in a survey of 3,900-plus female consumersg.
While these statistics seem off-putting toward microbiome-based product development, the company frames it as the perfect forecast for success in 2021. How? Additional numbers from the same studies show that 43% of people reported caring more about microorganisms than before COVID-19. In addition, some 52% said they think, "it is beneficial to use cosmetic products to take care [of the] skin microbiota"—up from 30% in 2018.
These numbers were shared in a presentation given by Catherine Zanchetta, next-generation sequencing senior specialist at Givaudan Active Beauty, and moderated by Pauline Martin, global communications and events manager for the company.
Considering the "27% fearful" statistic, Zanchetta offered, "We will have to deal with this new perception ... by softening it." To do so, she presented three of Givaudan's approaches to engage the microbiome: Balance to Enhance, Protect to Care and Trigger to Activate. These were used in the development of ingredients for microbiome care.
Balance to Enhance refers to balancing the microbiota of sensitive skin to reduce immune system activations such as cytokine release. Using 16S rRNA sequencing, the researchers identified the most prominent bacteria involved in skin sensitivity, Corynebacterium, and developed an ingredient to reduce its presence.
Givaudan's Sensityl (INCI: water (aqua) (and) Phaeodactylum tricornutum extract (and) pentylene glycol), derived from the microalga, was the result, which reduced levels of Corynebacterium and also immune cell recruitment. "This was interesting because it acted on the skin's ecosystem—the skin cells and microbiota," said Zanchetta.
Protect to Care relates to protecting the existing microbiota. Under this approach, Zanchetta described the company's Sopholiance S (INCI: Candida bombicola (and) glucose (and) methyl rapeseedate ferment (and) water (aqua)) biosurfactant, which was shown to be as effective at sebum removal from skin as SLES without causing microbiota dysbiosis.
Finally, Trigger to Activate leverages the microbiome for beneficial effects in skin. The company's Synchronight ingredient (INCI: glycerin (and) betaine (and) water (aqua) (and) Gardenia jasminoides fruit extract (and) maltodextrin) supports this approach by activating melatonin to balance the circadian rhythm.
"The active contains crocin," explained Zanchetta, "and this is converted by the microbiota to the crocetin molecule, which can bind to the MT1R melatonin receptor ... This triggers the same biological cascade as melatonin for a positive effect on the circadian rhythm." She added that the ingredient improves sleep and has been shown to protect against digital stress.
After the presentation, the Q&A session entertained attendee inquiries including whether the actives have been tested in men or on the scalp (answer: no and no), and the mechanisms of action for these actives.
"There are still many questions about how the actives work with the microbiota," said Zanchetta. "Much is unknown. Some are believed to 'feed' them, or the microbes may be more 'comfortable' with certain molecules."
On a final note, she offered conjecture on whether it might be possible to develop specialized cosmetics based on skin microbiome needs: "I think it could be interesting to have actives in makeup that are specific to [different] people," she said.
Authentic Aging & Innovation
In August 2017, Allure's Michelle Lee declared that the magazine would no longer use the term anti-aging, providing a high-profile platform for a conversation that had been happening in smaller venues for yearsh. Then, in November 2020, Anthony Gonazalez, Avon's global head of skin care product development, wrote a piecei detailing why the influential brand was migrating from anti-aging to authentic agingj.
"Age acceptance is rising," Gonzalez wrote, "and as an inclusive beauty brand we believe beauty can be found everywhere—there certainly isn't only one standard of beauty in the world. However, for us, it's not about being anti-aging or pro-aging, it's recognizing that everyone's feelings are different and that neither extreme really allows us as consumers to be perfectly ourselves."
By taking this approach, Avon can innovate for those who respond to anti-aging while also leaving room for those on the pro-aging end of the spectrum. It's all up to the consumer. As Gonzalez concluded, "It's about looking like you, not living up to anyone else's ideals."
A range of brands have stepped into the authentic aging sphere, including Pause, which tackles the impacts of menopause with a trio of offerings—The Hot Flash Cooling Mist, the Collagen Boosting Moisturizer to address dryness, fine lines and wrinkles associated with reduced estrogen, and the Fascia Stimulating Tool to address loss of tone and texture. The brand features its proprietary Pause Complex, comprising vitamins, antioxidants and peptides to help fuel collagen production.
Ingredient technology is also advancing to offer new tools to address aging. For instance, Bio-Botanica has launched two materials—Puresterol Pueraria mirifica and Puresterol Pueraria mirifica, PE (powdered extract)—featuring an herb native to Thailand, where it is used as a "rejuvenator and revitalizer," per the supplier. In particular, P. mirifica can reportedly address the symptoms of menopause, including reduction of bone loss and hot flashes and improvement of blood lipid profiles. It is also claimed to support and maintain collagen in the skin and reduce the appearance of wrinkles.
Trending Skin Care Categories
While skin care sales have been negatively impacted by the pandemic, self-care trends and targeted needs have offered promising areas of growth. Here, we provide a data-driven breakdown of the leading sectors.
Serums Rule
Spatek reviewed 20 billion internet searches between February 16, 2020 and January 2, 2021 and found that skin care's highest-growth product (search-wise) is vitamin C serum (adding 102,000-plus searches during the survey period). The total serum sector added 187,000 searches during that same period, including more than 23,000 for hyaluronic acid serums and nearly 23,000 for niacinamide serums.
New launches in the serum space include six SKUs from Biohyalux, which caters to a range of skin types and target-specific skin issues using its Hexagonal Hyaluronic Acid Formulation (HHAF). HHAF, which comprises four molecular weights of HA, reportedly replenishes the body's lost reserves. Each molecular weight is formulated to reach different depths of skin to fulfill a range of regenerative and hydrating functions that improve skin from the inside out.
Large molecules are designed to protect the skin's outermost layer, and smaller molecules are designed for deeper absorption into the skin. For example, the third smallest molecule, miniHA small molecular weight HA, gives deeper hydration that promotes cell growth and stimulates cellular activity, further boosting skin elasticity and reducing the appearance of wrinkles.
The serums are packaged in recyclable ampoules and include:
• The Hydro Intense Serum contains creatine, a substance produced naturally in the human body that encourages skin cell repair and helps boost elasticity and softness.
• The Lifting and Firming Serum can be used at the first sign of aging and contains Bifida ferment extract and natto extract in addition to a hyaluronic acid cross polymer.
• The Purifying Serum is formulated with salicylic acid and niacinamide (vitamin B3) to reduce excess shine, refine texture and unclog pores.
• Brightening and Boosting Serum is formulated with glabridin, a natural lightening agent that also soothes skin as well as /Anastatica extract, a potent antioxidant.
• Insta-Rejuvenation Serum contains retinol, Tuber aestivum extract and GABA, a non-protein amino acid found in the body which reduces the appearance of wrinkles and fine lines while helping repair damaged skin.
• Soothing Recovery Serum targets the areas in skin that trigger inflammation and alleviates signs of irritation and dryness with the help of ceramide, ectoine and Chamomilla extract, which enhances the skin's natural barrier against environmental stressors.
Masks: Powered by New Tech
According to data from Euromonitor, sheet masks comprised 35% of the face mask market in 2020, up from 22% in 2015. Other top formats include cream-based, gel and peel-offs.
New formats and technologies are emerging to take the category to new heights. According to Weibo Hi-Tech, a China-based OEM, freeze drying and flash release technology have several advantages for beauty, including the maximization of the activity of key ingredients without the need for added preservatives. These techniques can affect the rapid sublimation of water in a liquid serum, thereby maintaining both efficacy and safety.
Weibo features 15 beauty products that leverage the technologies, including seven freeze-dried serums, seven freeze-dried masks and a freeze-dried eye mask.
The eye mask has been nominated for the Cosmoprof Asia Awards. It features Weibo Hi-Tech's freeze-drying and flash release technology, which reportedly preserves an eye serum in a solid state, thereby significantly boosting the activity of its ingredients. The eye mask instantly blends with water to promote transdermal absorption, and reportedly helps firm and rejuvenate the skin.
Exfoliating Toners: Emerging Opportunity
Spate's data found that, as of late January 2021, U.S. searches for exfoliating toners jumped 67%, year-over-year. The category is dominated by The Ordinary, which spiked in interest in May 2020. That said, much of the rest of the search volume comprises non-branded searches. Spate concluded: "In order to compete in this space, a brand will need to deliver on new formats, claims or concerns. Areas of opportunity include exfoliating toners for sensitive skin, offering gentle solutions, or toners that are exfoliating and hydrating."
Men's Skin Care: China
As more international brands target the Chinese market, particularly amid eased restrictions around animal testing, brands may want to explore skin care opportunities for men. In a December 2020 analysisl, Mintel's Alice Li reported that, "in 2020, Chinese men used 2.3 types of facial skin care products on average, up from 1.7 types in 2017."
Li noted that, because male consumers are function-driven, brands should seek to target prominent issues such as maskne.
Skin Care Ingredient Innovation
Despite the disruption of the pandemic, ingredient innovation has advanced, offering technologies that support the key functions and claims consumers are seeking.
Uncovering Luminous Skin
Mibelle Biochemistry's GlowAGE (INCI: Ziziphus spina-christi leaf extract (and) trehalose (and) water (aqua)) is a natural active designed to prevent and reduce glycation in the skin for a rejuvenated and radiant appearance.
Ziziphus spina-christi is a thorny evergreen shrub that is tolerant to high temperatures and grows in arid regions where dry seasons can last up to 10 months. The company has derived an extract from leaves of these wild-growing plants.
In vitro and in vivo studies have shown GlowAGE prevents the formation of advanced glycation end products (AGEs) and activates the skin's machinery for the removal of AGEs. It further reduces the expression of the AGE receptor that drives glycation-induced inflammation, the appearance of wrinkles, and the AGE formation and collagen fragmentation in the skin.
Additional benefits of GlowAGE are: prevents and reverses glycation; decreases yellow skin tone; reduces wrinkles and smooths the skin; and restores collagen.
Hydration/Moisturization Boosters
According to Euromonitor's "Beauty Survey 2020," categories such as moisturizers will maintain or even expand their growth performance. Meanwhile, a Kantar reportm noted, "Skin moisturizing was initially hit hard by the pandemic. Its strong reliance on Asia meant its sales fell in Q1 [2020] by 2.2% and stayed at that level in Q2, with a 2.3% decline." However, the drop diminished to 1.3% by Q3.
Ingredient innovation is advancing to address growing consumer interest in hydrating/moisturization claims. For instance, Clariant's plant-based Waterin Plus (INCI name: saccharide isomerate, water, glycerin, sodium levulinate, p-anisic acid) moisturizer reportedly mimics the composition of carbohydrates found in the stratum corneum, thereby providing skin hydration as much as four days post-application, per a clinical study. It also improves targets associated skin itchiness and roughness. In a clinical study, per Clariant, Waterin Plus increased skin hydration levels by 12% after 28 days. (Recommended use level: 1-5%).
Emerging Acne/Maskne Solutions
It may seem a well-established truth at this stage of the pandemic, but the truth remains: acne and maskne solutions will continue to be key consumer concerns for the long term.
Per Euromonitor's "Beauty Survey 2020," "Google trends show a sharp jump in searches for the term 'maskne' since May 2020, with a significant proportion coming from Singapore, Philippines and Malaysia, given the tropical climate." Therefore, Asia is the top market opportunity for these solutions. Western Europe is the next largest opportunity for maskne claims.
The Euromonitor report concluded, "While the 15-29 age group is the key target, there is ample scope for adult-positioned products which offer other attributes, such as radiance, hydration and firming properties."
A January 2021 report from Trendalyticsn notes that there are currently 38,000 maskne-related searches per week. Salicylic acid, featuring a 70% year-over-year increase in social media engagement, is benefiting from shopper searches related to acne-fighting ingredients.
Spate highlights another rising star in the acne/maskne universe: hydrocolloid. In February 2021, the company pointed out that, since 2020, hydrocolloid search interest spiked 125.5%. Searches are dominated by COSRX and Hero Cosmetics. Spate in part credits the highly visual results offered by hydrocolloid for its popularity.
Non-irritating Retinol & Retinol Alternatives
Evonik's Rovisome Retinol Moist Pro offers a BHA- and BHT-free retinol with enhanced stability. In formulations, the technology reportedly reduces the appearance of wrinkles and boosts moisturization without inducing skin irritation.
Elsewhere, SeroVital Beauty has launched a range of skin care treatments targeting mature women experiencing deep wrinkles, skin sagging, dry skin and weakening skin barriers. The products all comprise the company's Epidermal Cushioning Technology and purport to offer an effective and gentler alternative to conventional retinol. The core technology pairs 2% retinyl linoleate (a retinol ester) with plant-based epidermal growth factors, two types of marine collagen and anti-aging peptides.
Products in the range include SuddenlySmooth Gentle RetinAl (addressing wrinkles and sagging), TriHydrate Concentrate (addressing dry and less firm skin) and Deep Moisture Recovery Whip (addressing skin barrier integrity).
Looking further ahead, a recent white paper published by Xi Huang, Ph.D., presents what is reportedly a "better than retinol" approach to preempt the production of free radicals in mature skin by targeting excess iron. Huang, who is founder and president of Fe:I Beauty Tech, Inc., claims this technique is at the heart of his forthcoming i-On brand of skin care products, which will comprise de-ironizing inducer (DII) technology. The platform reportedly safely neutralizes excess excreted iron in skin to prevent the causes of aging. Clinical results are set to be published in March 2021.
The technology is relevant to aging consumers because iron storage in skin has been shown to increase during menopause. An iron-reduction strategy could perhaps improve signs of aging, such as the appearance of fine lines and wrinkles and a lack of skin brightness and firmness.
Huang has claimed that his technology is therefore "bigger than retinol" in that it prevents free radicals from forming in the first place. In contrast, antioxidants including retinol, vitamin E, resveratrol and niacinamide are retroactive, fighting free radicals that have already formed.
Sensitive-friendly Emollient
Vantage Personal Care has introduced Liponat Jojoba 20 (INCI: jojoba esters), a vegan, oil-free, COSMOS-certified emollient for sensitive skin-friendly formulations. In applications, the material can reportedly help protect sensitive skin and damaged hair. Per Vantage, testing has found that Liponat Jojoba 20 can restore skin hydration levels within four hours and reduce trans-epidermal water loss and skin redness.
The traceable material is derived via a proprietary esterification process from jojoba seeds sustainably grown and harvested on Vantage farms in Argentina and the United States.
CBD Efficacy & Beyond
CBD has turned up in countless launches in the last three years, but how much do we know about its efficacy across various benefit areas? According to a paper published by Amway researchers in Clinical, Cosmetics and Investigational Dermatologyo, CBD's clinical efficacy and underlying mechanisms of action have yet to be identified and confirmed.
As such, the authors reviewed the latest tangible evidence in the literature (as of the paper's publication on Dec. 8, 2020) related to 12 application areas for CBD. They considered emerging evidence as well as conflicting and/or plausible findings in each area.
Skin protection and barrier function: plausible in vitro evidence for CBD related to antioxidant activity, wound repair effects, cell membrane protection against peroxide-induced reduction of PUFAs, and anti-inflammatory activities; for example, the activation of PPAR-γ and reduction in levels of NF-κB
Pain and muscle relief: plausible preclinical evidence for: ingestible cannabinoids inducing antinociceptive effects, and THC and THC + CBD + lower levels of other cannabinoids easing chronic pain
Eczema or atopic dermatitis: plausible evidence for CBD's anti-inflammatory effects via various mechanisms; for example, a derivative of the cannabinoid N-palmitoyl ethanolamide (PEA), adelmidrol, was shown effective in treating mild AD in a pediatric population; also, hemp essential oil could impart microbiome-balancing benefits
Itch/pruritis: conflicting evidence; for example, THC and PEA cannabinoids reduced itch in murine models but show conflicting results in humans—some studies indicate opposite effects
Wound healing: plausible evidence; for example, cannabinoids activate CB1 and CB2 receptors and healing responses in murine models, up-regulating anti-inflammatory factors, indirectly activating TRPV1 and epidermal growth factor receptors, and inhibiting the fatty acid amide hydrolase (FAAH) enzyme; healing effects in human keratinocytes and dermal fibroblasts have been demonstrated by the whole Cannabis sativa extract (the "entourage effect")
Acne/seborrhea: highly plausible evidence; for example, in vitro, CBD acts on sebum production, sebocyte proliferation and inflammation; the authors note that CBD normalizes lipogenesis and prevents pro-acne mediators from increasing inflammation; hemp seed hexane extract and the terpenes in hemp essential oil show efficacy against Cutibacterium acnes
Modulation of hair growth: emerging plausible evidence; for example, CB1 and CB2 receptors are expressed within the hair follicle, and AEA/anandamide and Δ9-THC have been shown to suppress hair follicle growth and induce the catagen cycle ex vivo
Skin and hair pigment regulation: early emerging and conflicting evidence; the authors note the role of the endocannabinoid system in melanogenesis is not clear; for example, lower concentrations of AEA and other cannabinoids have been shown by some to induce melanogenesis, whereas others have shown agonistic results
Oral care : early emerging evidence; for example, early reports suggest C. sativa and cannabinoids could serve antiseptic properties against a broad range of pathogenic oral cavity bacteria and their biofilms
Skin infections: plausible evidence; similarly to oral care, CBD and CBG have demonstrated activity against an array of pathogenic bacteria
Psoriatic plaques: conflicting evidence; for example, CBD and C. sativa extract have been shown in some cases to inhibit inflammatory mediators whereas in others, only C. sativa demonstrated these effects; furthermore, the role of CBD in keratinocyte differentiation is not clear
Skin cancer: little if any evidence; the cannabinoids Δ-THC and AEA/anandamide show greater potential
The authors concluded that CBD for acne, seborrhea, eczema/dermatitis and skin barrier functioning holds the most promise but more studies are needed. They note that great caution should be taken in exploring areas for modulating pigmentation and hair growth, as any speculative science therein could lead to unwanted opposing effects.
Finally, pushing past the current CBD focus, the authors recommend exploring therapeutic benefits of other hemp phytocannabinoids and botanicals with phytocannabinoid-like activity.
This evolution is already underway in the marketplace. For instance, Amyris, Inc. is launching a new range of Terasana-branded clean beauty products focused on sustainably sourced natural cannabinoids. Most recently, Amyris commercialized a clean, sustainable, fermentation-based CBG (cannabigerol), a non-psychoactive cannabinoid.
Early results from clinical studies reportedly demonstrate that Amyris' CBG skin care applications formulated with natural sugarcane-based Neossance Squalane provide significantly better therapeutic effects and efficacy compared to many standard CBD (cannabidiol) topical applications, addressing conditions like dry skin, skin flaking, irritation, redness and blemishes.
Ingestible Collagen
Ingestible beauty has been one of the fastest-expanding product categories in recent years, driven by the increasing overlap between the worlds of wellness and beautyp. BioCell Technology Company has been in the supplements/ingestibles space since 1997 and offers both ingestible and topical collagen ingredients.
BioCell Collagen for dietary supplements comprises a matrix of naturally occurring hydrolyzed collagen type II peptides, chondroitin sulfate and hyaluronic acid.
"Aristotle once said, 'the whole is greater than the sum of its parts,'" said Suhail Ishaq, president of BioCell. "BioCell Collagen is not a blend of isolated collagen, chondroitin and hyaluronic acid. The complex matrix of molecules found in the branded ingredient BioCell Collagen is clinically proven. Brands that use the BioCell Collagen ingredient in their finished consumer products can substantiate specific structure-function claims based on clinical data that they ordinarily would not be able to make otherwise."
Manufactured in the United States and Germany, the technology reportedly promotes active joints, youthful-looking skin and healthy connective tissues. Specifically, a clinical dosage of 1 g per day is said to reduce the appearance of facial lines, wrinkles and crow's feet, improve skin elasticity and reduce dryness. A 2 g daily dose is purported to boost hyaluronic acid and support joint comfort/mobility, promote cartilage health and stimulation, as well as synovial fluid health, and, at 3 g per day, boost post-workout recovery.
"No skin care regimen would be truly complete without efforts to rejuvenate the skin from within," said Ishaq. "Incorporating a BioCell Collagen containing dietary supplement with your topical skin care regimen is an excellent idea because it will enhance the results. Cosmetic products only address the superficial layers of the epidermis, whereas ingesting BioCell Collagen works systemically from the inside out."
The company's BioCell Collagen CG (INCI: hydrolyzed chicken cartilage extract) cosmetic grade) topical ingredient is preserved with citric acid and potassium sorbate. The topical also comprises the company's matrix of naturally occurring hydrolyzed collagen type II peptides, chondroitin sulfate and hyaluronic acid, which are essential structural components in the skin dermis and are responsible for the skin's moisture, suppleness, elasticity and beauty. The non-irritating, dermatologist reviewed, allergy tested and non-cytotoxic cosmetic-grade material can be applied in everything from anti-aging to moisturizing products.
Malachite Beauty
Malachite, a beautiful green copper carbonate hydroxide mineral, can be found in beauty products such as Goop's G.Tox Malachite and Fruit Acid Pore Purifying Cleanser, and Florence by Mills' Look Alive Eye Balm.
Recently, Positive Products Group launched PPG Natural Malachite Extract (INCI: malachite extract), a liquid extract from malachite stone that promotes healthy skin. The extract contains natural bioavailable copper and other trace minerals, which offer antioxidant protection to guard skin against environmental oxidative stress and fight damage to cells caused by free radicals.
The technology also promotes cellular detoxification through the stimulation of glutathione reductase; helps in the synthesis and stabilization of skin proteins; stimulates collagen and elastin production to make skin stronger and more youthful; stabilizes the pH of skin to ensure optimal compatibility; and provides a beautiful natural blue color in formulations. The ingredient is preservative-free and pending a COSMOS certification.
Ocean-derived Under-eye Care
Biosil Technologies offers Gelyma's Phyco'derm (INCI: water (and) glycerin (and) Undaria pinnatifida extract (and) Corallina officinalis extract) offers delicate, non-invasive care for the skin around the eyes. The technology reportedly protects skin cells from free radicals, UV radiation and heavy metals, while improving dermis properties, alleviating the appearance of dark circles and crow's feet, and decreasing under-eye puffiness.
An evaluation by skin profilometry reportedly showed that Phyco'derm was able to reduce wrinkle depth in comparison with a placebo eye gel after 28 days of treatment. An evaluation of color intensity by means of CM-700d spectrophotometer analysis after the 28 days of twice-daily application of a gel with 4% Phyco'derm showed that the technology diminished the appearance of dark circles and therefore increased skin luminosity under the eyes while erasing the appearance of fatigue.
Exfoliation for Skin, Scalp & Oral Care
Biosil PA, from Biosil, is a COSMOS-approved and NPA-certified water-clear 50% active phytic acid solution (derived from GMO-free corn). The solution provides self-neutralizing activity that yields gentle keratolytic effects and aids in cell turnover, resulting in gentle exfoliation comparable to glycolic acid. The technology, which offers lightening and chelation activity, can be applied to scalp-focused products, as well as peels and masks.
Key benefits associated with the technology include reduction of clogged pores and breakouts, increased collagen production, diminished appearance of fine lines, reduction in dryness and flakiness, and a smoother, more even-toned complexion. Biosil PA is also supplied as food grade and can be utilized in oral care preparations.
Preventive Anti-inflammaging
Scutaline (INCI: Scutellaria baicalensis root extract)—an anti-inflammaging technology derived from skullcap, developed by Exysmol and distributed by Biosil—helps prevent wrinkles and age spots by preventing the appearance and accumulation of senescent cells. The active ingredient, inspired by traditional Chinese medicine, comprises a standardized amount of two polyphenols with anti-inflammatory and antioxidant activity—wogonin and baicaleine, respectively. In applications, the technology can offer a soothing effect, combat dehydration, prevent the signs of aging for a younger general appearance, and boost radiance.
Pollution Defense
Exysmol's Redivine (INCI: grape (Vitis vinifera) leaf extract), distributed by Biosil, stimulates microcirculation, antioxidant and anti-elastase activity, and improves astringent activity. Its benefits counteract urban pollution, blue light exposure and toxin accumulation and prevents cell intoxication and premature aging, per Exsymol. The material is ideal for applications offering anti-pollution, skin detoxification and antioxidative activity, and supporting sensitive skin (dermo-cosmetics) and anti-aging claims.
Nature-derived Film Former
Ashland's biodegradable Antaron ECo gel provides the easy incorporation of nature-derived water resistance into sunscreens and offers a lighter feel ideal for gel, lotion, milk or spray formulas. The vegan-friendly, translucent and smooth gel comprises a globally compliant ethylcellulose film former based on sustainably sourced wood-derived cellulose. The ethylcellulose was incorporated into a biodegradable sun care solvent to generate a gel that can easily be incorporated into a formula, saving energy during production.
In applications, Antaron ECo gel imparts a soft, light, non-tacky feel. Because the technology is oil-soluble, it can be used in emulsions, clear anhydrous formulations and wet skin products.
Peat Extract for Natural Healing
Alpin Heilmoor Extract (AHE; INCI: peat extract) from Premium Organic GmbH harnesses and concentrates the power of healing muds. AHE is free of preservatives, water, pesticides and microbiological contamination, per the manufacturer. Available as a dark micronized powder, the material can be used in leave-on and rinse-off products.
In-vitro tests involving HaCaT cells and reconstructed human epidermis have reportedly shown that AHE improves wound healing (by promoting the wound healing factors E-cadherin and paxillin), enhances membrane barrier integrity (by inducing the expression of two different cytokeratines), suppresses skin inflammation (via the suppression of cytokines), and prevents oxidative stress and aging. An open, intra-individual in-vivo efficacy study showed that AHE had a "pronounced" pro-aging effect, cleansing/anti-pollution efficacy, an immediate and preventive soothing effect, and anti-acne efficacy. AHE also reportedly balanced the skin microbiome of study participants.
Quercitin: Emerging Interest
Quercitin, a plant flavonol, offers antioxidant activity to combat dark spots and wrinkles, while boosting hydration. According to a Trendalyticsq report, the material is outpacing internet searches for bakuchiol by a factor of five, with a nearly 300% rate of increase from 2020. The ingredient appears in products as diverse as Mad Hippie's Hydrating Nutrient Mist and Naturally G4U's Balance & Boost—Herbal TLC Healing Supplement.
Skin Care Packaging
Like ingredients, packaging for skin care is evolving to meet emerging consumer needs and expectations.
Targeted Care
HCP's airless Dropper Ampoule offers controlled skin care dispensing. The PET-based design (cap: PETG; push button: PP; shoulder: ABS) is optimal for facial treatments with active ingredients that target specific skin concerns. The Dropper Ampoule works well with low-viscosity formulas, highly concentrated treatments and serums, per HCP. The slim design provides consumers a dosage option, via a twist function, for precise dispensing of 0.15 cc or 0.30 cc doses. To avoid messes and leakage, the Dropper Ampoule features a lockable actuator.
HCP's refillable airless Syringe Ampoule (20 ml capacity), on the other hand, offers a cosmeceutical aesthetic for high-performance, local treatments directed to specific skin care concerns. The design features a slanted soft silicone tip to facilitate gentle, targeted formula delivery to the under-eye area. The Syringe Ampoule, true to its name, also offers accurate doses (0.15 cc) for concentrated high-viscosity formulas, including serums and essences. The refillable inner cartridge of the syringe, comprising PP, can be swapped for more sustainable materials. The outer bottle and cap are composed of PETG.
Ocean Plastic
Like a growing number of its peers, Cocokind has announced the debut of new packaging featuring ocean waste plastic, via a partnership with PackTech. The launch reduces its reliance on virgin plastic and bioplastics.
Cocokind's new Sake Body Lotion will be the brand's first product to be housed in ocean waste packaging, which features plastic collected from beaches, rivers, lakes and other natural bodies of water in areas such as Jakarta. That plastic is then transformed into pellets that can be repurposed.
The use of ocean plastic for the Sake Lotion SKU alone is projected to offset 1,654 lb/0.8 tons of plastic from the ocean in 2021, per Cocokind. Production of these recycled resins reportedly uses 85% less energy and emits 75% fewer greenhouse gases than producing virgin resin and overall reduces CO2 emissions by more than 50%.
"When we decide to use a certain material, we believe that the pros out weigh the cons, especially when compared to their virgin plastic counterparts," said Cocokind founder Priscilla Tsai. "Understanding the full extent of our packaging decisions is extremely important to our customers, and we hold ourselves accountable in providing this level of education and transparency in order to show true leadership in the beauty industry."
Superbloom's Low-plastic Approach
Grove Collaborative's latest brand launch, Superbloom, is designed to combat everyday aggressors such as indoor and outdoor pollution, blue light, UV light and dry conditions. The brand's packaging is 85% plastic-free, per the brand. The products are packaged in vibrant recyclable glass bottles and jars that are housed inside FSC-certified paperboard cartons printed with no-VOC UV ink.
Brand Innovations
The packaging and ingredient breakthroughs of recent years has trickled down into the market, as evidenced by a range of recent brand launches.
Accessible Personalization
EpigenCare Inc., a biotechnology company specializing in consumer epigenetics, has launched a new Standard tier of its Skintelli personalized skin care test. The product, which is a direct-to-consumer DNA test, looks at the current quality of an individual's skin through epigenetic mechanisms such as DNA methylation.
There are now three options offered: Basic, Standard and Advanced, with the latter of course being the most comprehensive version of the test. The new Standard tier is offered at a $99 price point, compared to the original version, which was priced at $399.
The test uses a methylation-specific PCR method that puts particular weight on skin aging in its algorithm, from which other quality factors can be derived in a cost-effective manner. EpigenCare will also be releasing an iOS app in early 2021.
"We have long recognized that a hurdle to consumers was price," said William Lee, EpigenCare's CEO. "With the innovative development of a $99 solution, we are now more in line with the general DNA testing segment while offering significantly more value by assessing current epigenetic factors as opposed to static genetic predispositions. Combined with accelerated turnaround time, we expect user adoption to rapidly increase in 2021."
Non-invasive Filler
Skinny Tan has introduced the Notox Beauty Elixir, a smoothing, plumping facial serum formulated for anti-aging effects, skin tightening and a gradual self-tan. The facial product works as a non-invasive filler to target fine lines and plump the skin without resorting to Botulinum toxin or injectable fillers to offer a radiant daily glow.
Naturally derived from butterfly lavender, the elixir contains stoechiol, which reportedly possesses natural wrinkle relaxant properties. This benefit, coupled with a re-densifying and smoothing effect in the epidermis, leads to a reduction in the appearance of expression lines.
The formula is said to include relaxing lavender oil and vitamin E, blended with Skinny Tan's buildable gradual tan, which adapts to the skin's natural skin tone for a healthy complexion. Additionally, Notox is formulated with Rahn's Liftonin Xpress (INCI: hydroxypropyl methylcellulose (and) pullulan (and) Porphyridium cruentum extract) to also target facial expression lines for an anti-aging and skin tightening effect. After 10 days of Notox nourishment, consumers perceived elevated elasticity on the face and a visible reduction of wrinkles. This product is vegan and cruelty-free.
Footnotes:
b"The beauty in Twitter," https://marketing.twitter.com/en/insights/beauty-twitter-insights
cLisa Holmes, "Beauty Survey 2020: Key Insights," https://go.euromonitor.com/white-paper-beauty--personal-care-20-11-03-survey-key-findings.html
dDenise Herich, "Who is the Post-COVID-19 Beauty Consumer?" Page 12; https://gcimagazine.texterity.com/gcimagazine/january_2021/
ewww.npd.com/wps/portal/npd/us/blog/2021/where-beauty-finds-success-in-2021/
fwww.asa.org.uk/news/skin-in-the-game-an-update-on-microbiome-claims-for-cosmetics.html
gRachel Grabenhofer, "Givaudan Projects Growth in Microbiome Care Despite Consumer Germophobia," www.cosmeticsandtoiletries.com/marketdata/consumers/Givaudan-Projects-Growth-in-Microbiome-Care-Despite-Consumer-Germophobia-573635651.html
hwww.allure.com/story/allure-magazine-phasing-out-the-word-anti-aging
iwww.avonworldwide.com/beauty-innovation/innovation-blog/anti-and-pro-for-authentic-ageing
l"China Men's Facial Skincare Market Has Started Its Transformation," www.mintel.com/blog/beauty-market-news/china-mens-facial-skincare-market-has-started-its-transformation
mwww.kantar.com/inspiration/consumer/beauty-and-personal-care-when-will-the-healthy-glow-return
nhttps://trendalytics.medium.com/top-10-ingredients-to-watch-37dc96365152
owww.dovepress.com/therapeutic-potential-of-cannabidiol-cbd-for-skin-health-and-disorders-peer-reviewed-fulltext-article-CCID
p"Beauty Inside," Page 57, https://gcimagazine.texterity.com/gcimagazine/july_august_2020/
qhttps://trendalytics.medium.com/just-the-data-quercetin-44a932b01e70
Body Boom
According to Cherry Picka, the top-performing body care brands, based on relative percentage of demand for a specific product across social media, are Bath & Body Works, Sol De Janeiro, Iroha, Frank Body, BH Cosmetics, Olay, Florence by Mills, The Body Shop, Balibody and E.L.F.
Products with the greatest demand, per Cherry Pick, included Bath & Body Works' Aromatherapy Body Wash and Foam Bath, Olay's Cleansing & Nourishing Body Wash, The Honey Pot Co's Normal Foaming Wash, Tubby Todd Bath Co.'s Hair & Body Wash, and Native's Body Wash.
Top Ingredients, Product Claims and Benefits
Cherry Pick offers interesting insights on trending claims across categories, as well as the ingredients social media users are chattering about most.
Top claims across categories include free-from callouts for cruelty/animal testing, parabens, fragrance (particularly for body oils), sulfates and phthalates, sensitive skin suitability, vegan status, organic (particularly for body scrubs), oil-free (also body scrubs), and antioxidant activity (for body oils).
Top benefits for body lotion include softening, nourishing, smoothing, evening of texture and firming. Top benefits for body scrubs include smoothing and nourishing, as well as hydrating/moisturizing, rejuvenating, and firming. Top body oil benefits include evening of skin tone, hydrating/moisturizing, nourishing, smoothing and softening. Top benefits for body wash include hydrating/moisturizing, softening, smoothing, rejuvenating and nourishing.
Trending ingredients across categories are as follows:
Body lotion: coconut, shea, cupuacu, acai berry and caffeine/coffee
Body scrubs: coconut, vitamin E/tocopherol, vitamin D, vitamin A and superfoods
Body oil: jojoba, rose, almond, pomegranate and geranium
Body wash: shea, glycerin, citric acid, tonka and water
Value-added Hand Care
According to Euromonitor data, 44% of surveyed consumers use hand care products daily, while 40% seek scented options and 22% seek out those that offer sun defenseb.
As consumers experience the drying effects of hand sanitizers, many are seeking out moisturizing alternatives. In response, iLabs has developed a water-based Alcohol-Free Antibacterial Hand Serum concept. The formulation is designed to quickly kill 99.9% of bacteria, while offering moisturizing and gentle care for all skin types.
The serum is powered by benzalkonium chloride (for sanitizing effects), hyaluronic acid and panthenol (for moisturization and hydration, respectively), Calendula officinalis (for antioxidant, anti-inflammatory and antiseptic activity), and Aloe barbadensis leaf (for moisturization and anti-inflammatory activity).
Trending body lotion ingredients include coconut, shea, cupuacu, acai berry and caffeine/coffee.
a"The Cherry on Top Beauty Report," September 2020, https://cherrypickai.com
bLisa Holmes, "Beauty Survey 2020," www.portal.euromonitor.com/portal/magazine/homemain