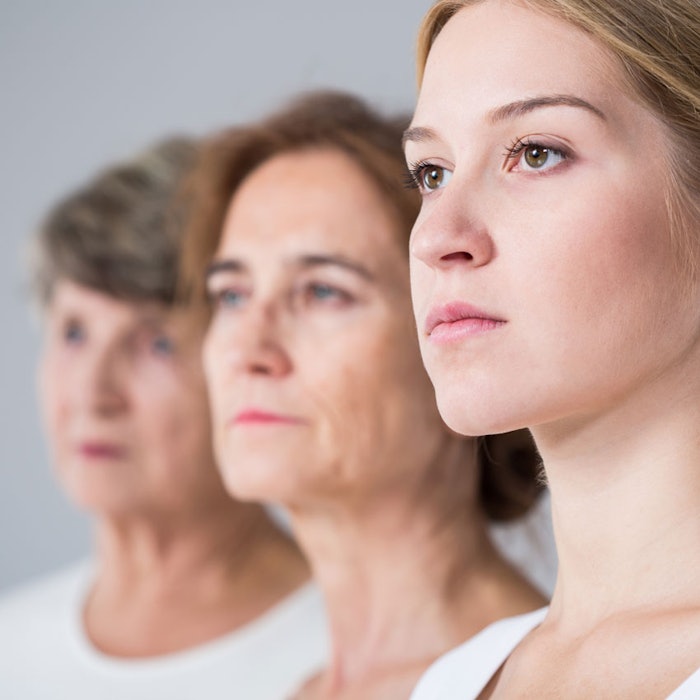 Age demographics are typically broken into four categories: teens, young adults, mid-age adults and mature adults.
In addition to claims/ingredient actions themselves, different age demographics respond to different product textures.
Different age groups have different expectations of performance and how much they'll spend, and positioning (prestige, mass, etc.) also sets expectations for the product's performance.
Although there is a possibility age segmentation in beauty product development will go older, it's more likely that anti-aging claims and benefits will continue to filter into other beauty categories.
When creating skin care products, there are a variety of considerations—what will the product do, who will use it, what will it look and feel like, how will it be developed, what will be included, and so on and so on. To help in the development process, brand owners and product developers hone in on key consumer demographics to make the product as relevant to the target consumer as possible. To do so usually means considering age demographics while also considering what ingredients to include.
"At different ages you have different skin needs," says Beata Hurst, head of marketing and sales, Mibelle Biochemistry. "Classically, anti-aging should start very early, but skin at 30 has a different anti-aging focus than skin at 50. At 50, the skin starts sagging, so you need more for lifting and firming and for increasing collagen, whereas a 30-year-old is fighting the first wrinkles."
And Patrick D. Bentley, manager, global sales and marketing, Active Organics; Marie Ollagnier from Lubrizol; and Elena Canadas from Lipotec, [three companies owned by the same parent company] note anti-aging products and beauty routines are becoming increasingly specialized in terms of the age groups targeted. The same occurs with active ingredients, Bentley, Ollagnier and Canadas explain, as more and more anti-aging launches target a specific age segment. The skin requirements and concerns of consumers in their teens and 20s are very different from those in their 30s and 40s, which differ from consumers in their 50s or 60s.
Generally, the age demographics are broken into four categories—teens, young adults, mid-age adults and mature adults. "You've got your teens to young adult category—that's basically your anti-acne, anti-shine, oily skin type of claims that are going to appeal to the average teenager looking to help their complexion," says Mike Anthonavage, technical fellow, active ingredients, Presperse. "They're using ingredients that obviously reduce the amount of breakouts, but they're also trying to reduce the amount of sebum and the inflammation that maybe their pimples are giving them—not to mention [addressing] any type of post-inflammatory hyperpigmentation issues like acne marks or acne scars."
There can be similar concerns for young adults, agree Bentley, Ollagnier and Canadas. In the 20s, skin is radiant and young, they say, but to address increased sebum production, formulations should contain active ingredients with mattifying properties to reduce the level of sebum while maintaining or even increasing the hydration of the skin.
"And sun protection is being added to the equation," notes Tom Kovats, vice president, Centerchem. Again, it's all about protection and prevention for the young adult consumers, points out Anthonavage. "They probably aren't going to be so aggressive in terms of correction, but are probably seeking more of a preventative claim," he says.
Moving on in the age progression, for consumers in their 30s, hydration is still important, as a part of basic care and the first step in the beauty routine after cleansing. The first wrinkles also start to appear ("expression" wrinkles, caused by repeated muscular contraction). To counteract this, an ingredient able to diminish these is the best ally to fight against further development. And Kovats notes the growing power of consumers in the 25–35 age group.
However, Hurst points out, "At each age, protection is very important, and [consumers of all ages can] use antioxidants. These can help neutralize toxins in the skin, help detoxify skin. That is something I personally believe is really important at all ages, and I think that's an ingredient that, especially when it's about protection, you cannot start early enough."
For the next age range, Anthonavage says, "Between the young adults and the baby boomers, [consumers] might be looking for more of a corrective therapy rather than a preventative, and maybe a little bit of both."
Kovats says, "I know, for us, at least the category of peptides are certainly very big for the baby boomer market and the Gen X market, because they will address wrinkle and expression lines—certainly stimulating and strengthening the collagen. That's very important in those two markets. And instant tighteners—an quick, instant face lift and instant, quick smoothing—that's become more and more important for the older set of Gen Xers, as well as for baby boomers. Addressing lipids certainly can play a role, because there is a diminishing concentration of lipids in skin as one ages—certainly of the lipids that are important, like the ceramides."
Hurst shares that Mibelle often looks to anti-wrinkle ingredients and ingredients that help build collagen and elastin, as well as plant stem cells from an argan tree, for this market demographic. "We [also] have ingredients that are for chronic inflammation. There is the word 'inflammaging,' which is a fairly new term in cosmetics. Chronic inflammation is something you usually have with increased age because skin becomes thinner and is more sensitive," she notes. "You have this inflammation that is always there [and usually] isn't doing any immediate harm, but when it's a permanent stress for the skin, it's also an aging factor."
Beyond that, Bentley, Ollagnier and Canadas share the perspective that when a women reaches the age of 60, the main concern is no longer related to wrinkles; instead, the issue is sagginess, the visible loss of firmness and elasticity that is the macroscopic result of an elastic fiber degeneration and a decrease of subcutaneous fatty tissue. This is accompanied by changes in the dermal thickness and hyperpigmentation, they note, and beauty products targeting this age group should include active ingredients that, in addition to boosting the synthesis of collagen and elastin, should inhibit the degradation of these elastic fibers.
Product Development Based on Age
In working to develop products that target particular age segments, ingredient supplier partners can be valuable resources. "We've positioned ingredients to embrace the [age] targets," Anthonavage says, and Kovats explains that when working with a brand to develop a new product, "Usually we'll try to ask the question, 'What are you working on now?' If the brand says, 'We're working on more of a preventive line,' I usually will always ask, 'What is the age group that you are targeting?' Because if you're targeting a younger set, for example, I would maybe have a different set of ingredients that I would recommend."
"We can work and play with the stories of the ingredients that we are supplying. In not so many cases will we develop one product for a niche," says Jean-Francois Molina, global sales and marketing manager, Solabia. "But we can adapt. If I have a good moisturizer, I can sell it to a brand as a product for people who are in their 20s or 30s or over 60. It's adapting the ingredients to fit."
Additionally, different things besides ingredients attract different target markets. "Different age demographics respond to different product textures. For example, a heavy moisturizing cream in an overnight cream is often more appealing to a mature woman seeking to rehydrate whereas a teenager may prefer a light, sprayable moisturizing body milk," explains Jennifer Donahue, marketing manager, skin care and color cosmetics, Croda, Inc. "Croda's Sensification system provides product developers with a structured approach to enable them to create products that address the age demographics by offering the sensorial attributes desired by consumers at different life stages."
From the perspective of Active Organics, Lubrizol and Lipotec, actives can be used in specific age groups to target issues specific to the group, but product developers also can use other ingredients to create specific visual aesthetics targeting various age groups. By adjusting the aesthetics of a product, product developers can improve the daily use of a product, which will allow the actives in a product to be effective, Bentley, Ollagnier and Canadas say.
Connecting with Brands and Consumers
As Donahue shares, "The Sensification concept is very engaging for beauty brands because it gives them a way to create a unique sensory experience for each targeted consumer so they feel like the product is made for them." The feeling of customization is very big in beauty right now, and products with targeted ingredients, textures and options for specific demographics helps better engage consumers.
Regarding what different age demographics expect from skin care products, Anthonavage shares, "With your baby boomers, you're talking about a population that is rather savvy in terms of the way they spend their money, so they also are going to look for the cutting-edge technologies that work. And there's another layer of complexity—the market that you're selling in. For instance, in prestige, I would say the expectation for deliverables on the product's performance is much higher."
Ingredients that are more eco-friendly also engage different markets. "Botanicals are more in vogue with the younger people, as they're being brought up on botanicals and what's organic," Kovats comments, and Anthonavage notes, "You're going to find there's a [sub] category interested in eco ingredients in each of the age brackets."
However, on the customization trend, Hurst says, "I don't see so much of the [age] targeting, but I do see targeting in skin care concerns. Like somebody would like to have something for anti-glycation, maybe for diabetic skin. Somebody might like something for chronic inflammation. Somebody might like something for hormonal-induced skin aging. Somebody might like something for stressed skin. Somebody might like something for skin that is extremely sensitive, or extremely dry. Or somebody might like to combine something for blemishes and anti-aging… I'm seeing much more like that—not just anti-aging; usually it's a specific anti-aging need."
Age as Just a Number?
Does age segmentation in beauty product development go any farther from here? As Kovats asks, "Is somebody then going to start taking the risk and targeting products for people 75 and older?"
Most likely, the stretch will be into other beauty categories. Bentley, Ollagnier and Canadas agree: anti-aging ingredients are found mainly in the skin care segment, but are increasingly expanding in other beauty categories. There's a current trend, for example, of ingredients targeting anti-aging in skin care being formulated into various hair care products. With the increase in multifunctional products such as BB and CC creams, they note, active ingredients also are incorporated into more color cosmetics categories, targeting blemish and wrinkle control.
So expect new, innovative ingredients to continue to be launched in the coming years, offering new benefits for specific market segments and targeting some concerns that may be unknown even today.