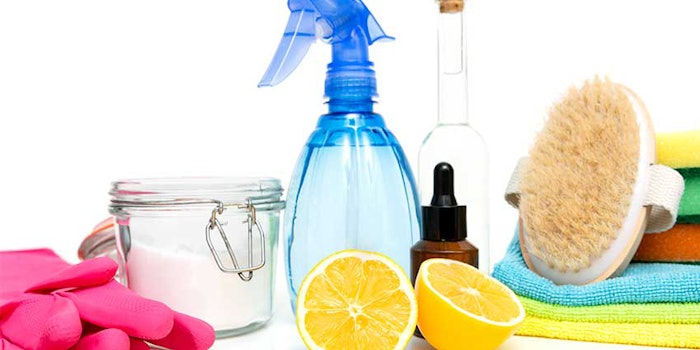 For the first time, 'Safer Choice' has approved a Safer Chemical Ingredients List (SCIL) submission by a non-manufacturer: The American Cleaning Institute (ACI), which submitted eight cleansing ingredients.
Related: 32 EPA-registered Pilot Chemical Disinfectants Fight COVID-19
The SCIL is a list of chemical ingredients, arranged by functional use class that the Safer Choice Program has evaluated and determined to be safer than traditional chemical ingredients. This list is designed to help manufacturers find safer chemical alternatives that meet the criteria of the Safer Choice Program.
The ACI has worked with environmental and risk sciences consulting firm Gradient in compiling the necessary data for review by the Environmental Protection Agency (EPA).
"Adding chemicals to the SCIL encourages innovation and growth in safer products, increases markets for manufacturers and helps protect people and the environment," said Kathleen Stanton, ACI associate vice president of Technical and International Affairs, who led ACI's work on the submissions. "The SCIL has a rigorous review process undertaken by both EPA and third parties to ensure the chemicals meet the Safer Choice Surfactant Criteria."
The list is not intended to be exclusive. Chemicals may be submitted as part of a formulation that the program has yet to review or a chemical manufacturer may develop a chemical to meet the Safer Choice criteria. If the chemicals meet the criteria, they may be approved for use in Safer Choice-labeled products and added to the SCIL. Chemicals may be removed from the list or have its status changed based on new data or innovations.
The following surfactants were added to the SCIL on May 13, 2020:
Octadecanoic acid, 2-ethylhexyl ester (CASRN 22047-49-0)
Alcohols, C12-15 (CASRN 63393-82-8)
Octadecanoic acid, 12-hydroxy- (CASRN 106-14-9)
Fatty acids, C8-18 and C18-unsatd., sodium salts (CASRN 67701-10-4)
Fatty acids, C14-18 and C16-18-unsatd., sodium salts (CASRN 67701-11-5)
Potassium oleate (CASRN 143-18-0)
Fatty acids, palm-oil (CASRN 68440-15-3)
Sulfuric acid, mono-C14-18-alkyl esters, sodium salts (CASRN 68081-98-1)