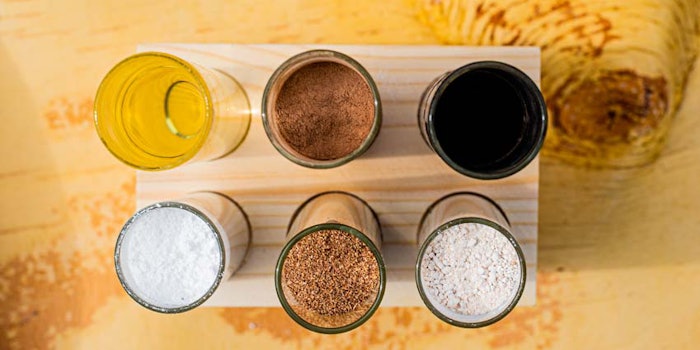 Innomost is a Finnish startup that upcycles Nordic birch bark from forest industry side streams to create bioactives for consumer products ranging from cosmetics to pharmaceuticals.
By tapping into these side streams, Innomost transforms naturally occurring raw materials typically used for energy production or other lower value purposes into high quality cosmetic ingredients—with the potential to replace palm-derived materials.
See related: Fighting AGEs Formation; Upcycled Artichoke Inhibits Glycation, Increases Skin Firmness
The Backstory
"The idea originated from the fact that I started in fine chemical industry about 18 years ago, and with a strong background in organic chemistry, I had a strong understanding of life—and ingredients," explained CEO Sami Selkälä, Ph.D. "My wife sells cosmetics as a hobby, and I began to study the ingredients and reading the INCI listings," he said. "I also read Harry's Cosmeticology and it started from there," he added.
In doing so, he learned that most materials in cosmetics were based on crude and palm oil and recognized the opportunity surrounding him in the Nordic forests. "Birch bark surprisingly contains a lot of fatty acids or derivatives," he explained. Add to this the drive for green materials in Finland. "There has been interest in sustainable materials for the last 10-15 years," he explained, "and the global population needs green materials." Here, he started to study the connection.
"The hydroxy fatty acids from birch bark can replace many [palm-derived] fatty acids," Selkälä said. In addition, "the dexpanthenol related betulinol can be isolated and the compound production can be scaled up. It still needs additional formulation work, [i.e., optimization] and is not a direct replacement but this is one option to use this fantastic raw material. Use is only limited by the imagination."
To derive the raw materials applicable for cosmetic applications, Selkälä explained, "You need an understanding of the chemistry and process to retain the natural compounds." This is key to Innomost's unique ingredient offering—and the secret. "We've had a lot of interest," said Selkälä.
'Betulin has calming ... actions in skin. It also aids in wound healing.'
Cosmetic Applications
The company's current product portfolio includes birch charcoal powder, birch bark powder, betulin, suberin and azelaic acid, which are applicable in skin, hair and body care, decorative cosmetics and oral care. Azelaic acid, for example, is effective for acne, whose occurrence has skyrocketed with the daily use of face masks. Birch bark powder also provides deep cleansing for skin and hair, replacing problematic microplastics. 
"Betulin has calming, almost 'medical-like' (although you can't claim that) actions in skin," said Selkälä. "It also aids in wound healing. For anti-aging benefits, we've studied our fatty acids, and they provide unique effects. The fatty acids also induce hair growth and prevent hair loss when included in a hair conditioner." He added that the fatty acids also have different qualities to replace waxes, such as in lipstick and mascara.
In addition, Innomost has developed an emollient, Biremol (INCI: Ethyl Azelaic Acid/Propanediol Copolymer), a biodegradable polar polymeric ester oil, from the renewable birch bark material. "The fatty acids from birch bark are solid materials with no oils, so we created an oil [for this application]. Oxidation is not a problem and it leaves a silky skin feel," said Selkälä. The ingredients demonstrate hypoallergenic properties as they do not contain birch proteins, and they are 100% vegan. They are purely natural, do not require coloring agents and can be produced on a large scale.
"It's really a win-win situation. The raw materials for Innomost's products are available in large volumes at a feasible cost. Our raw material originates from Nordic forests, not from lands that could be used for food or feed. We are on top of the new beauty trend for upcycling, zero waste and full-cycle natural cosmetics," said Sami Selkälä, CEO and founder of Innomost.
'The fatty acids also induce hair growth and prevent hair loss when included in a hair conditioner.'
€5 Million Funding Secured
The company has raised €5 million to bring its birch bark innovations to market. The funding round was led by Metsä Spring Ltd., with Innovestor and angel investors joining the round. The round was completed with grants and loans from Business Finland as well as other public financing sources.
The funding will be used to set up a pilot plant in their hometown of Kokkola, Finland. Innomost aims to build a production facility capable of producing 20 tonnes of birch bark products per year by 2023. Capital will also go toward further R&D work and expanding in international markets.
"We are very grateful to our investors for seeing the potential in our innovation. We have several other industries in our sights that can all replace negative impact products and materials, including pharmaceutical, technochemical, textile and nutraceutical industries," Selkälä continued.
"Innomost is developing a business idea in which birch bark, a side-stream of Metsä Group's operations, is valorized to high-value products for the cosmetics and personal care industry," said says Erik Kolehmainen, vice president of corporate venturing at Metsä Spring Ltd. "In other words, this is exactly the kind of development that Metsä Spring would like to catalyze..." 
The birch bark material is supplied by Metsä Group, a large forest group in Finland, which provides sizable amounts of the resource; and it's not the only group with this side stream. 
Sizable Market Potential
Innovestor partner Myron Seto added, "The market potential, particularly in cosmetics, is very sizable, and Innomost has developed a new industrial technology that can disrupt the global market supply. We look forward to tracking Innomost's growth as they scale up production with [the] new pilot plant, displacing non-eco-friendly products with the use of natural betulin."
As noted, the birch bark material is supplied by Metsä Group, a large forest group in Finland, which provides sizable amounts of the resource; and it's not the only group with this side stream. "We know we can scale up to meet demand and do so using existing sources," Selkälä said. "And luckily, we can do this without harming the rainforest by deforestation." 
Selkälä concluded, "There's a lot to come. This is a huge resource in huge volumes. We're looking forward to having discussions with formulating companies who have the same view—that we need sustainable solutions and we need to think about the environment."