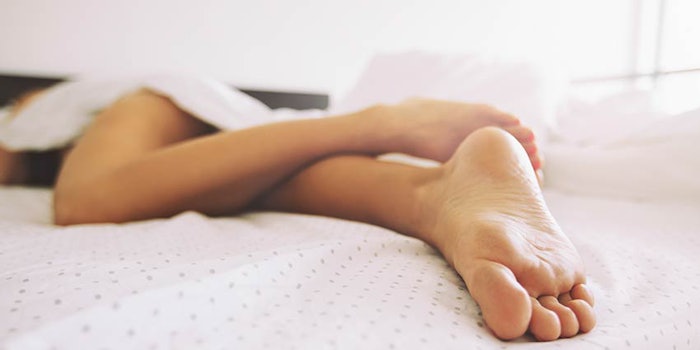 Clariant has launched B-Circadin, an active ingredient extracted from the Lespedeza capitata plant that counteracts the skin damage associated with the disruption of the skin's circadian rhythm—including puffiness and dark circles—caused by daily stressors such as stress, jetlag, shifting working hours, intense lifestyles and exposure to blue light.
Get Your Beauty Sleep: Dermalogica's New Sound Sleep Cocoon
The ingredient comprises carlinoside and isoschaftoside, key glycosylated flavonoids directly involved in circadian clock maintenance. The company displayed the ingredient in its Rhythm n' Blue Serum sheet mask at in-cosmetics Global in Amsterdam.
B-Circadin was inspired by the work of the 2017 Nobel Prize in Physiology or Medicine, which was awarded for discoveries on how molecular mechanisms control the circadian rhythm.
Clariant Active Ingredients partnered with BioSpectrum to better understand the 24-hour-clock circadian rhythm of skin cells, which governs major biological responses such as aquaporin-3, which supports the transportation of water and glycerol involved in the maintenance of epidermal hydration.
The circadian rhythm also regulates the Nrf2 "detoxification" pathway for the elimination of free radicals. When the cells' circadian rhythm is desynchronized, the detoxification pathway can become inefficient and less effective.
"B-Circadin is major leap forward in the development of innovative ingredients to protect skin from the stressors of modern living."
In one double-blind study, Clariant researchers looked at volunteers working at night, which caused their biological functions to be disrupted. A cream containing 3% B-Circadin was applied to one half of the face and a placebo to the other half for 28 days. After one week, volunteers reportedly saw their complexion visibly upgraded by more than 17% compared to the placebo. After four weeks, this increased upwards of 35%.
A separate four-day study involved volunteers who applied a cream along with a placebo every day. During this study, they were exposed nightly to the blue light effect of a tablet computer in order to induce sleep perturbation. After the four days, eye contour was noticeably improved, while puffiness decreased.
"B-Circadin is major leap forward in the development of innovative ingredients to protect skin from the stressors of modern living," said Alexandre Lapeyre, global technical marketing manager, Clariant Active Ingredients. "With the increasing usage of digital devices showing no signs of abating and the demands of the working environment meaning extended or unusual working hours, we believe B-Circadin will issue a real breakthrough in the treatment of dull, tired skin, improving its overall well-being."