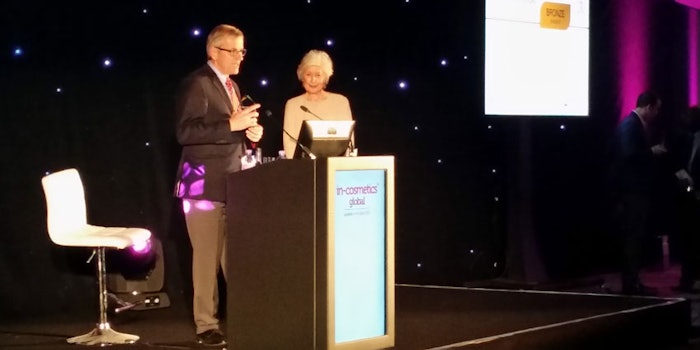 The second evening of #incos17 was adorned in bronze, silver and gold dreams as awards were presented for: Innovation Zone Best Active Ingredient and Best Functional Ingredient; the Makeup Bar Award for shaded cosmetics; Sensory Award; Green Ingredient; and Johnson & Johnson's Flash Cosmetic Pitch Award. The ceremony gathered many of the industry's top innovators and packed the room with eager and anxious innovators.
Winners for the Makeup Bar were:
Bronze - Lubrizol, for its Avalure Flex-6 Polymer
Silver - Nikkol Group Nikko Chemicals Co., for its IRO-ODORI Dance of the Japanese Colors
Gold - Ronald Britton, for Cosmetic Bio-glitter
Winners for the Sensory Award went to:
Bronze - Evonik, for its Complex sensations, easy formulations
Silver - Chemyunion, for its Emulfeel multisensorial formulation in one step
Gold - Biesterfield, for its Body & Seoul, inspired by Asian beauty
Winners for best green ingredient were:
Bronze - Biolie with Greentense, an active sourced from food by-products using a new enzymatic extraction technology
Silver - Kahan SAS with Cacau Oil, a unique Amazonian oil with functional characteristics whose commercialization is making a positive social impact in a country dogged by drug warfare
Gold - Naturex, with Eliorelys, a new active from cherry blossoms derived using a new green process, sourced locally and using a biomimetic extraction solvent
Winners for the Innovation Zone Best Active were:
Bronze - Lipotec, with Reproage peptide, which reprograms epidermal basal cells at the epigenetic level
Silver - Gattefosse, with Gatuline Link n Lift, derived from horse chestnut flowers, it restores fibroblast dynamism and acts on the DEJ to firm up skin connections
Gold - Laboratoires Expanscience, with Passioline, derived from co-valorization of the Peruvian fruit juice industry; it shows remarkable efficacy in tissue repair, cell regeneration and anti-inflammatory processes to smooth skin imperfections
Lastly, Innovation Zone Best Functional Ingredient awards went to:
Bronze - Lucas Meyer, with Siligel, an optimized combination of phospholipids that acts as a natural gelling agent with silicone-like feel
Silver - Inter Actifs/ACETO Corp., with its Heliocoidal Emulsion Technology, which is 100% renewable and sensory-based; imparts multiple benefits including salt tolerance, simple processing and a quick-break effect Silver (there was a tie) - Hallstar with Micah, which prevents photoaging via UV filters and antioxidants
Gold - Ashland, with its FiberHance bm solution, which uses unique and sustainable ingredients that work simultaneously to create and strengthen hair fibers without compromising color. FiberHance bm solution is a molecule designed to penetrate the hair fiber and provide superior strengthening in shampoos and other hair care products by using cost-effective technology. This functional ingredient is based on glucoside chemistry that strengthens the hair wash after wash, penetrating the natural fibers allowing the hair to be more manageable and alluring.