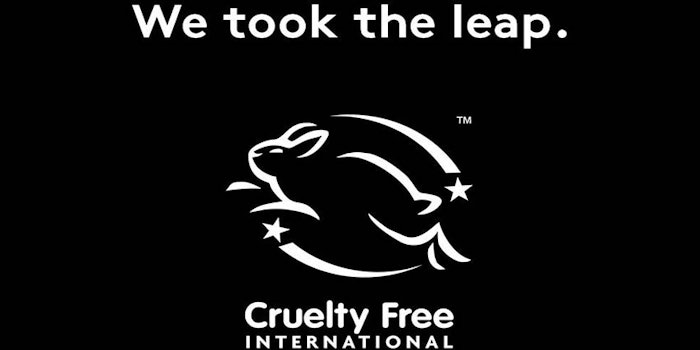 As we noted in the November 2018 issue of Global Cosmetic Industry, cruelty-free beauty is having a big year. Now comes news that Coty's CoverGirl has become the largest beauty brand to achieve Leaping Bunny certification from Cruelty Free International.
Further reading: Cruelty-free Shopping Survey
And, according to a strategic partnership announcement, Coty will certify at least one other global brand within two years as part of a wider goal of ending animal testing of cosmetics around the globe.
The certification required an audit of the company's ingredients and supply chain and will be subject to ongoing monitoring. Coty will use its learnings to optimize its brands for a more "responsible" portfolio.
"Consumers expect brands to be leaders for positive change so today CoverGirl is taking a stand about making cruelty free cosmetics a mainstream reality."
"Being cruelty free and achieving the Leaping Bunny certification for CoverGirl is the right thing to do, at the right time, in the right way," said Coty CEO Camillo Pane. "Listening to our consumers, we started this journey with CoverGirl to demonstrate our commitment to this issue by achieving such an ambitious certification at scale. This is consistent with our ambition of growing responsibly by championing open, inclusive and sustainable beauty."
"Consumers expect brands to be leaders for positive change so today CoverGirl is taking a stand about making cruelty free cosmetics a mainstream reality," said Ukonwa Ojo, chief marketing officer, Coty Consumer Beauty. "We know we are not alone in wanting a beauty industry that is free from animal cruelty and, working with Cruelty Free International, invite others to join us in turning these conversations into action."
"We are delighted to partner with Coty to end cruel and unnecessary animal testing for cosmetics worldwide and have been impressed with the company's passionate commitment," said Michelle Thew, CEO of Cruelty Free International. "The Leaping Bunny certification of CoverGirl marks a new milestone in this area as the largest makeup brand to be certified cruelty free after having met our rigorous criteria. Importantly, CoverGirl's certification demonstrates to the world that it is possible to be an accessible and innovative brand without inflicting suffering on animals. We hope today's announcement encourages more cosmetics companies to do the right thing, listen to public demand and make a commitment to ending animal suffering in the cosmetics industry."