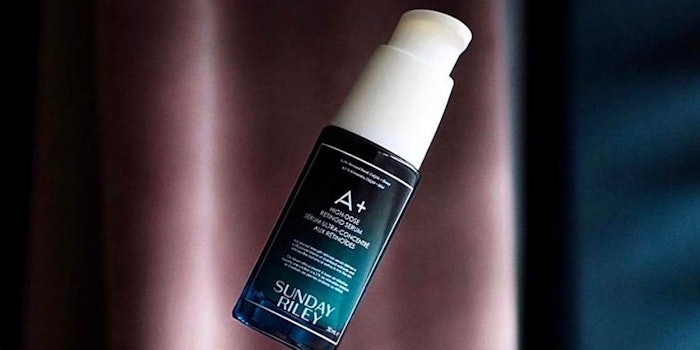 The U.S. Federal Trade Commission (FTC) has charged Sunday Riley, including its namesake founder, with posting fake reviews for two years under aliases in order to boost ratings and sales on Sephora.com. The complaint was spurred by a Reddit whistleblower. The punishment for the alleged misdeeds is relatively light, requiring no admission of guilt and demanding only that the company pledge to avoid similar behavior in the future. That said, the brand's reputation has taken a significant hit.
Further reading: 10 Reasons Consumers Will Boycot Your Brand
Notably, the alleged faked reviews were conducted "at the CEO's direction," per the FTC. and by failing to disclose that the reviewers were company employees.
One Instagram user, @cakeandcabernet, commented, "honestly I'm glad you're canceled because I'm going to save so much coin"
The action targeted by the FTC took place between November 2015 and August 2017, during which time brand managers and Sunday Riley herself "posted reviews of their branded products on the Sephora site using fake accounts created to hide their identity, and requested that other Sunday Riley Skincare employees do the same thing."
When Sephora removed these comments, perhaps because the retailer recognized the brand's IP address, Sunday Riley's team moved its activity to a VPN to enable covert posting to disguise comment sources.
The FTC also alleges that Ms. Riley wrote an email instructing that employees "create three accounts on Sephora.com, registered as . . . different identities" and to "[a]lways leave 5 stars" on the brand's product pages.
She purportedly added, "If you see a negative review – DISLIKE it ... After enough dislikes, it is removed. This directly translates into sales!!"
These actions constituted two violations of the FTC Act: "1) making false or misleading claims that the fake reviews reflected the opinions of ordinary users of the products; and 2) deceptively failing to disclose that the reviews were written by Ms. Riley or her employees."
As for the FTC's punishment: "The proposed administrative order settling the FTC's allegations against Sunday Riley Skincare and Ms. Riley is intended to ensure the respondents do not engage in similar allegedly illegal conduct in the future. First, the order prohibits the respondents, in connection with the sale of any product, from misrepresenting the status of any endorser or person reviewing the product. This includes misrepresentations that the endorser or reviewer is an independent or ordinary user of the product."
The order adds, "Next, the order prohibits the respondents from making any representation about any consumer or other product endorser without clearly and conspicuously disclosing any unexpected material connection between the endorser and any respondent or entity affiliated with the product. Such disclosures must be made in close proximity to the product review or endorsement ... In addition, the order requires the respondents to instruct their employees and agents about their responsibilities to clearly and conspicuously disclose their connections to the respondents' products in any endorsements.
"Dishonesty in the online marketplace harms shoppers, as well as firms that play fair and square," said Andrew Smith, director of the FTC's Bureau of Consumer Protection. "Posting fake reviews on shopping websites or buying and selling fake followers is illegal. It undermines the marketplace, and the FTC will not tolerate it."