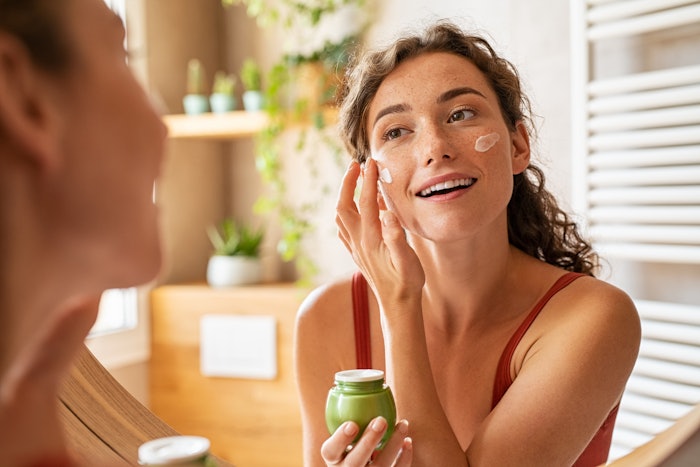 Gattefossé's new plant-based Emulium Dermolea MB O/W emulsifier is rich in sterols and triterpenes, which can reduce skin stress and deliver long-term soothing.
Composed of candelilla, rice bran and jojoba waxes, this sensitive skin shield creates a skin-compatible shield to protect surface lipids from environmental stress, which can negatively impact barrier function and thereby increase transepidermal water loss (TEWL).
That loss results in dry, reddened skin that experiences a stinging sensation, as well as a burning sensation upon application of cosmetic products.
Available in pellet form, Emulium Dermolea MB's plant lipid composition is similar to that of the skin's surface and is reportedly rich in anti-inflammatory pentacyclic triterpenes and sterols.
In formulations, it can emulsify oil phases up to 40% and create everything from thin sprays to thick butters. It is thereby suitable for skin care, sun care, makeup, and hair/scalp care.
The technology will debut at in-cosmetics Global 2023 in Barcelona.
"Skin sensitivity is an increasing issue worldwide," said Lysiane Teyssier, product marketing leader, PC textures and applications. "We have developed an ingredient that enables the formulation of textures with proven soothing benefits. Gattefossé's lipid chemists have used their expertise in functionalized plant waxes to obtain a high-performance O/W emulsifier. COSMOS-approved, suitable for vegan formulations, and fully substantiated in vitro, in vivo, and ex vivo, this new ingredient will meet the current expectations of formulators and consumers. We are delighted that Emulium Dermolea MB is among the shortlisted functional ingredients of the in-cosmetics global innovation zone awards. We cannot wait to launch this product at the show officially!"