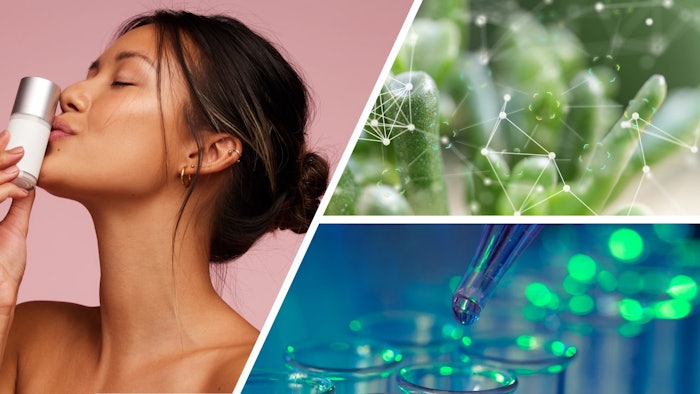 Biotechnology has immense power to convert waste products into high value materials while also producing technologies with "improved properties." And, in the bigger picture, biotechnology "can aid a transition to a circular economy." All of this is great news for beauty.
Biotechnology (particularly white biotech) can shape the future of cosmetics, for instance by yielding premium active ingredients such as hyaluronic acids.
This will be the subject of a free virtual briefing, "Biotech & the Circular Economy," which will take place Wednesday, June 21, 2023 at 1:00 p.m. Eastern U.S. time. The presentation will provide an insider's look at Givaudan Active Beauty's Centre of Excellence in Pomacle, France, which produces actives that only require the use of locally sourced natural resources and which provide co-products for the company's partners.
>>>Registration is free.<<<
Join our experts to learn how the company reduces its environmental impact and how it sets the best example of a circular economy via its biorefinery.
Topics covered will include:
How hyaluronic acid is produced
The link between biotechnology & the circular economy
Biorefineries: optimizing the use of local resources
This will be a must-attend event for beauty brand owners, R&D management, marketing and sales, and formulators.
About Our Experts
Mathias Fleury is Active Beauty head of category actives, creating the link between the science and technical knowledge from the R&D department, and the creativity and marketing tools needed by the sales network to best communicate to the final customer. Passionate about beauty & cosmetics, Mr. Fleury holds an M.S. in Colloidal Science, with a specialization in Cosmetics, from the French National Superior School for Chemistry (ENSCL), in Lille.
Mélanie Duprat is category manager for our range of pure botanical extracts, creating inspiring collections of exotic extracts, for the final customers. Mixing beauty trends and sourcing stories is one of her main expertises. In addition, Melanie takes over the role of sustainability representative, to be the voice of Active Beauty sustainability actions and vision to the clients. Passionate by the beauty industry, Ms. Duprat owns a M.S in marketing, with a specialty in product development in the cosmetic industry.