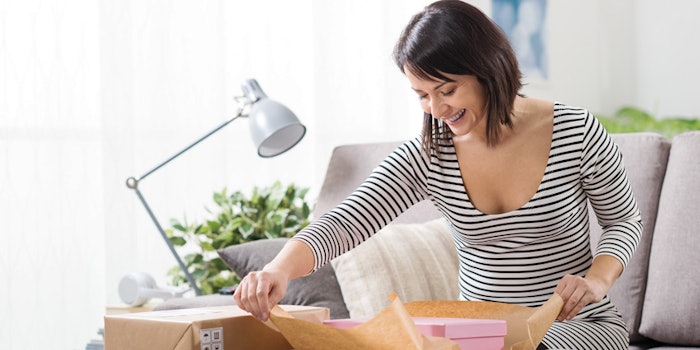 Bonus Podcast: Sheri L. Koetting joins The Business of Beautiful to discuss omnichannel branding and design strategies for connecting to today's beauty consumer.
Your goal as a brand is to connect with consumers in as many ways and locations as possible. Omnichannel shoppers are high-value customers, spending more in every channel on every occasion. No matter how fabulous your product formulations, your product's packaging is your brand's initial presentation to these consumers. Here are a few of the strategies we consider when designing beauty product packaging for every channel.
Your Target Customer
Unlocking your ideal packaging design strategy requires an understanding of your target audience. Before all else, establish who your ideal consumers are, why you want to connect with those customers and what role you intend to play in their lives. How do you anticipate you will answer their pain points, hopes, desires? How do these drivers influence aspects of your packaging?
How are your existing products related to your current brand? What do your customers value most from and associate with your brand? What is your competition doing presently, and how are they not meeting the unique needs of the consumer? Your ability to answer these questions thoroughly is the essential foundation for your brand's success.
Physical Retail Matters
While it gets all the headlines, digital sales only made up 11% of all retail sales in 2016, indicating that the vast majority of shopping still happens in physical stores.a There is no substitute for the exposure, brand awareness and foot traffic that physical retail can bring. Replacing that exposure digitally would require you to invest significantly more in your brand.
This is why we must still consider what your customers' 10-, 5-, and 2-ft experience with your brand will be in-store. Coordinate color and packaging structure to entice consumers from a distance. When they're within 5 ft of your products, customers can begin deciphering the symbols, iconography and primary imagery of your lines. Words, materials and finishes are considered last, and are only discernable at a 2-ft distance.
If you are going to be in retail, you must prepare a package that is designed to succeed at your target channels. In-store, the retailer is in control of how your brand is presented, not you. You will rarely have the opportunity for a do-over, which is why it is important to get it right from the beginning. Once you launch, any rebranding must consider existing brand equity, inventory and transition packaging.
Before establishing your retail positioning, take some time for contemplation and review:
Will your products be merchandised together or separately throughout the store?
Is your brand prepared to compete with the noise level of your intended channels of distribution?
How will your packaging stand apart from the competition?
Harnessing Digital Growth
Although the majority of beauty product sales are still happening in physical retail, most of growth in beauty sales is online. Beauty enthusiasts are known to shop in both mass and prestige, and growth in the prestige segment—growing at a steady $1 billion rate every year since 2012—can largely be attributed to online sales, according to Pew data (see footnote a).
In contrast to retail, where words are the last thing consumers notice, users see words first online. It is crucial to know how consumers discover new products online and optimize accordingly. Some are Google searching specific terms, some are browsing through websites such as Amazon, Sephora and Ulta, and many are heavily influenced by what their peers and favorite bloggers share on social media.
To optimize your product's packaging for digital, focus on your word usage choices in brand and product naming. What do these names communicate about you? If you're aiming for a superb digital channel, nothing is more important than a brand name and URL that is clear and direct. Descriptive brand names like DryBar, ingredients like Moroccanoil, founder reputability like Dr. Perricone and even evocative words like Bliss communicate a lot to consumers in just a few characters.
For example, while both Shea Moisture and Cantu offer the same key ingredient benefit in their products—shea butter—only one lists and leverages benefits of the essential ingredient in the brand name. Consumers searching online may not look any further than that.
The Unboxing Experience
Well-designed outer shipping boxes, inserts and packaging materials are an important part of the unboxing experience that follows digital shopping. Make sure this moment reflects your brand ethos as well, because unboxing impacts the customer's desire to share.
Shipping cartons that are uniquely designed or reflect the brand's personality have an impact on consumer opinion post-purchase, especially for luxury brands.
According to Dotcom Distribution's 2016 eCommerce Packaging Studyb, 68% of consumers felt the unboxing experience made the brand seem more upscale, and 44% said it reinforced that the product ordered was well worth the cost.
Additionally, 58% noted gift-like packaging profoundly influenced their perception of the brand, and 61% believed packaging made them more likely to repeat the purchase. Dotcom also found that samples, coupon codes, and requests for reviews inside the box are excellent ways to increase customer engagement.
PR-ready Packaging
When it comes to public relations, beauty editors are looking for bold and colorful packaging, as well as packaging that compliments industry-wide movements. For example, trends like athletic beauty products and witchy fashion have caught the attention of beauty editors, influencers and consumers alike.
Beauty editors love daring and flamboyant designs, so try to avoid plain all-white packaging. Also, refrain from using shiny metallic finishes—their glare can render products difficult to photograph.
Sharable Packaging Designs for Social Media
According to data gathered by Olapicc, 56% of social media users are more likely to buy a product after seeing it featured in a relatable, user-generated image than seeing it in traditional advertising. Give your customers a packaging experience they are eager to talk about, whether it be your unique dispensing methods, your beautiful luxe packaging or your impeccable design.
When considering social, all of the same rules for PR apply. Make sure your products reflect your desired consumers' tastes and lifestyles. Use clean and simple typography that pops and is easy to read in reduced sizes; select stark colors that both stand out and are not difficult to photograph.
Follow these guidelines and your gorgeous designs are sure to increase your social media traffic. If you want to be a real consumer darling, incorporate an engaging hashtag into your packaging, so when your customers share on social media, they know what and where you want them to post.
Video & Home Shopping Design Tips
According to Adweekd, 90% of QVC's revenue comes from beauty enthusiasts who want to stay up-to-date with what's going on in the world through their retail experience. After all, home shopping customers know that every time they engage with the brand, they're going to see something new.
Whether video on social media, your brand site or home shopping is your target, make sure your packaging is visually appealing and easy to read from afar. Consider the following guidelines to optimizing your packaging in video:
Avoid white, black, yellow and red colors, which tend not to read well on video. Opt instead for jewel tones.
Stay away from stripes and elaborate patterns, as these will vibrate on screen.
If you're selling a product with fragrance, choose visual cues that connote the scent (a lemon illustration for citrus scents, for example).
Choose packaging that is easy to use and apply, as demonstrations of product use are crucial.
For home shopping, your product will need to have easily understood results to succeed. Home shopping works best when befores and afters or statistics such as "95% of participants saw fewer wrinkles" are presented to the audience. Try to ensure these results are demonstrable, so home viewers can see the results.
Making More Objective Decisions
These are just some of the factors and influences we consider when designing packaging. Of course, all of these deliberations must be weighed and balanced with the unique goals and personality of the brand itself. However, when armed with the objective lenses we have outlined above, subjective decisions about packaging design can become much more objective.
Footnotes:
aAaron Smith and Monica Anderson, "Online Shopping and E-Commerce," December 19, 2016; www.pewinternet.org/2016/12/19/online-shopping-and-e-commerce/
bwww.dotcomdist.com/Study-Delivery-Time-Influences-87-Percent-of-Online-Shoppers-92-Purchase-Decisions
cwww.olapic.com
dSami Main, "QVC Has Quietly Become Successful With Streaming Audiences, and Nearly Half Its Revenue Is From Ecommerce," June 28, 2017; http://www.adweek.com/tv-video/qvc-has-quietly-become-successful-with-streaming-audiences-and-nearly-half-its-revenue-is-from-ecommerce/
Sheri L. Koetting is the founder and chief strategist of MSLK, a marketing and design agency based in New York. MSLK specializes in helping beauty brands find their voice in today's crowded marketplace through 360° brand positioning—from overall brand strategy to brand identity, packaging, retail experience, websites and social media campaigns; contact: sheri@mslk.com.