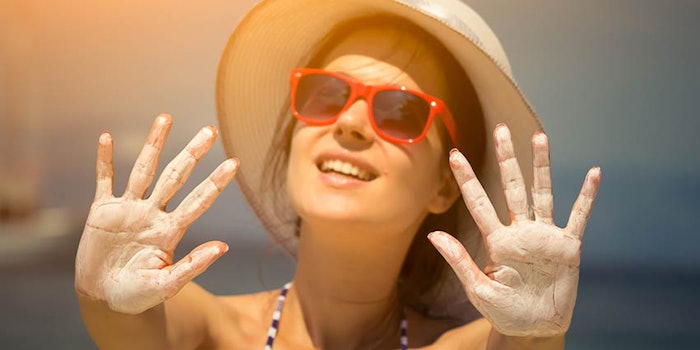 DSM will present its business unit's latest offerings at Stand C70 during in-cosmetics Global.
Update: The company will showcase a number of stress-easing formulations. The focus on chronic stress was inspired by its correlation to unhealthy behaviors; DSM found that 38% of adults said they overate, and 44% of the American workforce loses sleep each night due to worry about work.
Bel-Even—A patented synthetic small molecule that addresses the damaging effects of stress on the skin. The in-vitro ingredient reversibly and selectively inhibits the key enzyme 11β-HSD1, which generates cortisol in the skin, and is designed to improve skin elasticity, density and hydration. (High levels of cortisol are associated with premature skin aging.)
Pentavitin—Described by the company as a "natural moisture-magnet," Pentavitin is for daily use, and provides hydration to all facial areas. DSM claims excessively dry skin areas are already better hydrated three hours after a single application.
UV Flash Tone—a transparent fluid enriched with UV filters and actives to provide efficient protection against UV and blue light;
Alp'Dry Shampoo—for hair care between washes;
Texturizing Beach Spray—for just-back-from-the-beach looks; and
Messy Matte Gum—to sculpt, texturize and scrunch hair with a soft matte finish.
Additionally, millennial-targeted sun care offerings aim to provide the kind of demographic-dedicated concepts and formulations already found in hair and skin segments. These include:
No FOMO Sun Stick SPF 50—for hard-to-reach parts of the face, such as the eye contour, nose and mouth areas;
High Glide Moisturizing Sun Essence SPF 30—a lightweight, non-whitening formulation with niacinamide PC for additional protection against blue light and pollution, and hyaluronic acid for additional hydration; and
Total Protection into the Blue and Shine Control SPF 50—a low pH formulation that provides protection into the blue light spectrum, controls shine, combats fine lines and moisturizes the skin.
The company will also present an upgraded version of its Sunscreen Optimizer, initially launched in November 2017.
The 2018 in-cosmetics Global will be held April 17-19 in Amsterdam.