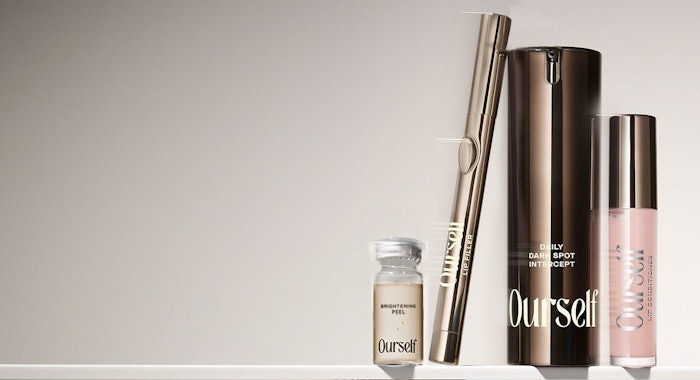 Glo Pharma has launched Ourself, a skin care brand that features the Ourself Subtopical Skincare System, which leverages proprietary biotechnology to address stubborn skin concerns and provide an at-home alternative to minimally invasive cosmetic procedures, delivering on the precision of needles and lasers through topically applied products.
Previously: Community Sixty-Six Brand Debuts
The brand has a portfolio of bio-engineered intides or known as intelligent peptides that are designed to target specific pathways within the skin. The current product selection addresses hyperpigmentation as well as loss of volume in the lips. Additional products include a daily renewal cream and mineral sunscreen. 
New formulas addressing other aesthetic concerns are to be released in 2022.
Ourself was founded by Vimla Black-Gupta, Scott Glenn and Lauren Otsuki. Ourself has received $30 million of funding to date from investors including Lightspeed Venture Partners, First Round Capital and Scott Glenn.
Otsuki said, "While the science, analytics and processes routinely utilized in the biopharma industry have created some of the most innovative medications available, they have yet to fully infiltrate the skin care industry. Through our research, we discovered technology that could deliver peptides, including those over 1,400 molecular weight, which is really powerful, subtropically the barrier of the skin. We knew there was a huge opportunity to apply this to skin care and effectively target the root cause of the biggest aesthetic concerns."
Black-Gupta said, "We are thrilled to bring this new category of Subtopical Skincare to consumers with Ourself. Our clinical and user trials have shown results that until now could only be achieved through more invasive procedures. Our unique approach and use of biotechnology will revolutionize the skin care industry and finally, provide consumers with a new alternative to gently undo the deepest signs of aging and restore the face they recognize."