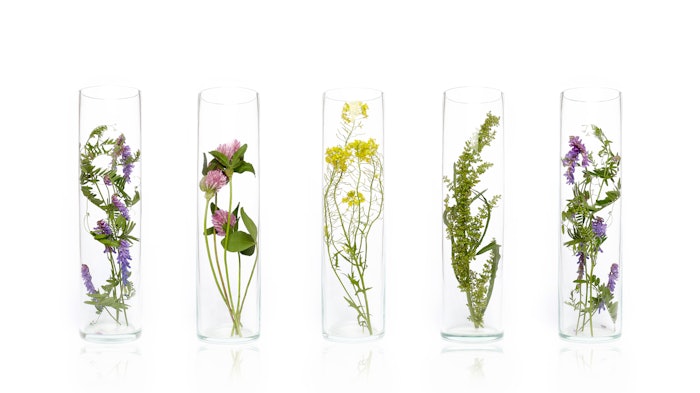 ChemForward announced a new program—Safer—to verify and amplify material safety through B2B marketplaces. Its aim is to give suppliers and consumers a third-party option to verify the design and formulation process for safety and transparency. Suppliers currently participating in the program include Inolex, Chinova Bioworks and Angus.
Related: Credo and ChemForward Codesign a Database for Chemical Hazards
Inolex submitted its emollient LexFeel Natural for testing, which was selected for its strong safety profile. Lisa Gandolfi, vice president of marketing at Inolex, said the company participated in ChemForward in response to increasing consumer demand for safe ingredients throughout the industry.
Gandolfi said, "Because consumers care, we've seen retailers start to care a lot more about the safety of their ingredients. This opens an avenue for a potential trust gap with implications in a very long supply chain. As the ingredient manufacturer, we have a burden of proof of safety, which we take very seriously. Then we have our customers, which are the finished goods manufacturers, that must trust what we've put forward and do their own evaluation. Then the retailers have to trust what the finished goods manufacturers are saying, and ultimately the consumers have to trust the retailers."
Gandolfi continued, "When you have an independent body that can bridge all these gaps and stay consistent through the process, I believe there's a huge opportunity. Safer has the ability to educate all the way through the supply chain and be one united voice that carries us through. Ultimately this will allow consumers, retailers, brands and ingredient suppliers to speak the same language, have the same set of standards, and really line up on safety."
See related: Eurofins Outlines 3-step Plan to Assess Packaging
Chinova Bioworks submitted its antimicrobial ingredient BioFiber+ for evaluation. David Brown, co-founder and COO of the company, pointed toward Safer's in-depth scientific analysis as the catalyst for Chinova Bioworks' participation.
"We submitted our new natural antimicrobial ingredient BioFiber+, which is a unique extract of fibers from white button mushrooms that replaces harmful synthetic preservatives in lotions, creams and other oil/water emulsions," Brown said. "The Safer program is a thorough and modern way to evaluate the safety of cosmetic ingredients. We knew our BioFiber+ ingredient is natural, biocompatible and good for people and the environment, but we wanted the in-depth scientific analysis that only a program like Safer could provide to show unequivocally how safe our ingredient is."
Laurie Marshall, global personal care business manager at Angus, said, "With ChemForward, we have the ability to provide our customers and formulators with qualified, independent third-party safety assessments that are based on data that is appropriate, accurate and complete, and up-to-date. This will allow our customers and ultimately the consumer to make informed decisions about using the ingredients and finished products that are the best choices for human safety and the environment. This is a great tool that can help our customers to create the best products and enhance the value of their product offering and their brand."