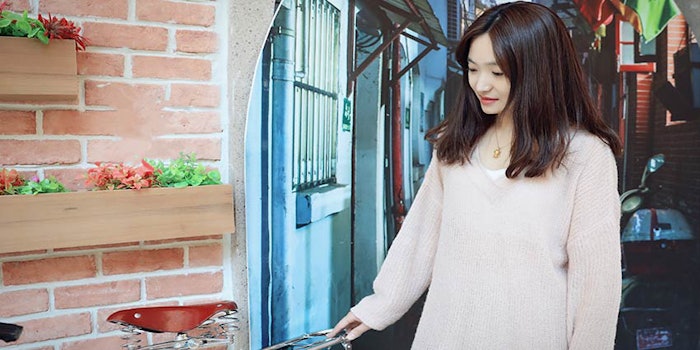 Most beauty brands dream of accessing China's massive and increasingly affluent consumer base, but logistics and animal testing concerns can hamper progress. Now, digital solutions may offer a path to have it both ways.
460 Million Affluent and Middle-class Shoppers
According to McKinsey data, by 2020 51% of China's urban population will comprise people earning the equivalent of between $16,000 and $34,000 per year. This represents 400 million individuals in 167 million households, which will soon be able to afford products such as "family cars and small luxury items," according to the report. 
Meanwhile, the affluent Chinese population, earning at least the equivalent of $34,000 per year, will soon comprise 60 million consumers. These shoppers will have immense buying power, opening the doors for high-end beauty.
The opportunity is there, but China's demands for the animal testing of many foreign-made beauty products, as well as the notorious difficulty of building a physical footprint in the country, are preventing some from entering the market. However, emerging digital solutions offer a workaround—without compromising on brand ideals.
Further reading: Tariffs Have Walmart Asking Beauty Suppliers for China Alternatives
A Hub for 5 Million Western Products
BorderX Lab is a Silicon Valley-based cross-border e-commerce platform for Western brands and retailers engaging Chinese consumers.
The company has offices in Shanghai, Beijing and Jiangsu Provinces, China, as well as a newly opened site in New York to enhance fashion and apparel partnerships, as well as the visibility of its Beyond e-commerce app, which targets middle-class Chinese consumers seeking Western beauty, fashion, health care and lifestyle products.
The Beyond app creates consumer demand via 50 daily pieces of content and influencer partnerships that make Western brands more relevant to Chinese shoppers.
The app features more than 60 merchants, including Saks, Peter Thomas Roth, Barneys New York, Finish Line, Forzieri and Everlane, delivering more than 5,000,000 products to Chinese consumers' phones and desktops. The company reportedly generated tens of millions in new sales for its top merchant partners in 2017 and has been profitable since Q3 2017.
How It Works
The Beyond app creates consumer demand via 50 daily pieces of content and influencer partnerships that make Western brands more relevant to Chinese shoppers. BorderX has editors in the United States and Shanghai who understand the Chinese consumer.
Special report: Decoding Asian Beauty Ideals, Products and Trends
The editors create content, test products—particularly color cosmetics—on Asian skin and gear messaging with the market's voice in mind. The most popular content format is short-form video, according to the company.
The average app user spends about 26 minutes on the app every day.
Unze says that BorderX's editors don't change brand messaging—their Western origin is a fundamental selling point, after all—but rather put the focus on the most relevant elements of that messaging for Chinese shoppers.
Editors also take advantage of social media posts, as when the daughter of Chinese sing/songwriter Fay Wong livestreamed with an Algenist bottle in the background. This is precisely the type of angle the BorderX editors are focused on leveraging. 
This content is responsible for about 75% of sales. According to Jeff Unze, BorderX's president, strategic partnerships, the average app user spends about 26 minutes on the app every day.
Chinese consumers tend to be very mobile-heavy, with Chinese millennials spending three times more time on their phones than the average Westerner.
The details for every Western product are translated by the company's multinational team and categorized for easy searchability, says Unze. Shoppers can check out by using WeChat Pay, Alipay and other popular mobile payment systems.
As orders come in, U.S. brands ship goods to BorderX's Silicon Valley facility to be sent overseas. The retail platform handles all chargeback risks, customs and shipping issues, and customer disputes. There are no upfront fees for the brands, which are only charged per transaction.
Supporting Values & Convenience
Typical shipping time is 10 to 14 days, says Unze, half of which typically takes place within the United States. Unze adds that this duration is in line with Chinese consumers' expectations and values.
The executive notes that Chinese Beyond app shoppers value authenticity over convenience. As cruelty-free products gain popularity in China, U.S. brands have a distinct advantage. Unze concludes that the cross-border ecommerce method allows U.S. brands to be cruelty-free in every country, including China.
A Safe Way to Test the Waters
Many brands have historically been cautious about entering China until they duly researched circulation and risk, says Nancy Zhang, manager of the BorderX New York office and head of partnerships.
Others took the view that China represented a fast-growing ecommerce market opportunity and therefore rushed in hoping to score a big profit.
While the former can miss out on high-growth opportunities and a head start on establishing brand awareness, the latter can stumble because they haven't taken the time to understand the retail or regulatory landscape.
Zhang argues that cross-border ecommerce resolves both issues by lowering the risk of testing China's retail waters before establishing a footprint in the country.
Translating Western Brands for China
Zhang explains that Chinese consumers go to the Beyond app seeking Western authenticity. Therefore, BorderX doesn't attempt to reposition U.S. brands for its shoppers.
Zhang and Unze note that while every market has specific needs or wants, Chinese shoppers are similar to their pan-Asian and Western counterparts in their desire for anti-aging products, clean and natural beauty, and products that deliver a dewy look and overall hydration.
The BorderX editors use their market knowledge to generate recommendations for Asian skin while highlighting the efficacy and look of Western formulations and packaging. Zhang adds that home-grown Chinese brands offer only modest competition. Being Western still pays off.
Reaching the Evolving Chinese Consumer
In addition to facilitating shipping, BorderX is focused on driving awareness and demand. Chinese consumers tend to be very mobile-heavy, with Chinese millennials spending three times more time on their phones than the average Westerner. That translates to extensive time to browse and shop for products.
How Brands Can Get Started
Zhang stresses that BorderX's ecommerce platform is not a plug-and-play solution for brands seeking to reach Chinese consumers. She notes that, while it doesn't take a year or two to arrange distribution and hire local teams under its model, brands still have to do their due diligence.
Brands must have begun a China strategy before approaching the company, says Zhang, including a PR and social media presence as well as influencer partnerships, if appropriate. Once companies partner with BorderX, the organization helps build brand awareness for its partners by pushing relevant brand content through Weibo, WeChat, influencers and other popular outlets. This work is critical for setting the conditions for sales. 
BorderX also recruits U.S. brands with sales volumes in the millions. The company scours Tmall, Alibaba and other platforms, and researches brand mentions in Chinese social media. The goal: locate smaller brands with an upward trajectory and interest in unlocking the Chinese market.
While strategy is still required to tap into China's retail market, digital platforms are making the process as easy and low-risk as possible.