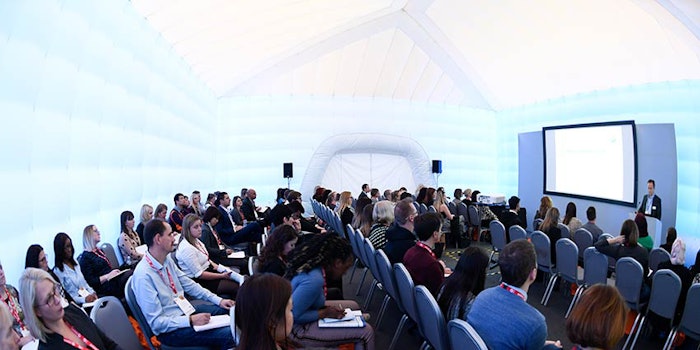 It's winter and the United Kingdom is heading towards a pre-Christmas election–with the Brexit issue still unresolved–but through the greyness of political and economic uncertainty and dreary weather, the beauty industry is shining like a beacon.
Whilst high street retail as we know it is struggling, beauty is driving both online and brick and mortar sales. Two categories seem to be key players: makeup and wellness, with personalization being a common trend.
The so-called "lipstick effect" is well known, but now–perhaps fuelled by the rise of social media and gender fluidity–the makeup sector, whilst not the largest, is certainly booming. The well-being sector is also thriving, particularly due to the impact of the many lifestyle choices now being made for health and ethical reasons, as well as the new focus on sexual wellness and gender-specific care.
Well-being is impacting the makeup market too, with the promotion of beauty from within and healthy skin, leading to a counter trend in natural "unmade-up" looks.
CEW UK Achievers Awards
In both areas, the industry is pushing the boundaries and therein perhaps lies the secret of its success–constant innovation and being consumer-led. And behind it lie many passionate and fierce women (and some men!) who create and drive their brands with the help of their "dream teams," some of whom were recognized at the CEW UK Achievers Awards held in London at the end of October.
"The atmosphere is incredible when we host our annual Achiever Awards ceremony," Caroline Neville MBE, President of CEW UK said. "It is an evening where the beauty industry joins together to celebrate amazing talent."
Honorees
Lifetime Achiever Award: Charlotte Tilbury MBE, founder, chairman, president and chief creative officer of Charlotte Tilbury Beauty. Tilbury's award was presented by Vogue's acting beauty and lifestyle director, Kathleen Baird-Murray.
Special Industry Award: Terry Barber, director of makeup artistry at M.A.C Cosmetics UK and Ireland, was awarded the Special Industry Award, presented by Sam and Nic Chapman of Pixi Woo.
Achiever Award: Annalise Fard, director of beauty, accessories, fine Jewellery and watches at Harrods, was awarded a 2019 Achiever Award. Fard received her award from Margaret Attwooll, general manager Parfums Christian Dior. Harrods has recently opened its stunning new beauty hall and announced plans to open a first new H Beauty store in Essex next spring.
Achiever Award: Caroline Hirons, esthetician and skin care expert, has been commended for her exceptional contributions to the beauty industry over the past 30 years and was presented her 2019 Achiever Award by Kate Somerville, founder of Kate Somerville.
Achiever Award: Margaret Dabbs, founder of Margaret Dabbs London, was presented a 2019 Achiever Award by professor Mark Whitely in recognition of her dedication to creating her globally celebrated brand devoted to hands, legs and feet.
Achiever Award: Oriele Frank, managing director, UK and co-founder of Elemis, was awarded her 2019 Achiever Award by fellow co-founder and president of Elemis, Noella Gabriel. CEW was delighted to celebrate her driving force to create the global skin care brand.
Digital Achiever Award sponsored by Google: Madeleine Raynel, country manager of UK and Ireland, on behalf of Treatwell (spa and salon online booking service), was awarded the 2019 Digital Achiever Award sponsored by Google and presented by Jacqui Owens, head of beauty, Google UKI.
Young Achiever Award: Ayah Mufleh, founder and CEO of Ishimmer Lashes, was the 2019 Young Achiever Award winner, receiving her award from Ali Page, director of client development at Global and Sarah Brown, founder of Pai Skincare.
Indie Beauty Expo London
Earlier in the month, at the Indie Beauty Expo (IBE), held for the second year at the Old Truman Brewery, in Brick Lane, London, more than 80 of the industry's rising star independent brands from the United Kingdom and around the world were on display.
Special report: Indie Beauty Expo NYC 2019
This year's event saw an increase of 30% over last year in terms of brands on display. Speaking to Global Cosmetic Industry at the event, co-founder Nader Naeymi-Rad acknowledged the United Kingdom as the second largest beauty market in Europe, with a strong history of retailing, trendsetting and innovative fashion in London, making it an easily accessible place for brands to show themselves.
With a substantial increase in the number of buyers, Naeymi-Rad was impressed with the quality and quantity of visitors.
According to the organizers, $3 billion has been invested in independent beauty brands over the last decade. In color cosmetics, "challenger" independent brands account for only 10% of the market, but are growing four times faster than their big brand competitors.*
As face masks are a trending area currently, there were several masks on display at the Indie Beauty Expo. Some of those masks include:
Starry Eyes: self-warming eye mask by Popmask, UK
LediBelle Cell Renewing Face Mask by Albert Koch, Switzerland
Rose Lip Mask by Kocostar, Korea
Youth Recharger for Neck biocellulose sheet mask and Beauty and the Breast biocellulose sheet mask by When Beauty, Korea
Apothecary Natural collection - 'Po' Pomegranite Superfood Regenerating Sleeping Mask by dr Botanicals, UK
Alpha Keratin 60kuTM Restorative Treatment Mask for hair by Virtue Labs United States
Depixym
One such British makeup brand is Depixym, which currently offers 20 "vegan, cruelty-free, gender neutral, long-wear, anywhere use" cosmetic emulsions in 20 colors, allowing customers to create their own looks.
Co-founders, Victoria Feebery and Alice Rhodes told Global Cosmetic Industry:
"We were absolutely blown away by the response to Depixym at IBE. It was the first time we'd exhibited anywhere so we had no idea what to expect! The stand was pulled together using stuff we had in the office and other upcycled bits (basically junk), so we had a few moments of self-doubt before we got there about how we'd go down with the beauty crowd. We've been in the industry for a while so it was really great to see some familiar faces, but it was also amazing to put some faces to names and meet some new Depixym fans! After the end of the second day we were absolutely exhausted, fully elated, made some great in roads to getting the brand out into more brick and mortar retailers and learned the hard (and slightly terrifying) lesson that driving a transit van round Brick Lane is a nightmare…"
Emulsion Cosmetics
Another UK skin and hair care brand, Emulsion Cosmetics, is also following the personalization path. It was stocked across the United Kingdom in 130 Boots stores following last year's IBE show.
Global Cosmetic Industry caught up again with operations manager Salim Abu Khader and director Helen Bannayan, who explained:
"Emulsion Cosmetics is a new concept in personal care that offers its clients the option to tailor-make their own personal products. The concept is made very simple, where clients choose from 14 bases, covering all they need from hair to face to body care. They can add essential blends which best suit their needs; oily, dry mature, etc. They can also add fragrance if they so wish. We have fragrances from across the wheel of fragrance."
Eloise Beauty
After working in the beauty industry for over a decade, Risi Jinadu realized that the industry was lacking in innovative, premium makeup brushes. So, in 2017 she started Eloise Beauty to provide a brand of tools and cosmetics that would be inclusive of all skin tones, with the aim to provide "Aesthetically appealing products that are dressing table worthy and deliver impeccable results." Social media helped the brand grow and it now includes stiletto, kabuki bullet and tear-drop brush styles; The Queen Eye Shadow Palette–a selection of 20 eyeshadows in four stunning textures; and various color products available individually or in box sets.
BeYou
Since the launch of their Period Cramp Relief Patch in August 2018, BeYou has been attracting interest in women's health and wellness magazines, daily newspapers and online publications, according to Kat Tyndall, marketing and brand manager.
This flagship product encapsulates the brand perfectly, aiming to help "overcome taboos faced by women globally by spreading education, positivity and empowerment, with products that match." The range now includes CBD sprays, drops and balm, menstrual cups, Sleep Pillow Mist and anti-chafing cream and plans are afoot to introduce further products "imminently."
Beyl
Whilst working in a fast-paced corporate environment all over the globe as a management consultant, Pieter-Jan Beyls developed the idea for his range of men's skin care products. Three years in the making, the result is a "high performance skin care range combining cutting edge science and nature, working with each man's unique microbiome to deliver a balanced, healthy and younger looking skin."
Beyl's formulations are claimed to "auto-adapt to hot and humid, cold or dry skin conditions, comforting the skin for daily commute, seasonal change, travel or gym." The range includes a cleansing gel, moisturizer and eye cream.
SCS Formulate
The research and development sector of the industry was also busy during November. At the SCS Formulate exhibition in Coventry last month, the United Kingdom's ingredient suppliers and distributors and scientific experts gathered to showcase the latest in new raw materials and technologies.
Record numbers of attendees visited this long-standing event in the U.K. calendar, which featured a new Sustainability Studio, covering topics such as legislation, packaging, formulating, life-cycle analysis, recycling and raw materials.
Award Winners
Safic-Alcan were winners of the Laura Marshall Memorial Award with their Let's Face It exfoliating and cleansing pad, which is reusable, plastic-free, long-lasting and sulphate-free. Based on potato starch and seaweed technology, the product idea was developed "to help us lead a more environmentally conscious life."
Ingredient Innovations
Staying with the makeup theme, French active plant cell specialist Naolys, demonstrated their Active Makeup concept formulations.
"Daily skin care is essential for our faces," claims the company, "and adding an active makeup can definitely help protect our skin: by mixing color and care in one product, we can reinforce, combine and extend the benefits already delivered by skin care products."
Six variants are included in the range, demonstrating different active ingredients from Naolys: three for the face (Even Radiance, Glowing Light, Pinky Cheeks), two for the lips (Plump Lips, Silky Lips) and one for the eyes (Deeper Look).
All formulations include natural ingredients wherever possible, as biodegradable as possible, while maintaining the required cosmetic properties. Naolys also highlighted MReload Sequoia, an anti-aging active which has been developed and studied exclusively for men's skin.
Canadian company, Siltech were also present and highlighted two products for use in makeup formulations: Silsurf I108 is a dimethicone copolyol (INCI: PEG-8 dimethicone), which provides excellent dispersibility of powders and pigments, ideal for foundations; and Silmer QT9-30 which is a silicone resin (INCI: polymethylsilesquioxane (and) isodecane), which provides excellent transfer resistance to both water-based and oil-based formulations such as lipsticks, other color cosmetics and skin care products.
Skin Microbiome Congress
At the same time as SCS Formulate, scientists were gathering in London for the Skin Microbiome Congress.
Podcast: Beauty & the Microbiome
This year, the organizers launched "M.A.D Talks," in memory of Marie Alice Dibon, who the Skin Microbiome community tragically lost at the end of April.
Dibon was a valued contributor to Global Cosmetic Industry magazine and is very much missed by those who knew her. She cared deeply about innovation, so appropriately, the M.A.D Talks' aim is to showcase the latest innovations in the skin microbiome space.
The honor of speaking fell to Katerina Steventon, Ph.D., who introduced the work of the National Biofilms Innovation Centre (NBIC).
"The Congress showcased new research in the area of the skin microbiome, highlighting that at present there are more questions than answers," said Steventon. "For example, the significance of biofilms in the context of the skin microbiome. Biofilms are a well-characterized mode of microbial growth of both single and multi-species populations, associated with community and cooperative behaviours. Whilst the microbiome is the community of organisms present, biofilms represent the habitat and biological environment in which the cells grow, evolve and adapt to their surroundings."
Steventon introduced the NBIC, a community of 45 U.K. universities, research institutions and over 120 companies. NBIC's vision is to harness world class expertise in biofilm research by creating economic value across a number of industries, including personal care, skin care, oral care and hygiene.
in-cosmetics Formulation Summit
Once again in London, the 5th annual in-cosmetics Formulation Summit, took place the following week. Commenting on this year's event, Barbara Brockway, Ph.D., of Applied DNA Sciences, who has chaired all the five summits so far, said:
"The numbers grow each time and the speakers/delegates are truly international. This year we had 160 delegates plus speakers, so it was our biggest summit yet ... and I have proudly chaired each one."
Conference topics covered to date include: Protection, Biotransforming Beauty, The Microbiome, followed by Digital Beauty and this year, Formulating for the Conscious Consumer, in a program curated Andrea Mitarotonda, Ph.D.
"The in-cosmetics Formulation Summit program is designed primarily for top formulators," said Brockway. "The organizers pride themselves on bringing to London the experts on the sciences behind the biggest global beauty trends. This year, delegates learned the must-have characteristics of beauty products satisfying the demands of the rising numbers of conscious consumers. As natural Bbeauty has continued to grow, we see it now snowballing, to take in even broader definitions such as 'sustainable,' 'clean,' 'waterless' and 'ocean-friendly' beauty products."
Brockway continued, "At this year's summit we learned how conscious consumers expect brands to respect the planet and understands that biodegradable does not necessarily mean environmentally safe! They ask questions, check claims and prefer beauty products with less ingredients and packaging, while being attracted to products with a positive message such as improving health and mental well-being. Looking further forward, experts at the summit also discussed the role of preservatives when formulating skin microbiome friendly products and the importance of keeping skin healthy with the cellular level processes of autophagy.''
*Nini Zhang, Credit Suisse