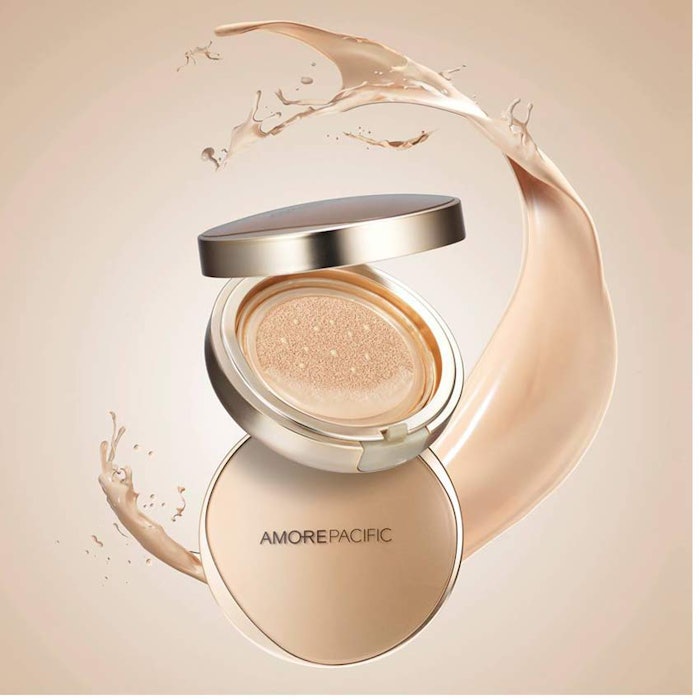 "I think K-beauty—and how it's being defined right now—will fade away," Alicia Yoon, founder of K-beauty mecca Peach & Lily, recently explained to Global Cosmetic Industry. "However, the conversation around K-beauty will evolve and focus on the brands that truly wow, and these brands will have staying power, like the beloved brands Stateside (and beyond)."
Certainly, no brand has better defined the origins and ongoing evolution of the K-beauty boom than South Korea's AmorePacific. The company's iconic cushion compact has been synonymous with K-beauty, inspiring countless imitators around the globe and helping fuel a global craze for all things Korean in the beauty space.
The company's annual sales totaled nearly $4.7 billion in 2015, with strong growth ahead. Aside from its flagship brand, AmorePacific is home to high-profile brands such as Etude House, Lolita Lempicka, Sulwhasoo, Annick Goutal, Laneige and Innisfree. AmorePacific has continued to expand its reach, establishing a unit in Malaysia, boosting the omnichannel with a partnership with eBay Korea and launching a customizable lipstick.
Recently, Karen Housman, vice president of marketing—U.S., AmorePacific, spoke with correspondent Lisa Doyle about the Korean powerhouse's global coup. –Editor in Chief
Lisa Doyle: What's involved in your role at AmorePacific?
Karen Housman: I lead marketing strategy for brands in the United States—I develop and execute online marketing and expand distribution channels, and for future growth, I work very carefully with media, PR and digital strategy.
What's exciting is, you know the growth of the brand in Korea, and my goal is to drive it in North America. So, I work very closely with architects and visual merchandisers. My goal is to drive brand awareness and elevate the brand. I joined at end of last year. It's an exciting new job for me. It's rare to find a big corporation based in Asia coming to the United States—it's usually the reverse.
LD: What's driving the recent rapid growth of AmorePacific in Asia and North America?
KH: Right now, we've moved [up] to the 12th largest beauty company in the world. Sales have gone up 20% year on year overall, and it's especially growing outside of Korea—we're focused on international expansion and globalization. In the United States, it's taken a long-term commitment—success is not achieved overnight.
Our focus is on R&D and spending time to learn the market. The other big component is the trends—the rise of the middle class in Asia, more investment in beauty in China and the changing beauty retail environment. As far as the United States [is concerned], our focus is on digital and the rise of the millennials—and our strategy is aligned with how AmorePacific as a company is growing.
LD: How does your consumer base and marketing strategy in the United States vary from Asia?
KH: The most important thing in both markets is that the philosophy remains the same—Asian beauty based on Asian philosophy. AmorePacific wants you to have great, healthy skin, and that has to be taken care of from the inside and out. One thing we focus on is how to take care of skin and make skin care more modern, fun and innovative. That's a fundamental strategy for both [markets].
In the United States, awareness [of AmorePacific] is much lower, so the focus here is to educate consumers and build awareness. One strategy is to disrupt the marketplace through innovation and offer innovative experiences to consumers. Even in a mature market like North America, people are looking for something new.
In August, we went to Toronto with the Laneige Beauty Road Show (see sidebar, "On the Road with Laneige"). It's a huge event experience—this year, we've been to 11 cities, including three cities in China, Malaysia, Taiwan and Southeast Asia, to offer 360-degree consumer experiences. This year marked the first time we brought the show to North America.
LD: What are the plans for additional retail expansion in North America over the next few years?
LH: It's important to note that AmorePacific has more than 30 brands in Korea, and it's very exciting to see the product pipeline. There are five global brands: Laneige, Sulwhasoo, Innisfree, Mamonde and Etude. We have two brands in the United States, plus the flagship AmorePacific brand. Yes, there will be distribution strategies in the future to grow, but we'll also be bringing additional brands to the United States and seeing which distribution channel makes sense for each brand.
We are also found in Sephora in Canada and the United States. We're planning to renew our website and are developing our Aritaum Shops in Korea and the United States. They are our own freestanding shops that bring our brands to the United States, and are found in areas with a focus on Asian shoppers and consumers.
We have 10 conversions planned this year from the preexisting Amore Shops—so that is another area we plan to focus on. Aritaum Shops will have a more modern design and are aligned with the design concept current with our brand. And, of course, we'll be further developing our own website and ecommerce capability.
LD: How have all things "K" had an impact on the AmorePacific brand?
LH: This is exciting to talk about. The K-beauty trend definitely has helped with increasing awareness, as people are very curious about what it is. The way we can take advantage of it is through repurchase, as our brands have an over 50% repurchase rate.
K-beauty is not a trend that will come and go, and we're going to ride the K-wave. It's a great way for consumers to discover products, and they believe in it after they've experienced the innovation.
AmorePacific has a global reach, and we've been the number one brand in the Korean beauty market since the K-wave started. Our innovative solutions are driving the beauty market, and we're just starting to be known and seen around the world—it's exciting.
LD: What's next for AmorePacific worldwide?
LH: The goal for 2020 is to be $12 billion in sales ... Our other goal is to have 50% of our sales come from outside Korea, which means the United States will be a very important market for growth.
We want to share our vision of beauty and innovative products for consumers. The most innovative product we have is the bestselling Cushion Compact, and there's much more to come. The company is definitely focused on continually providing innovation, so that will drive global growth worldwide.