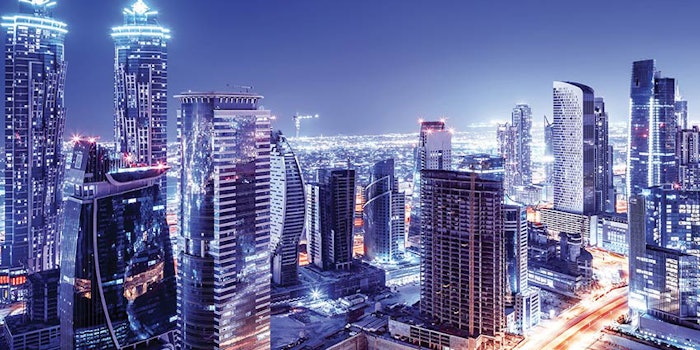 1. It's Big
According to Euromonitor International (www.euromonitor.com), the beauty and personal care industry's retail value in the Middle East and Africa totaled $29.9 billion in 2016.
2. The Middle East Is Challenged, but Opportunities Remain
For L'Oréal, the Middle East and Africa were the weakest among new markets in the first quarter of 2017. The company reported that sales in the region were down 18.8% on a like-for-like basis, and down 16.3% based on reported figures. The company noted that petroleum-dependent Saudi Arabia continues to slow.
In reporting its latest results, Estée Lauder noted that the Europe, Middle East and Africa (EMEA) regions collectively reported a net sales gain of 13% in constant currency, with a 30% rise in global travel retail. However, the Middle East and Turkey continued to represent economic difficulties, according to the company. Excluding the Middle East, the total EMEA region grew 15%. In the Middle East, Estée Lauder reported declines in inventory tied to weaker retail traffic. The negative sales trend is expected to ease somewhat, according to the company.
Despite these challenges, there remain growth opportunities in the region. For instance, L'Oréal reported continued growth in Pakistan and Egypt. In addition, L'Oréal Luxe performed particularly well in the Middle East.
And countries such as Iran continue to see demand for hair and skin care, fragrances, eye makeup, nail polish and prestige beauty, according to the organizers of Iran Beauty & Clean.* In fact, the country's beauty care market is poised to be worth $5 billion this year.
3. Amazon Is Staking a Claim
Recently, Amazon purchased the largest Middle Eastern online retailer, Souq.com, for a reported $650 million (according to CNN). Souq.com currently carries about 2,200 beauty products, including SKUs from Clinique, Lancome, Philips, Calvin Klein, e.l.f, Shiseido and Joelle Paris. The 12-year-old retailer boasts more than 45 million site visits each month and has operations in the United Arab Emirates, the troubled market of Saudi Arabia and the booming market of Egypt. Leveraging its technology and expertise, Amazon is betting on taking Souq.com to the next level.
4. Multinationals Are Investing Locally
Unilever, which, along with Beiersdorf and L'Oréal, is among the top personal care players in the Middle East and Africa, recently opened a new 100,000-square-meter factory in Dubai in order to stamp its regional products with "Made in the UAE." The facility will produce 500 million products, totaling 100,000 tons of liquid product each year, with 80% of the goods exported to the broader EMEA region. Brands that will be manufactured at the site include Dove, Fair & Lovely, Lifebuoy, Vaseline, Clear, TRESemme and Sunsilk.
Meanwhile, K-beauty giant Amorepacific has launched a play for the Middle Eastern market via a deal with retailer Alshaya Group. As part of the agreement, Amorepacific will open the first Dubai Etude House store in the second half of 2017. Citing forecasts that the Middle Eastern cosmetics market would grow at a CAGR of 15% through 2020, totaling $36 billion, Amorepacific is hoping to tap into a "rich and diverse demographic including local Emiratis, transit travelers, tourists and expatriate workers," who are seeking fragrance and color makeup.
The Dubai expansion is expected to be the gateway market to the Middle East for Amorepacific, which established a fully owned subsidiary, Amorepacific ME FZ LLC, in 2016. Following the initial Etude House opening in Dubai, Amorepacific will launch further locations in Kuwait, Saudi Arabia, UAE, Qatar, Bahrain and Oman.
5. Beauty by and for Africans is Emerging
Multinationals are responding to changing local consumer needs in Africa, while local players are launching brands built with local insight and evident pride in the continent's rich resources.
L'Oréal East Africa's Dark and Lovely brand recently launched its Au Naturale natural care range to meet emerging demands for less invasive hair products. The range includes a Super Quench Leave-In Spray, Soak It Up Oil Cocktail, Lock It In Sealing Cream, Sulfate-Free Shampoil Shampoo, Deep Conditioning Delight Haircare, Easy Twist Gel N' Butter and Anti-Shrinkage 10 in 1 Styles Gelee, and Knot Out Conditioner. The products focus on natural ingredients such as coconut and mango oil, bamboo milk, jojoba and peppermint.
Local brands have already tapped into the natural hair demand. For instance, Kenya's Marini Naturals has introduced products such as Curl Magic! curling gel, which comprises flaxseed and promises to "bring out your natural God-given curls," and Goodbye Tangles! leave-in conditioner and detangler, which is formulated to ease the combability of natural hair.
In body and skin care, Kenya's Keyara Organics declares itself "authentically African," with ingredients sourced from the continent, including Moroccan argan oil, Ghanaian cocoa butter, Ugandan shea butter, Kenyan coconut oil and South African marula oil. The brand's products include Shea & Mango Body Butter and Shea & Aloe Hair Food.
Uganda's Amagara offers skin care comprising natural botanical extracts, including shea butter, avocado oil, cucumber, carrot, vanilla and papaya. The brand's range includes Papaya Body Butter, Carrot Body Butter, Cucumber Body Butter, Mango Hand Lotion, Watermelon Hand Wash, Lemon Hand Wash and Peppermint Shower Gel.
In color, Kenya's Pauline Cosmetics offers lip sticks in shades like Red Wine, Marvel, Revel and Royal Diva; face powders in shades such as Cocoa and Sahara; and eye shadows in shades such as Smoky Eye and Natural Radiance.
SuzieBeauty Ltd., meanwhile, was launched in 2011 by Suzie Wokabi, who received makeup artist training at MAC Cosmetics in Los Angeles and held roles in fashion and beauty from 2001 to 2007, when she returned to her hometown of Nairobi. SuzieBeauty offers products for the face, lips and eyes, as well as brushes—all targeted to the dark-skinned African woman and the Kenyan climate, according to the brand. The brand has now begun distribution beyond Kenya.
Finally, ElsaKim, which claims, "Durability to the external factors and shine creates a permanent and breath taking results on nails," has introduced colors with playful names, including My Warm Plummy Heart, Turquoise Away, Sugar Coat Rose, Daisy Sweet Corn and Strawberry Cream or Me?
Footnote:
*www.cosmoprof.com/iran-beauty-clean/