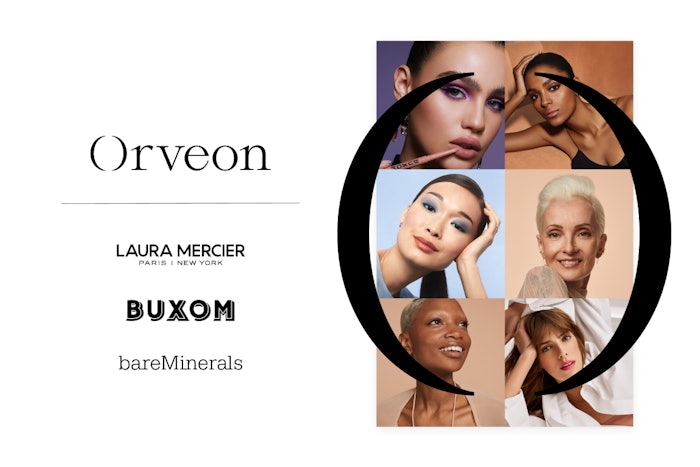 In December 2021, Advent International's newly created New York-based Orveon acquired bareMinerals, BUXOM and Laura Mercier from Shiseido Americas. Here, Orveon CEO Pascal Houdayer outlines his vision for what lies ahead for beauty. -Editor
For years, the beauty industry has been known for evolution—be it new categories, product formulations or uses of technology. In large part, these changes are a result of not only consumer insights, but also consumer expectations. When customers become more informed about how products impact their skin and overall wellness, their expectations increase, and they start to demand more—and demand better.
Historically, certain products would be used to achieve a specific look—for example, highlighters or serums to create a glow. Consumers are now seeking products that go further and improve their skin on a deeper level, such as increasing blood circulation, reducing inflammation and strengthening the skin from within. 
The global pandemic adds another layer of conversation to the industry. Consumers and brands alike have shifted their focus from beauty and surface level needs to purpose and function; how they can truly benefit people. Consumers are more aware of the ingredients in their products than ever before and are checking the source, functions and benefits of these ingredients before making a purchase. Daily rituals have changed and people have begun to reimagine their routines; some are using products for beauty and looks, others for wellness and skin health. 
In the coming year, we are likely to see brands beginning to take major steps on this front; all impacting the future of the industry as we know it. To maintain loyalty and attract new customers, brands will need to respond to conversations and deliver in a real and meaningful way.
Below are three top opportunities for the industry.
1. 
Cosmeceuticals
As beauty and wellness become even more intertwined, 360-degree "cosmeceuticals" will become the standard. Products that make consumers feel good from both the inside and outside will surely thrive. In 2022, key players in the beauty space will continue to lean into the rising societal emphasis on overall wellness—developing and marketing products that enhance the customer's health, not just their looks. 
Be it skin care that works at a cellular level, or body treatments that produce mental health benefits through deepened relaxation, paying attention to ingredients like probiotics that strengthen the skin's microbiome will become paramount. Focusing on biologically active ingredients and ones that enhance skin care efficacy will lead to new routines with standout results.
It's important to note, not all products are created equal—people may purchase the latest serum for the sake of sampling current market items, but they don't consider their personal skin needs and concerns. There is a reason the industry has created categories for skin types; the goal is to address specific areas from dry or oily to normal or combination. 
To that end, there will still be room for various customers—those seeking simplified routines (many have realized that more isn't always better) and others that believe there is a time and a place for "treat yourself" behavior (a movement coming out of the post-pandemic culture). Luxurious and highly curated products will always have a place but the frequency with which they are used may start to change.
 2. Metaverse, Makeup Counters & AI Beauty
Just a few years ago, industry pros and the casual counter shopper alike would have rebuffed the idea that AI could identify your foundation shade with the greatest accuracy. In-store mirror kiosks and apps that use facial scanning to pinpoint a foundation shade range are no longer a novel idea, but widely used tools that showcase the power of technology to impact the beauty industry. 
Through a tumultuous two years in which people became reliant on e-commerce, as well as massive improvements in AI technology, brands are formalizing a major shift in how customers shop beauty. Everyone from startups to legacy brands are proving just how well technological advancements can help shoppers select their color, moisture level, coverage preference and more. These emerging tools are essentially an on-demand skin expert that knows the nuances of how every single product can meet your skin concerns. 
The potential for AI integration grows exponentially when we consider not only the tech supporting in-store and virtual shopping, but the actual virtual beauty counter. As metaverse experiences scale and become more widely accepted, consumers will look for their avatars to reflect their real-life personas—from their favorite lip color and eyeshadow palette to masks and laser treatments.
The next phase of the beauty industry will be centered on finding the balance of integrating the experience of the product, which has been historically hands-on, into a virtual-only world that still supports the in-person customer. With that, the uses of color cosmetics and skin care are limitless. There is an opportunity to create a space of exploration and expression, as well as a space of artistry.
 3. The New Meaning of Sustainability
What is sustainability and how do brands define how well they are following the standards? It's clear that consumers are more in tune with the topic than ever, and are paying attention to brands that are not only making claims, but sticking by them. Be it recyclable packaging or ethically sourced ingredients, there are ways to ensure products are doing good for both people and the environment. This notion has increased in popularity in recent years, but what may have started as a push for awareness has transformed into a radical global wakeup call.
In the coming years, brands will need to be more transparent with their sustainability practices—changing an outer carton to a biodegradable form isn't enough when it's shipped in oversized boxes with layers of paper and plastic and often in multiple unnecessary boxes containing individual items. Disclosing things like carbon footprint, how many pounds of material have been recycled, or even supporting sustainable and environmental causes can collectively impact the commitment of a company. These positive practices will not only bolster a brand from a consumer perspective, but it will also show the real power of an industry. 
 The Future Starts With Today
Beauty brands are constantly undergoing moments of reinvention. While there are some hallmark aspects that define them, there will always be a quest to be ahead of the curve. Modernizing everything from formulations to packaging is where the industry is headed—with consumers paying more attention to wellness, technology merging with tradition and the ever-rising importance of sustainability—these intersecting trends will result in a better landscape for all.
Today's customer is more concerned with a brand's transparency than their seemingly idealized product presentation or marketing tactics. To navigate trends and developments, brands will need to put actions at the forefront of their business models; stating an intended claim will not be as important as explaining why the need is there and what you have answered this need through action.
Knowing brands truly can't predict the future, adapting to their unique customer base and their definition of holistic beauty, authenticity and values is what will lead to the success of a company. Trends change…opting for change can also trend. The future of the beauty industry is never certain but our practices today will define the path for what's to come.