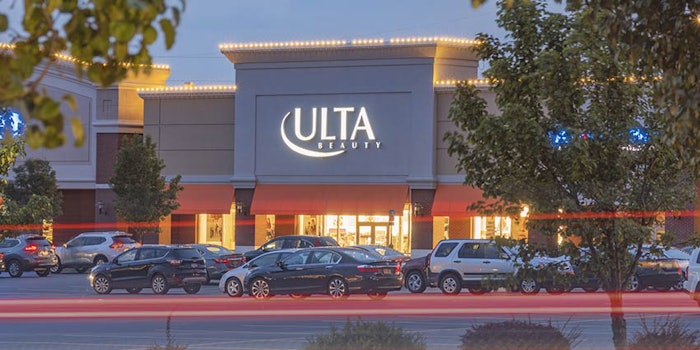 Ulta Beauty, Inc. has announced further updates to its operations regarding its new curbside pickup service, increased safety measures and processes and plans to reopen select stores throughout Arkansas, Nebraska, Oklahoma, South Dakota, Tennessee, Texas and Utah. A number of these reopened locations will offer hair services with heightened safety protocols as well.
Previously: Ulta Furloughs Staff Amid COVID-19 Outbreak
To create safer shopping environments in store, Ulta Beauty worked with government and health guidance to inform safety policies and the Retail Industry Leaders Association (RILA) to collaborate across the industry and share best practices that inform how guests will experience shopping.
These best practices, or Shop Safe Standards, include but are not limited to the following:
Face Coverings: All associates will wear face coverings in-store; the company asks all guests do the same while shopping.
Social Distancing: To limit contact without forgoing the unique Ulta Beauty experience, guests will find visual cues, such as signage or floor decals, to ensure six feet of separation are maintained. Additional measures include limited occupancy, safely-spaced registers with protective barriers, and options for contactless payment.
Salon Service Safety: By appointment only, hair services will be available in select stores. Safety measures for salon services include required face coverings for guests and associates, gloves for associates, increased laundering of capes and aprons, staggered stations to support social distancing, and added sanitization processes.
Testers: Product testers are not available for use in store. Open product is now for display only and guests will find signage throughout stores reinforcing the new policy. Products remain on display to showcase colors offered only and hand sanitizer continues to be readily available throughout the store.
In-Store Cleanliness: Ulta Beauty has committed to elevating its already strong practices in-store with increased protocols for regular cleaning and disinfecting public spaces throughout the day. For guests, additional hand sanitizer stations are installed throughout stores to reinforce best practices.
Associate Wellness: As the heart of the Ulta Beauty in-store experience, the Company recognizes its responsibility to protect associates. They will participate in mandatory wellness checks before the start of shifts, have physically rearranged breakrooms, and will learn and execute safety training on new policies.
As a special thank you to those caring so diligently for the country right now, all health care workers will be able to make appointments for a half-price haircut and style in the first month their local Ulta Beauty store is open.
In addition to ulta.com and the Ulta Beauty app, guests can shop via the recently introduced curbside pickup service, offering convenience and ease of shopping for beauty essentials. The limited-contact offering will continue to become available at stores across the country, in both reopened and temporarily closed stores.
"Throughout the last few months, we have navigated the fluid dynamics of COVID-19 with the safety of our guests and associates at the heart of every decision we have made," Ulta Beauty CEO Mary Dillon said. "That commitment to safety has guided our thoughtful, phased approach to reopening. In the last few weeks, we have introduced curbside pickup in more than 700 locations and this Monday, we will reopen approximately 180 stores in select states. Our focus has been on how to reopen safely–not just when–throughout our preparation and planning to ensure we are confident to welcome guests and associates back to Ulta Beauty."
Dillon continued, "We know we cannot do this alone and this journey continues to shed light on new learnings and concerted efforts to keep moving forward safely in collaboration with government and health officials as well as other retail industry leaders. It is our responsibility to create store environments that are safe for our guests to enjoy the shopping experience and for our associates to work confidently. We look forward, with cautious optimism, to welcoming all back to Ulta Beauty."