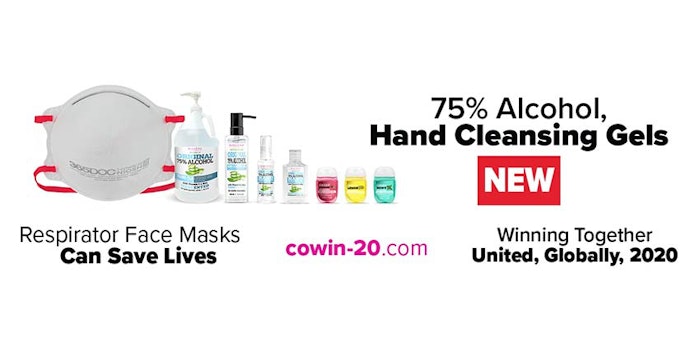 R&R Consumer Healthcare brands Biovène Barcelona and 365DOC, its latest launch, are managing two fundraising efforts to purchase personal protective equipment (PPE) and N95 3M 8210 Niosh Respirators in support of first responders and health care workers on the frontlines of the COVID-19 pandemic. These efforts consist of the establishment of the Biovène Barcelona #COWIN20 Campaign; and 365DOC's collaboration with Las Vegas vlogger Arman Izadi on Quarantine Mansion.
Both efforts were established to assist in fighting against the spread of COVID-19, to protect hospital workers treating those infected with the virus and to provide hospitals with respirators to treat infected patients.
#COWIN20 Campaign—WIN Together, United, Globally this 2020
This global campaign, set up to help the fight against the virus, was also established to combat anything preventing PPE reaching those in need of such items, whether for medical work or personal needs, as the climate for such supplies have reached suppliers seeking deep profits, and manipulating prices with limited quantities.
The website clearly states that #COWIN20 is not for: "People/Entities looking to purchase Personal Protective Equipment and resell high above market cost—or with intention to keep in storage/hoarding to limit the access for people with urgent needs."
Quarantine Mansion
The website is now collecting donations to provide face masks to those experiencing shortages or in need across the United States.
For public organizations and governmental mandates, First Responder recommends its collaboration partner 365DOC: to facilitate N95 3M 8210 Niosh Respirators and any other PPE in need. The 3M 8210 are available at an accessible cost of $1.00 (delivered), to U.S. hospitals, first responders, police, EMS or any similar governmental organizations currently not placed in the 3M queue.
"In this state of catastrophe and tragedy, we are experiencing a new collaborative effort from all over the world to win the battle, everyone is really coming together and helping in any way, shape or form," Erik Lambert, president of R&R Consumer Healthcare and CEO of Biovène Barcelona, said. "We understand the support needed is critical—it can be as easy as liking and sharing the latest communications from the local city or government, or asking if there are still urgent needs for donations of any PPE equipment."
Lambert concluded, "We are proud of the launch the Quarantine Mansion with Arman Izadi, and to be able to support him and First Responder Source, through 365DOC. We believe that by coming together we can save more lives and stop this invisible killer in its tracks."