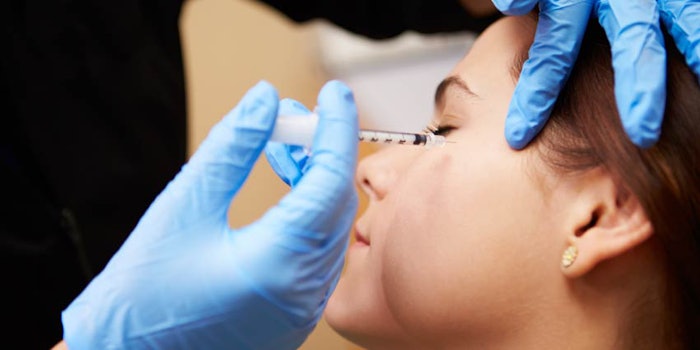 Effective October 1, it will be illegal in England and Wales to give Botox or cosmetic filler treatments to underage individuals, except under the direction of registered health professionals. Nadine Dorries, MP, minister of state at the U.K. Department of Health and Social Care, announced the ban after the successful passing of the Botulinum Toxin and Cosmetic Fillers (Children) Bill earlier this year.
Related: Beauty's 2021 Resurgence: By the Numbers
Lack of Regulation
Currently, children, in the same way as adults, may access Botulinum toxin—a prescription-only medicine regulated by the Medicines and Healthcare Regulatory Agency (MHRA)—and cosmetic filler procedures on the commercial market without a medical or psychological assessment.
A report by the All-Party Parliamentary Group detailed the growing Botox trend and lack of regulations involved in the procedures.
According to a Safety in Beauty Campaign survey of 230 underage females in the United Kingdom, 74% said they would lie to get a treatment that their parents would not allow them and 68% said they had already lied to get a cosmetic treatment.
The U.K. Department for Health estimated that as many as 41,000 Botulinum toxin procedures may have been carried out on underage individuals in 2020 and more than 29,300 dermal filler procedures since 2017.
Practitioners do not need to be medically qualified to perform the procedures and there are no mandatory competency or qualification frameworks required; the methods for accountability or a path for consumers to report malpractice are minimal, per the report.
There is also no consistent licensing or regulation of the conditions under which treatments can be carried out, per the report. This has led to the prevalence of mobile treatments in office spaces, hotel rooms, pop-up shops, homes or other "unsuitable" environments by both medical and non-medical practitioners, with no requirement to meet hygiene standards or have access to remedial treatments.
The Policy Details
The policy intends to safeguard children from the potential health risks of Botulinum toxins and cosmetic fillers. The procedures will still be available from a limited range of registered health professionals where there is an assessed medical need.
It will be a criminal offense to offer any underage individual Botox or cosmetic filler treatments for beautification purposes. This applies at the individual, business and corporate levels.
The bill also details local authority enforcement powers, regulation responsibilities and territorial extent. The bill currently only applies to procedures carried out or arranged to be carried out in England and Wales.
It was first introduced in the U.K. House of Commons on February 5, 2020, with readings and debates held throughout 2020 and into early 2021.
Future Initiatives
According to BBC, experts are calling for an extension to the bill that includes other invasive treatments like thread lifts.
Social media platforms are being blamed for the driven demand for treatments, operating as a platform to sell misleading advertisements. The U.K. reality dating show Love Island is also facing blame for adding to the underage trend.
Health professionals want to challenge the idea that non-surgical treatments are a quick fix to improve self-esteem or happiness. It has called for mandatory psychological screenings to take place ahead of treatments to understand a person's motivation and spot individuals at risk.
Scotland has carried out a public consultation on the regulation of non-surgical cosmetic procedures and says it expects to announce its next steps soon.
Northern Ireland's Department of Health said in a statement it would consider the report and respond in due course, while the Welsh government said it will be doing further work.