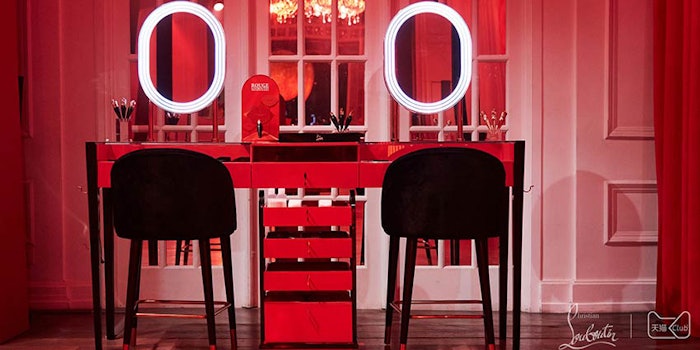 Christian Louboutin Beauty launched a flagship store on Tmall, marking the Parisian beauty house's first official sales channel in China, according to an article on Alizila.

Related: L'Oreal to Open Beijing Flagship
The beauty line, which was launched in 2012, features nail lacquer, eye shadow, fragrance collections and lipsticks packaged in gold and black cases that are inspired by ancient Babylonian aesthetics.
The Tmall flagship offers a full-line assortment of lipsticks, which includes its signature "Rouge Louboutin" shade. In celebration of its opening, Christian Louboutin Beauty hosted a launch party in Shanghai's French Concession area and the event was live-streamed.
Tmall Club, which is the platform's experiential-marketing unit, invited 10 of the brand's fans to the event, where they received one-on-one advice from professional makeup artists, as well as limited-edition gift boxes from the brand.
Christian Louboutin Beauty also introduced a special-edition packaging service on site for those shopping for Christmas gifts. Customers can then pair their purchase with preserved red roses and a custom-made greeting card; or, those opting for a romantic surprise can select a two-step delivery option, where the card would be delivered first, followed by the lipstick.
In 2018, beauty sales in China grew 12.9%, and in the United States beauty sales grew 4.6%, according to a J.P. Morgan report. It is set to overtake the U.S. beauty market and to become the world's largest beauty market in size by 2023.
"We are honored to be Christian Louboutin Beauty's exclusive channel in China," said Tmall Beauty head Jason Chen.
He continued, "This is an important moment for us. We look forward to exploring more future possibilities with the brand, leveraging our platform's technology and analytical insights, as well as our growing base of young, active consumers."