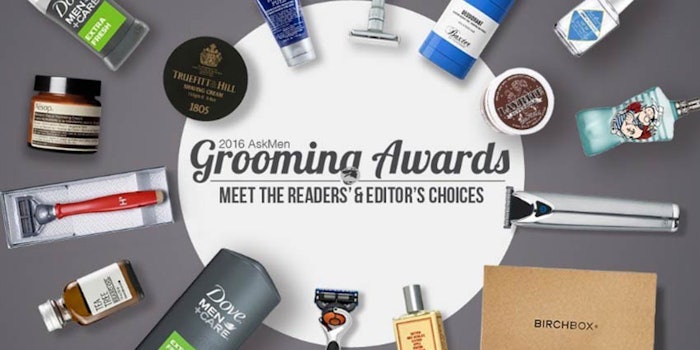 Who's best in men's grooming? AskMen has announced the winners of the first annual AskMen Grooming Awards, which "recognize and celebrate the most effective and popular products on the market."
One hundred products across 10 categories were evaluated by AskMen's expert panel comprising celebrity barber Thaddeus Jayaseelan, fragrance psychology expert Jason Nik, grooming editor Ahmed Zambarakji, and writers Jennifer Ryan Jones, Alex Bracetti, Adam Hurly and Charlotte Picotte Williams.
During a two-week voting phase, AskMen readers were asked to vote for their favorite products in order to crown the Readers' Choice winners.
"With the Grooming Awards, we've built a franchise geared towards helping men choose and purchase the best grooming products for them," said Ryan Johnson, general manager at AskMen. "We're proud of our influence and our ability to produce highly relevant content that helps millions of readers navigate this increasingly important product category."
The winners are:
Best Beard Oils
Readers' Choice: Beardbrand Tea Tree Beard Oil
Editor's Choice: Jack Black MP 10 Nourishing Oil
Best Beard Trimmers
Readers' Choice & the Editor's Choice: Wahl #3205 Stainless Steel Lithium Ion Trimmer
Best Body Washes
Readers' Choice & the Editor's Choice: Dove Men+ Extra Fresh Body and Face Wash
Best Colognes
Readers' Choice: Imaginary Authors Slow Explosions
Editor's Choice: Jean Paul Gaultier Le Male Popeye Eau Fraiche
Best Deodorants
Readers' Choice: Dove Men+ Care Extra Fresh
Editor's Choice: Baxter of California Citrus And Herbal Musk
Best Subscription Boxes
Readers' Choice: Birchbox Man
Editor's Choice: Harry's
Best Hair Styling Products
Readers' Choice: American Crew Boost Powder
Editor's Choice: Layrite Superhold Pomade
Best Moisturizers
Readers' Choice: Kiehl's Facial Fuel Energizing Moisture Treatment For Men
Editor's Choice: Aesop Mandarin Facial Hydrating Cream
Best Razors
Readers' Choice: The Art of Shaving Lexington Collection 5-Blade Power Razor
Editor's Choice: Merkur Futur Safety Razor
Best Shaving Creams
Readers' Choice: Cremo Original Astonishingly Superior Shave Cream
Editor's Choice: Truefitt & Hill 1805 Shaving Cream