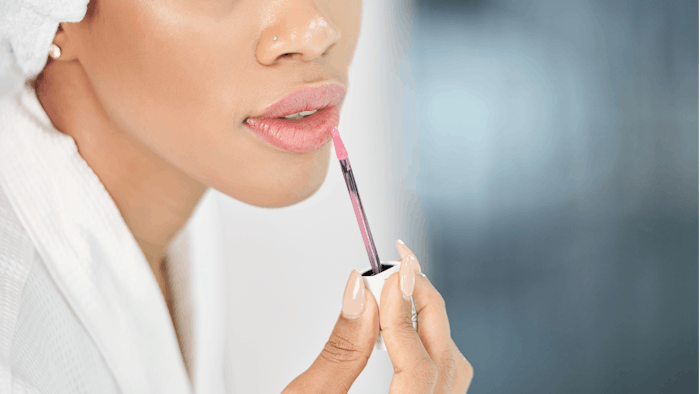 Spate's report on U.S consumer search trends within beauty indicates that sunscreen mist, lip plumping gloss and scalp serum are all growing. The report suggests significant brand opportunities in these markets due to market competition and increased consumer knowledge.
Related: US Consumer Trends in Hair Spray, Sunscreen and Wellness
There are 2.9K average monthly searches in the United States for "sunscreen mist," a low volume relative to other searches for sunscreen products but a growth of 67.5% since last year. There is little market competition with two brand leaders—Neutrogena and Hawaiian Tropic.
Per Spate, sunscreen mist is the highest growing product within the sun care category, which receives 3 million average monthly searches with little growth. Related searches include face, sheer, body, antioxidant, mineral, vitamin C, and tinted.
Spate suggests that consumers are more knowledgeable and expect more from sunscreen. The rise in clean beauty has resulted in mineral sunscreens becoming more popular, while an overall consumer preference for easy-to-use formats contributed to the growth in sunscreen mist. Spate claims that the sunscreen category presents a significant opportunity for brands to develop new innovative formats, ingredients, and applications that enhance the consumer experience, provide multiple hybrid benefits and are quick and easy to use.
There are 43.2K average monthly searches for Lip Plumping Gloss, a large search volume in the lip makeup category and a growth of 138.8% since last year. There is high market competition and four market leaders: Too Faced, Elf Cosmetics, City Beauty and Grande Cosmetics. Related searches include terms like: clear, serum, hydrating, glossy, rose, ingredients, tint and long-term effects.
Spate's data indicates that consumers desire fuller-looking lips in a safe product they can use at home. The related search terms lend themselves to the rising hybridization of makeup and skin care. Searches for clear, glossy, and rose reveal that consumers may desire a more natural colored look with their plumper lips.
There are 4.7K average monthly searches for "scalp serum," a low volume relative to other searches for hair and scalp treatments and a growth of 26.5% since last year. There is high market competition and 12 market leaders. Related searches include thinning, dry, hair loss, biotin, repair, purifying and restorative.
Per Spate, scalp and hair therapy is the second-highest volume category within hair care products, with 3.2 million average monthly searches. This reveals some top consumer concerns like dryness, thinning and hair loss. The top growing hair concerns year-over-year are postpartum hair loss, anti-frizz, hair loss stress, and oily hair. Those concerns are all addressed in a variety of different scalp serums. Spate points towards rosemary oil as a trending ingredient in hair and scalp treatments as it drives the most searches as a hair serum ingredient. 
More from Spate: US Consumer Trends in Color Cosmetics and Hair Styling