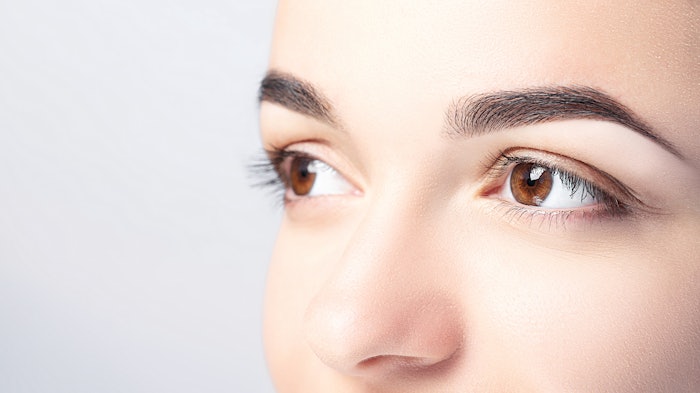 Spate's latest report on U.S. consumer search trends features information on eyebrow stamps, silymarin, virtual hair services and new beauty trends emerging from Tik Tok. The report indicates a divide between Gen Z on beauty styles and some trends strongly emerging with search growth over 100% compared to last year.
More from Spate: US Consumer Trends in Hair Spray, Sunscreen and Wellness
Spate reports there are two prevailing Gen Z-specific aesthetic trends—That Girl and Indie Sleaze. That Girl refers to people who prefer meticulous beauty and wellness rituals like a put-together slick back bun and Indie Sleaze refers to those who prefer an artfully disheveled look, like a smudged liner. Currently, That Girl is more popular than Indie Sleaze, per Spate.
There are 10.1K average monthly searches in the United States for Eyebrow Stamp, a growth of 427.9% since last year and a medium volume relative to other eyebrow product searches. The market has high competition with one market leader—Madluvy.
Spate reports the eyebrow stamp trend is another step towards consumers' aspirations for perfect brows. The product is not new, but it found new life last year thanks to Tik Tok. The sudden increase should give brands some concern that the trend could come and go just as quickly, according to Spate. Eyebrow stamp kits typically include a stencil, brow powder and applicator. Related searches include kit, press, waterproof, YouTube, pen, stencil, instant and how-to.
There are 17.4K average monthly searches for Silymarin, an active ingredient naturally derived from milk thistle. The search volume is medium relative to other herb or spice products within the natural category but represents a growth of 111.6% since last year. There is medium market competition with one market leader: Skinceuticals, who recently launched a Silymarin CF serum that combines vitamin C with silymarin.
Silymarin is commonly used to treat the liver but has potential skin care benefits like fighting inflammation and anti-aging benefits, according to Spate. Related searches include benefits, capsules, liver, tablets, what is, side effects and skin, indicating that consumers are seeking to educate themselves on the health benefits of silymarin and are most interested in taking the ingredient orally.
Spate suggests the limited awareness of the skin care benefits presents brands an opportunity to own the space by highlighting the ingredient in new products and providing education on its benefits. If applicable, brands may consider showcasing silymarin with other well-known skincare ingredients like vitamin E, retinol, hyaluronic acid and other familiar actives to increase relevancy among consumers.
There are 10.1K average monthly searches for Virtual Hair Color, a medium volume relative to other searches for hair color looks. and a 37.7% growth since last year. The market has low competition with four market leaders: Matrix, Redken, L'Oréal Paris and Clairol.
A virtual try-on feature for hair color and other cosmetics is an increasingly popular service, with many consumers concerned with previewing a product before committing to it. A new hair color represents a more significant commitment to consumers than a new lipstick color. Spate reports that virtual hair looks are experiencing the most growth in the hair looks category, with a 20% growth since last year.
Spate recommends brands consider offering a full 360 virtual makeover service that includes hair, makeup, nails, jewelry and fashion, allowing it to be an all-encompassing process for consumers to reinvent their look.