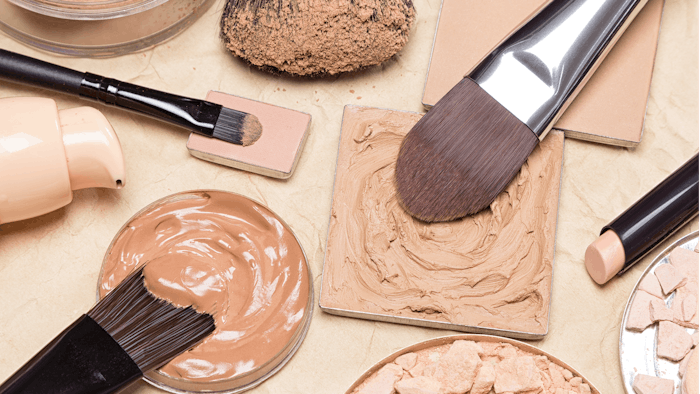 Spate's report on U.S. consumer search trends reveals increased interest in transformative foundation, massagers and texturizing powder. Spate suggests consumers are looking for products with instant results and hybrid qualities.
More from Spate: US Consumer Trends in Lip, Brow and Hair Care
Per the report, there are 3.3K average monthly searches for cream to powder foundation, a very low volume relative to other foundation searches, but a growth of 128% since last year with high competition and two market leaders—Milani and Mac. Related searches include swatch, compact, radiant, smooth, oily, combination, Black skin and SPF. Spate notes that Black skin as a related search trend presents an opportunity for brands to diversify its portfolio.
There are 13.4K average monthly searches for eye massager, a low volume relative to other searches for massage tools and equipment, but a growth of 54.4% with medium competition and three market leaders: Foreo, Clarisonic and Nurse Jamie.
Consumers are searching for various types of eye massagers as eye conditions such as eyelid swelling and puffy under eyes drive searches in the face concern category. Related searches include best, electric, how to, roller, wrinkles and migraine—revealing that consumers are interested in using eye massagers for both health-related ailments like migraines alongside beauty-related reasons like wrinkles.
Spate reports there is an opportunity in this early trend space for brands to develop products that address both health and beauty-related concerns, especially as self-care remains prevalent within beauty. The eye massager trend also follows the face massager trend, making Spate suggest that a head or leg massager might be the next trend.
There are 12.9K average monthly searches for texturizing powder, a medium volume relative to other hair styling products and a growth 31.5% since last year. There is medium competition with 3 market leaders: Slick Gorilla, Redken, Got2b.
Related searches include men, volumizing, instant, mattifying and how to use. Spate suggests that searches for instant reveal a consumer interest in fast results with minimal effort. Brands can capitalize by introducing texturizing powders that don't require blow-drying with a round brush.