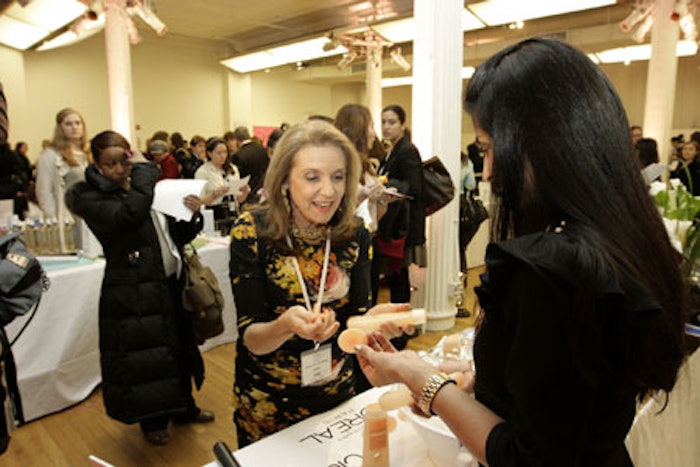 A much anticipated event, the Cosmetic Executive Women's Beauty Award Product Demonstration was held March 9, 2011, at New York's Metropolitan Pavilion. The event, which recognizes the best and most innovative beauty products of the year, featured more than 600 new products from 350 beauty brands that are competing for a spot as a 2011 CEW Beauty Finalist. CEW members, currently numbering 4,000, vote to determine the Beauty and Indie Award Finalists—with CEW board of governors members voting to determine the winners. This year, the Beauty Award Product Demo welcomed more than 2,100 beauty insiders to smell, touch and take home products in order to prepare to cast their votes for their favorites.
"This is probably the largest cosmetic counter there, is and everybody is showing their best," said Carlotta Jacobson, president, CEW, who also discussed the categories—ranging from bath and body, hair care and coloring to cleansers, skin care, lip products, and men's and women's scents. She also provided insight into the voting process, noting that 130 finalists are chosen across 26 categories. The Indie Award recognizes independent companies that are less than five years old and independently owned. The award honors the company rather than a specific product or product line.
In addition, CEW introduced the Eco Beauty Award, which garnered 41 entrants, in response to the growing importance of companies' environmental impact on the planet. The Eco Beauty Award is sponsored by Givaudan, and marks a new initiative intended to reward products that demonstrate best practice and progress toward sustainability. The 10 Eco Beauty Award finalists are selected by The Natural Step, an organization dedicated to enabling communities to better understand and integrate environmental, social and economic sustainability; the winner is selected by an Eco Beauty Award Committee.
The 2011 Eco Beauty Award finalists are:
 Alterna Haircare Bamboo Smooth
Amala Rejuvenate Collection
Aveda Men Pure-Formance Family
Jurlique Purely Age-Defying
Super by Dr. Nicholas Perricone
Pomega, Inc. Healing Cream
Sophyto Organic Skincare
The Body Shop Rainforest Hair Care Collection
Bapour Organic Beauty
Yves Rocher North America Inc. Culture Bio.
The final award winners in all the categories will be announced at the Cosmetic Executive Women's Beauty Awards luncheon on May 20, 2011.
Trends and Technology
Discernible trends appear at each year's event, and Jacobson discussed some of the notable ones now taking place in the industry. "Every year we look at growth areas, determining what's selling and what isn't," said Jacobson. She noted several trends at the Product Demo's Media Presentation, saying skin care and anti-aging continue to be strong [also noted by industry analyst, notably Euromonitor International, whose reports are available at www.gcimagazine.com/marketstrends/segments/skincare] as well as hair with added benefits, (including shine and strengthening) and novel application (including foam format hair color application). In addition, longer lashes, with attention focused on serum-infused and lash-lengthening mascaras, is an area that continues to see development and innovation [which will be discussed in Euromonitor International's April 2010 issue's contribution to GCI]. There was also a trend toward application efficiency, featuring products that come packaged with built-in tools such as scrublets and applicators.
Jacobson also addressed today's digital world, saying, "Technology is being used to let people know where these products are and more technological applications will come out to let consumers know where the products they seek can be found." [a focus of a January 2011 CEW event] She emphasized the importance of cosmetic application, noting that many women are still not sure about which product to apply and in what order, for example, does the serum come first, followed by the moisturizer? "There are so many products out there that it is still important for consumers to [be educated on how to use a product type]," she said.
Finally, the natural and ethically sourced and sustainable trend is significant, and each year there is a noticeably greater effort to support local communities, populations and raw material sources, with sensitivity and reciprocity. She cited Givaudan as a company that is spending more time with natural and ethical sources, working with and giving back to the communities in which they cultivate and harvest ingredients for fragrance formulations.
Jacobson acknowledged NPD, which works with CEW to define the categories and vet all the new products, with the exception of the Eco Beauty Award, which is vetted by the global organization, The Natural Step.
In addition to Givaudan, Jacobson recognized sponsors Allure, CVS/pharmacy, Crest 3D White, Veet, Medicis, QVC, Beauty Inc., HauteLook, Arcade Marketing, The Royal Promotion Group, HBA, MaCher, Albéa, Rpr Marketing Communications, Hydroxatone, Script to Screen, Wells Fargo, KraftWorks, Consultancy Media, Barefoot Wine & Bubbly, Tonnie's Minis, Suite K, Raw Media, Lifeminute.TV, Proof 7, NPD and Ernst & Young.