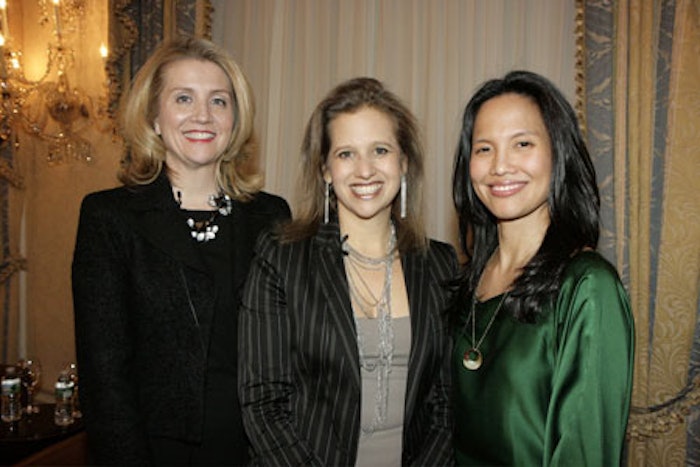 Three of the most forward thinking women in the industry discussed the state-of-the-art in an evolving digital beauty landscape at Cosmetic Executive Women's Women in Beauty Series (WIBS) presentation on Jan. 20, 2011. The discussion, which kicked off the first WIBS presentation of 2011, traced the beginnings of the digital revolution in beauty to its current place as an integral part of strategic marketing. The panel included Annemarie Frank, director e-commerce, digital media & strategic alliances, Mark; Marisa Thalberg, vice president of global digital marketing, The Estée Lauder Companies, Inc.; and Kristen Yraola, assistant vice president of digital media and Internet, Maybelline New York and Garnier. It was moderated by WWD's Jenny Fine.
According to Carlotta Jacobson, president of CEW, "Leveraging and capitalizing upon emerging media and social platforms is top-of-mind for the beauty industry."
"I think of digital media through the lens of our brands and ultimately driving business to the counter," said Thalberg. She noted that the consumer landscape has become more complex and that consumers today are connecting with many more touch points than they have in the past. "When I started in 2007, the idea of brands being participatory was new. There has been a real sea change. We can still have the authority to invite consumers in, and we do that with our brands, whether it's DKNY or Clinique's Insider's Club."
"Whether it's an e-boutique or whatever brings consumers to the Mark brand, it's a new way of operating," said Frank. "And it's integrated into the fabric of everything you do and every way you do business. At Mark, we're trying to break it down so people understand what it is, why it's important and how it gets done. It also involves the business processes and the people, as well as the technology."
"At L'Oréal USA, it's an imperative and permeates throughout the entire marketing team," said Yraola. "It's not just for nerds." Frank provided an analogy for the emerging digital world, comparing it to learning a foreign language. "It's almost like speaking a foreign language and everyone is getting up to speed so they are welcome in the area," she said.
The Shopping Experience and Digital Marketing
Thalberg credited William Lauder for enabling the creation of a Clinique.com business early in the history of digital commerce. "We have great brand websites, and it's really about creating a great brand experience, as well as a great shopping experience," she said. She noted that two to three years ago, the company began placing reviews on their sites.
"That's a level of engagement that is very special and unique. It lets women guide themselves through the brands and allows them to navigate and engage with the brand. I wouldn't separate engagement and shopping," said Thalberg. "Not to be gratuitous, but the engagement has to come around the brand."
She further noted that if people are already on the brand's site, they are interested in the brand.
Speaking on the evolution of the Mark brand, Frank said, "One of the paradigm shifts that occurred was when Mark looked at their target market and saw that the women in that market were digitally savvy. As part of our social network strategy, we knew we had to get on Facebook, and launched a shopping widget that provided a digital locator. We learned that it's important to integrate into the news space and curate on the master space. This way customers can personalize their shopping space, and the brand can then meet the digital habits of their customers."
Thalberg noted a different approach, saying, "The strategic challenge is how do you create relationships between global and local customers. Aveda has a global tab to the page, so whether you are in the U.S. or the U.K., you'll have content that is locally relevant to you. That's what you want, global control, equity and relevance." She described how different markets have their own Facebook pages and you can find your page for whatever market you're in, citing the highly trafficked success of recent Aveda and Clinique sampling programs.
Yraolo commented on the importance of access and simplicity. "If you think about Myspace and how it evolved into Facebook usage, you see that when technology becomes invisible that's when it becomes truly integrated. When it's really simple, it doesn't interrupt the brand message," she said.
Frank discussed the Augmented Reality (AR) trend, which tries to converge your real life reality with an element of fantasy, while Yraolo emphasized the need for digital to complement the entire online media. "There's inspiration in all different spheres. It's not limited to Twitter, but that is one of the ways the brand proposition has been enhanced, citing Jack Black or Starbucks, as examples. You see brands straddling marketing hurdles," she said.
Regarding technology, Frank said, "Searching is probably the hardest part to get right. For Mark, we're rolling out global commerce for mobile devices, so the impulse element of that is great."
Thalberg responded, "We've already jumped in with that at Lauder, and we'll do it with more brands. The mobile device is your entertainment and your interface with the web. There are advertisements, apps... it's a microcosm of the media. I think it's a phase of experimentation and trial."
"To be a good digital marketer you deal with the sexy stuff, but you have to know the back end stuff too," said Yraola. "You need to see how consumers actually use it. You need to be truly curious about how it's used." 
"I love that answer because it's not really about being technological," responded Thalberg. "It's like being a cultural anthropologist and figuring out how to keep up with the development that will work best for consumers and say, here's where we're going and we're going to place our bets here. Being curious is a big part of it. We'll place our chips and keep being a filter for what is going on."
In assessing the importance of PR, bloggers and editors, the consensus was that they are important because they speak to the content readers and should be integrated into your marketing plans. Consumer dollar measurements, as well as consumer engagement, continue to be measured via numerous metric systems. "There are so many metrics available that it's important to understand the time consumers spend in digital spaces, and the dollars that are spent. There are metrics that can look at shifting levels of engagement, as well as driving sales," Thalberg said. Yraola offered another perspective, "It's still TV. It's just a different screen."
Yraola also broached another aspect of marketing, noting that while it is about targeting, there are other variables. "We target consumers not necessarily on a beauty sector of a site, but we'll find her somewhere else on the Internet, at her point of receptivity from a digital perspective," she said. Thalberg concurred, "Digital beauty is not as rigid as other profiles by age. Digital beauty is kind of age agnostic, as the consumer is voting with her mouse, not by age, so it is ultimately liberating and shifts the paradigm."