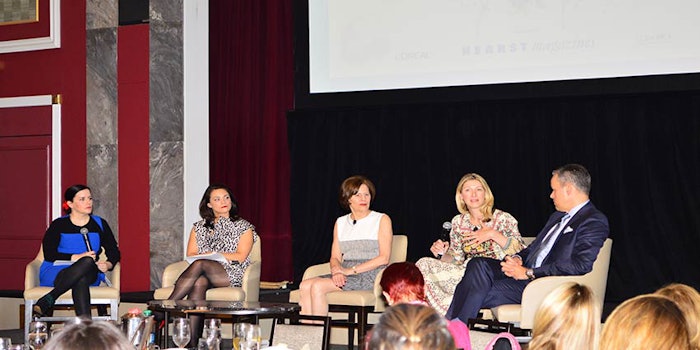 Emily Dougherty, Elle's beauty and fitness director, recently discussed her view on the state of beauty during the recent Fashion Group International (FGI) "Pioneering Beauty" event in New York, which featured a panel comprising Emily Dougherty of Elle, Robert DeBaker of Becca, Verane De Marffy of YSL Beaute, Dianna Ruth of Milk Makeup and Linda Levy of Macy's.
Read more about the panel discussion here: Is It Time to Burn the Beauty Playbook?
Beauty Consumers: 2012 vs 2017
In 2012, Dougherty polled influencers, bloggers and readers to find out what they most cared about in their products and brands, she found that:
New products were perceived of as inherently improved, offering the latest innovation.
Good design was appreciated, but didn't necessarily signify product quality—at times, products that worked well could feature clunky designs that the public found forgivable.
Popular products were not inherently perceived of as good—many survey respondents were highly skeptical of buzzy brands.
Dougherty reran the poll in 2017 and unsurprisingly found that attitudes had evolved:
Consumers no longer believe new products are inherently better or significantly improved over existing offerings.
Good design is indicative of a good product, creating a desire to be part of the brand's "tribe."
Popular ingredients drive consumer interest in products and brands. For instance, coconut oil, whatever its efficacy, is feeding the popularity of numerous beauty and personal care brands.
Dougherty noted that, by the numbers:
American consumers are 14% more willing to invest in trusted brand.
54% focus on review.
42% rely on personal recommendations.
Brand Cocktailing and Authenticity
Dougherty noted that consumers still discover new beauty ingredients and brands via Elle's print and digital offerings and then expand their exploration and conversations to venues such as Reddit and Facebook groups, where they often determine whether the hyped should be believed.
Meanwhile, social media is rife with highly curated beauty product shelf shots, or "shelfies," which were popularized on Into the Gloss. Typically, these images of consumers' products feature high-end and niche brands, all tastefully arranged to offer a highly aspirational view of their beauty routines.
But Dougherty noted that Drew Barrymore's own shelfie, posted on Instagram several months ago, offered a welcome dose of reality. The movie star's shelves were filled with a cocktail of mass and prestige brands, including Weleda, Redken, Bliss, Sk-II, Diptyque, Chanel, Cetaphil and SkinMedica. This is how people really live.
Barrymore's transparency dovetails with a broader trend in celebrity authenticity. Dougherty explained that this is especially critical now as celebrity spokespeople are increasingly held responsible for the brands they represent. Think Kylie Jenner and Pepsi.
Is Scarcity Ruining Cosmetics?
"According to Euromonitor International's 2016 Beauty Survey, only 25% of female color cosmetics buyers claimed to always buy the same brand or product, a statistic which leaves brands much room for improvement," wrote Hannah Symons, beauty and personal care analyst at Euromonitor, in the April 2017 edition of Global Cosmetic Industry.
She added, "The industry's idea is that the exclusivity of limited editions fosters long-term brand loyalty, emotional buy-in and a sense of belonging, something that is arguably of much higher value than fickle or impulse shoppers, despite these delivering greater volumes."
Dougherty presented a counter-assessment at the FGI event, arguing that scarcity doesn't create excitement in beauty products. Instead, she said, consumers are frustrated by being forced to work too hard to access products. Dougherty added that programs like flash sales can often make consumers feel like outsiders.