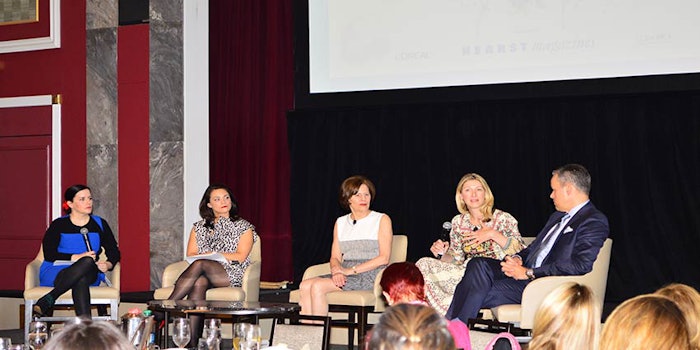 Milk Makeup and Becca Cosmetics are a study in contrasting success stories. Both are fun, fashionable and digital-first, but the similarities end there. Milk is a from-the-gut, expansive brand that is willing to explore any product category its consumers will support, while Becca is a data-driven, tightly curated brand powered by just a handful of hero products.
These were among the subjects covered during Fashion Group International's (FGI) recent "Pioneering Beauty" event in New York, which featured a panel comprising Emily Dougherty of Elle, Robert DeBaker of Becca, Verane De Marffy of YSL Beaute, Dianna Ruth of Milk Makeup and Linda Levy of Macy's.
Becca Cosmetics: Burn the Playbook
Without a great product, neither a pioneering brand nor a legacy player can hope to succeed in beauty, said DeBaker. At the end of the day, he said, the products must be a winner on performance. The perfect example from Becca Cosmetics is the Shimmering Skin Perfector, which is a workhorse for the brand, offering the efficacy consumers expect.
Every year or two the playing field completely changes, requiring brands to burn the playbook.
Becca initially launched digital-first out of simple financial necessity. The brand had just 4,000 Instagram followers at the time, a number which has climbed above 1.7 million today. DeBaker noted that Becca could activate sales on Instagram and track sales activity following postings in channels such as Sephora.
The brand also engaged influencers to expand its reach, leading to more product sales gains. Wherever the consumer went, Becca went. DeBaker still holds to that formula, pledging to be wherever his consumer is and to speak to her however she prefers.
The executive likened the approach to the different ways various friends might like to socialize—one wants a quiet coffee, while another may want a night out in the club. 
Becca is aligning itself to be digital first, brick-and-mortar second.
This requires a willingness to burn the playbook every year or two, said DeBaker, who noted that the influencer strategies of recent years no longer work. Of course, he said, this puts lots of stress on the organization and product pipeline, but his is how brands stay competitive.
Now, having been acquired by Estee Lauder, Becca is able to expand globally at a rapid clip. Still, the brand is focused on the productivity of its investments because "cash is king." Becca continues to keep its product assortments to a tight minimum, driven by heroes that can be marketed across multiple retail channels.
In fact, DeBaker said that about 80% off its sales come from just a handful of SKUs, ensuring that Becca will never be a 300-SKU brand.
As for the future, Becca is aligning itself to be digital first, brick-and-mortar second. As a result, said DeBaker, the brand is focused on boosting content merchandizing and sampling, and directing human capital toward digital.
Milk Makeup: Beyond Color
Ruth noted that Milk Makeup's founders surveyed existing products, particularly in the professional makeup space, and realized that nothing on the market spoke to them. Understanding that the core audience for the brand wanted to do their makeup quickly and easily quickly became inherent in its DNA.
Milk Makeup is engineered for creative men and women, said Ruth, and has always stayed true to that core. As a result, since pitching the brand to Sephora two years ago, Milk Makeup has taken off. Today, the brand has created specific SKU sets and exclusives for its two key retailers: Sephora and Urban Outfitters.
Milk could expand beyond beauty to feminine care, ingestible wellness products, vitamin sprays and even water.
Milk Makeup has expanded far beyond color with a wide range of SKUs in an array of categories, including dry shampoo and deodorant. Why? Because Milk is fundamentally a lifestyle brand. In the future, said Ruth, Milk could expand beyond beauty to feminine care, ingestible wellness products, vitamin sprays and even water. There are no limits to where the brand could go next.
The brand tends to eschew data in favor of gut instincts, said Ruth. The company and its employees are relatively long, and it's the employees themselves that inspire each new SKU. As Ruth put it: they are the consumer and the brand.
Men tend to like products like the Blur Stick in order to address their texture issues or post-shave irritation.
Milk Makeup also appears less interested in following the consumer than it is in leading them with new launches, which aren't inspired by conventional trend data or insights. In addition, 100% of its marketing comprises videos and other content generated by employees and the founders, as well as tutorials.
Milk Makeup is also unconventional in its genderless approach to marketing its products. Many men purchase the brand's makeup and skin care, seeking the same thing women want: undetectable beauty products.
Ruth explained that men tend to like products like the Blur Stick in order to address their texture issues or post-shave irritation. In the end, all that matters are ease of use and high functionality, with ingredient contents a lesser but significant concern that is increasingly shared by men.
As someone in the FGI audience pointed out, it's tough to remain "cool" over time. Ruth noted that Milk will continue to pursue instinctive innovation and mentor a new generation of staffers to power new ideas.
The View from the Legacy Players: Macy's and YSL Beaute
De Marffy noted that YSL Beaute puts data at the center of everything it does, including digital-first launches, as well as content that connects with the knowledgeable millennial consumer who is seeking a relationship with their favorite brands. This is particularly critical for a legacy brand that's determined to remain relevant.
YSL Beaute has tested the market waters by releasing limited editions that, if successful, could support sales growth from $1 million to $16 million over the course of a year. Established brands need to stop looking at themselves and look at consumer, Marffy argued, while leveraging their legacy in an accessible way.
The brand is also making the most of input from its global beauty director, Tom Pecheux, which has led to a new forthcoming fragrance launch from YSL designer Anthony Vaccarello.
Despite the French legacy and heavy European influence, Marffy claimed that much of YSL Beaute's innovation is driven by the U.S. group. She added that consumer profiles are developed before launches, including where targeted consumers live, what they watch and read, etc., which improves relationships with retailers, which feel more confident about new launches.
YSL Beaute is shifting a significant portion of its budget toward digital, while also hiring more digital-savvy staff, said Marffy. She added, however, that YSL's main asset is its name and legacy; digital is unlikely to alter this significantly.
Finally, Marffy noted that YSL Beaute, like Becca, makes tough choices regarding its product ranges. By doing a few things very well, the brand hopes it can avoid the trap of doing too much.
Levy noted that Macy's has revamped its consumer engagement by categorizing fragrances by mood and ingredient, which eases navigation for many shoppers. At the same time, the retailer is creating more visibility for the perfumers behind the brands to generate greater consumer buy-in.
But who's buying fragrance? According to Levy, men buy about the same amount of fragrance as women. Many of the scents tend to be gender-neutral or are often shared between men and women.
Levy explained that Macy's knows who's buying what and will share that information with brands. This is particularly critical in the omnichannel environment, she said.