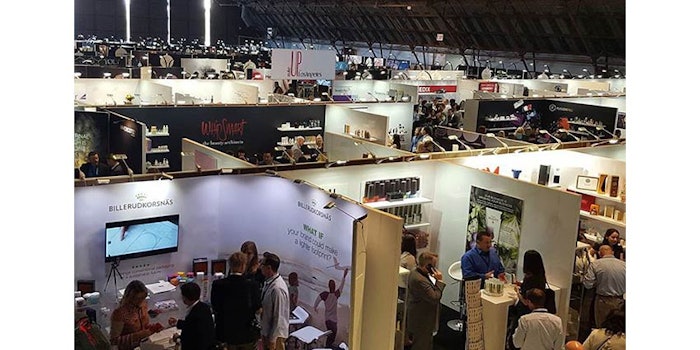 Instagram.com/LuxePack
More than 3,900 guests attended the Luxe Pack trade show in Los Angeles. The show was held concurrently with the second annual MakeUp In Los Angeles, giving guests the opportunity to attend two complementary events over the course of two days.
It was the first LA-based show for LuxePack, which also holds annual shows in New York, Monaco and Shanghai.
Among the show's events were a technological learning lab; an interactive olfaction workshop developed by the Institute for Art & Olfaction; the Luxe Pack innovation wall, featuring the show's most impressive packaging designs of the year; and Turbo Talks, during which exhibitors went "beyond the booth" to present their top concepts to attendees during two minute presentations.
Conferences included:
Bringing New Excitement to Fragrance Packaging was a discussion on all the ways—such as new distribution models, delivering unique designs and scents, adding mindfulness to ingredients and packaging design and leveraging social media—that marketers can invigorate the segment through packaging. Moderated by Global Cosmetic Industry editor in chief Jeb Gleason-Allured, the panel included Krystal Quinn Castro, co-founder and perfumer, Los Feliz Botanicals, and Eric Korman, founder and CEO, Phlur.
Spotlight Interview: Meet Andrew Gibbs saw Gibbs, innovator in the world of design and founder and CEO of The Dieline packaging and design website, interviewed by Andrew Dent, EVP of Research, Material ConneXion, chief material scientist at Sandow.
In Is Wellness the New Luxury: Is Healthy and Happy the Future of Luxury Retail?, a discussion led by Global Cosmetic Industry editor in chief Jeb Gleason-Allured, panellists discussed the ways in which wellness and lifestyle are becoming the new indicator of luxury, and how brands approach wellness as a luxury. Panellists included Ayako Homma, senior analyst-beauty and fashion at Euromonitor International; Schique CEO and founder Jacqueline Schaffer, MD; Bartlett Brands founder and creative director Rebecca Bartlett; and Ken Lynch, global vice president product development, Estee Lauder.
The workshop Historical Scents for Wellness products, led by Saskia Wilson-Brown (founder and ED, institute for art & olfaction), explored historical materials used in wellness, beauty and healing; drawing from antiquity, provided a selection of materials and a group blending exercise
In The New Normal: Sustainable Packaging Trends, Lauren Golik of Bartlett Brands and Sterling Creativeworks founder Cynthia Sterling discussed sustainable packaging trends and the brands that have mastered them. Alissa Demorest, editor in chief of Forme de Luxe, served as moderator.
360 Perspective Sessions saw exhibitors presenting the full "360 degree" perspective of their manufacturing capabilities, from conceptualizing packaging to production.
How to Make a Statement Packaging Piece, moderated by Ayako Homma, senior analyst-beauty and fashion at Euromonitor International, brought together industry leaders for a discussion on packaging for beauty and wine and spirits can create excitement for retail, direct-to-consumer sales, digital channels and social media. Panelists included Burton Kakehashi, director of packaging for Stila Cosmetics; Sheri L. Koetting, co-founder and chief strategist of MSLK; Neumeister founder and CEO Peter Neumeister; and Jean Grabenstetter, global marketing leader, Sealed Air.
Time to Market, Collective Intelligence and Product Development was a discussion led byJean-Christophe Calmejane, executive director of Lascom Solutions Inc North America and Pacific & Lascom Group France, who presented methods and best practices for shortening the product development process, advising marketers on streamlining the process and maximize their time.
Neumeister founder Peter Neumeister discussed what it takes to develop a successful luxury brand in the wine and spirits industry, including attracting a target audience and how to define luxury in a rapidly changing market, in The Shortest Horror Story.