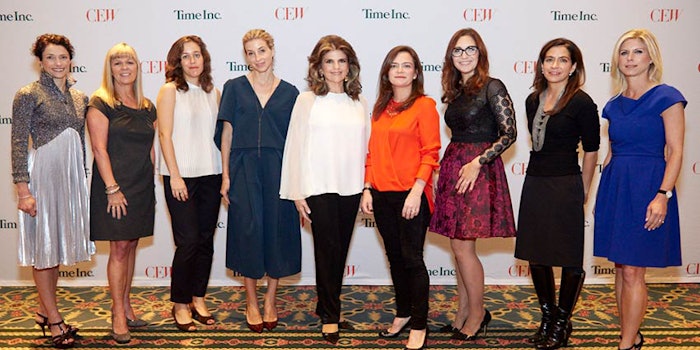 The 2016 CEW Achiever's luncheon focused on beauty leaders who are making a difference in the industry, whether creating new distribution channels or innovating fragrance delivery, providing a snapshot of today's key influencers and their outlook on the future.
Taking Smart Risks
Marketers must know what their consumer needs, even if they cannot articulate it, said keynote speaker Alex Keith, president, global skin and personal care, Procter & Gamble. She added that it is important to understand difference between what consumers say and do.
In developing her career, Keith said she learned to trust her intuition, which she said "will make you more confident and courageous." She also urged attendees to build trust with management, exceed expectations and use that earned goodwill to gain support for bold moves.
Keith also noted that she identifies worst case scenarios and then mitigates them, allowing her to take smart risks. She added that failure never precludes you from succeeding later.
Human Connections
CEW honored the retiring Karen Fondu (L'Oréal Paris) who urged the audience to never forget the human connection in their careers because "the profound power of human relationships will serve you well throughout your career."
The Holy Grail
Katia Beauchamp, cofounder and CEO Birchbox, helped create a new distribution channel that has reverberated beyond the beauty industry. She described beauty as the "Holy Grail" of careers and described Birchbox's origins as a re-imagining of the way people interact with and buy beauty online.
Where the Industry is Going
Leonard Lauder introduced Beth DiNardo, who leads Smashbox, the fastest-growing brand in the Estée Lauder portfolio. Lauder noted that he knew DiNardo was the right person for the role at Smashbox when she declared that she wanted to "put all the money into the product."
Lauder also praised DiNardo for directing Smashbox not where the industry is but where it is going. DiNardo added that she documented the brand's core values at the start of her tenure and then worked to build trust on her teams because those are the groups that will be able to push themselves the farthest.
Scent Communication
Rachel Field, co-founder and vice president of discovery for Vapor Communications, was honored for breakthrough thinking in fragrance. Field's company has launched Cyrano, a digital fragrance communication system that seeks to bring fragrance into the electronic world.
Risk-taking
Multicultural women should be at the conference tables around the industry, said Michelle Freyre, president, U.S. Beauty, Johnson & Johnson Consumer Inc. She added that it is also the responsibility of mentors to teach the next generation to take risks and to encourage the next generation of women to believe in themselves.
Industry Leadership
Additional honorees included Sarah Hibberson, senior vice president, human resources, L'Oréal USA, who underscored the need to recognize top female talents, and and Marla Malcolm Beck, CEO and co-founder, Bluemercury, Inc., a leading innovator in beauty retail.