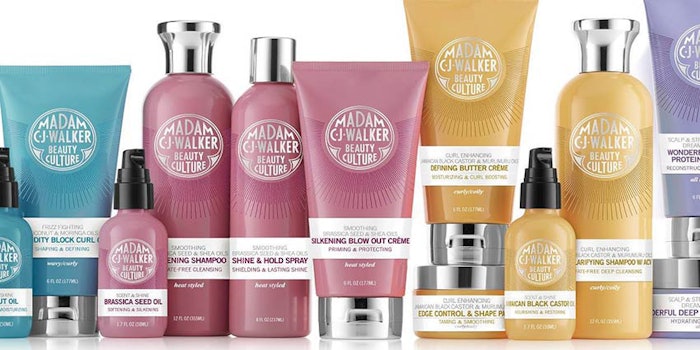 The multicultural beauty consumer base is simultaneously growing and demanding more sophisticated products that fit their needs, but all too often the beauty and personal care industry is failing to deliver.
Massive Demographic Opportunity
By 2050, so-called ethnic "minorities" will comprise the majority of the U.S. population, according to projections from Kline & Co. This demographic shift, in addition to the increasing fluidity of beauty trends around the globe—particularly from Asia—present a demographic and innovation opportunity never before seen in the beauty industry.
Kline notes that growth in the multicultural personal care space continues to outpace the general industry, expanding at 3.7% in 2014, compared to the wider segment's 2.8% rise. At the same time, multicultural products have gone mainstream via traditional players and new multinationals entering the space.
Ethnic hair care is by far the largest category, followed by makeup and skin care. Multicultural consumers also tend to be heavier consumers of fragrance compared the market as a whole.
The Natural Look Sets the Agenda
Ethnic hair care, which has traditionally been led by products targeted to African Americans, is now being repositioned by brands to focus on texture rather than specific ethnicities, according to Kline, blurring lines between traditional demographic silos.
These products are also getting more natural and less invasive, signaling a significant decline for relaxers (see below). According to Mintel, the black hair care market is expected to reach $876 million by 2019. Increasingly, as noted above, black women choose to wear their hair naturally, which is a boost to shampoo and home-styling products.
Mintel noted that about 20% of U.S. black consumers have difficulty finding the right hair care products for their desired style.
Shampoo and conditioner sales for the segment expanded 18.3% and 9.8%, respectively, between 2013 and 2015.
Styling products alone now comprise 35% of U.S. black hair care sales, totaling $946 million, according to Mintel. More than one quarter of black consumers experiment with various hair styles, while half feel their identity is tied to their hair style.
As a result, the pace of growth for styling products has been significant, rising 26.8% in two years, corresponding with an 18.6% drop in hair relaxer sales. By 2020, relaxers, including variants of shampoo, conditioner and hair color, will make up the smallest category of black hair care products.
It should be noted that "natural" does not exclude the use of coloring products. Mintel reports that 35% of U.S. black consumers who wear natural hair color it at least monthly.
"Over half (51%) of black consumers report using styling products compared to one third (34%) of consumers overall, with demand for these products showing no signs of slowing in the coming years as sales are projected to reach $1.4 billion by 2020," a Mintel research note stated.
Reaching Black Beauty Shoppers
According to Nielsen's research, African Americans over-index for beauty product purchases—as many as nine times more than other consumers. They also make more shopping trips, compared to the overall population—156, versus 146. 
African American consumers favor drug, convenience and dollar stores, as well as health and beauty supply stores (penetration: 46%) that are more likely to carry products targeted to their needs. Nielsen noted, "The average black household spends an average of $94 in this store channel each year."
Advertising via black media boosts the perception of relevance for African Americans, Nielsen's research notes, which is an underleveraged opportunity for brands.
Tapping the Hispanic Beauty Consumer
While some U.S. shoppers have decreased purchases of cosmetics, hair care, personal care appliances and shaving products, Hispanic shoppers have actually grown purchases year-over-year, accounting for 16% of hair care, 14% of fragrance and 13% of cosmetic sales, according to Nielsen.
The research firm has predicted growth opportunities in this demographic for anti-aging, men's and baby products. Older Hispanics are more likely to be interested in skin care, while younger consumers are swayed by samples and celebrity endorsements.
"Latinos are trendsetters, whose personal style is their unique calling card."
Hispanic men and women are over-indexing for beauty purchases, with U.S.-born consumers outpacing foreign-born counterparts, with spending rising alongside higher incomes. The same divide is seen between English and non-English speakers. Mass merchandisers and drug channels are preferred by U.S.-born Hispanics, while bulk/club retailers are preferred by foreign-born consumers.
Hispanic consumers communicate extensively about beauty brands on social media, according to Media Post, requiring brands to boost their social listening. Tracking the latest hashtag trends is one method for engagement, according to the report, which creates opportunities to "organically engage beyond the fodder on their own platforms."
Recently, Unilever released its #100PorCientoTu campaign on social media, encouraging Hispanic consumers to celebrate "self-expression and individuality." The project partnered with stylist Leonardo Rocco, celebrity groomer Marcos "Reggae" Smith, model and influencer Denise Bidot, and others to provide beauty and style inspiration using brands, such as AXE, Caress, Dove, POND's, Suave, TRESemme and Degree.
"Latinos are trendsetters, whose personal style is their unique calling card," said Brian Critz, brand director, multicultural for Unilever U.S. "With the #100PorCientoTu campaign, we want to highlight the diversity and dynamism of the Latino community, especially among millennials, whose identity is deeply tied to their culture, self-image and aspirations."
Missteps Generating New Innovations
Even as the multicultural beauty sector heats up, the industry's mixed legacy of serving consumers of every ethnicity is coming under renewed scrutiny.
The criticism is well summed up in a recent Refinery29 essay by Taylor Bryant, "How the Beauty Industry Has Failed Black Women." The core of Bryant's argument is as follows: "Black women … spend an estimated $7.5 billion annually on beauty products, shelling out 80% more on cosmetics and twice as much on skin care as their non-black counterparts. Yet, they've been grossly underserved by the cosmetics industry throughout history."
Mintel noted that about 20% of U.S. black consumers have difficulty finding the right hair care products for their desired style, with 19% purchasing more than one product in a fruitless attempt to locate the right fit.
Grammy Award-winning singer Kelly Rowland recently told Essence she was developing a makeup line for women of color, noting, "[W]e're going to have it grow for all women … But definitely making sure we have our chocolate girls covered."
And, in a 2015 interview with Global Cosmetic Industry, Hue for Every Man's Jessica Estrada noted that men of color, who might spend significant sums on clothing, accessories and fragrance at high-end department stores, have few if any grooming products to choose from. The market simply hasn't evolved with them.
Some brands are trying to change this sad state of affairs. Bryant's essay calls out recent mainstream brand efforts to better serve consumers of color, including L'Oréal's Women of Color Lab, Head & Shoulders' Moisture Care Shampoo, which is formulated "for textured hair," and improved formulas from brands, such as Ouidad. Why all of this innovation all of a sudden, Bryant asks. Simply put: social media shaming of brands.
This puts the power directly in the hands of consumers who feel underserved. Brands and retailers, wisely, are listening, ensuring consumers of color are not an afterthought or "extension," but rather an integral part of the broader beauty industry.
Meanwhile, new fronts in the critique have opened up. A 2016 Black Women for Wellness report calls out the beauty industry for producing products that it says cause skin and eye irritations, respiratory problems, promote cancer and obesity, and even impact reproduction. The beauty industry is no stranger to non-governmental organizations' (NGO) attacks, but this is the first to tie product safety to the overall wellness of an entire community.
The report makes familiar NGO accusations, with a new wrinkle: "[M]any of the products marketed to and used by black women are rarely researched for toxic health consequences; in the rare cases that they are, black hair products are found to be some of the most toxic beauty products on the market."
Scientific validity aside, the report certainly highlights the broader cultural concerns involved in addressing multicultural beauty.
A Makeup App for Women of Color
Despite critiques, there are beauty innovators leveraging the latest technology to better serve women of color. Cocoa Swatches, an app designed to help women of color find makeup that actually works for their skin tone, began as an Instagram page with 20,000 followers, showing founder Ofunne Amaka demonstrating the differences in various makeups.
The app was subsequently created to give consumers a more accurate representation of what makeup really looks like on various skin tones.
While there are other apps from players such as Perfect Corp. and Sephora that allow users to virtually try on makeup, Cocoa Swatches is uniquely built for women of color and includes content from Amaka's blog, as well as features from famous beauty bloggers. It is now available on iOS and the Android Store.
Print Your Perfect Tone
Adorn, a 3-D makeup pen, uses an integrated skin scanner and internal color mixing mechanism to provide women of every color with a perfect skin tone in ever season, every time.
The waterproof metallic pen allows the user to run a face color analysis, the results of which direct a unique blending of multiple foundation shades within the cylinder of the pen. The pen then "prints" the customized base in a controlled dose for no waste directly onto the fingertips of the user for application.
Adorn can create more than 75,000 shades, according to the company. The device, which retails for $279, comes pre-loaded with multi-hued foundation. Refills are priced at $20.
Leveraging the Legacy of African American Beauty
In 1906, Madam C.J. Walker launched her first cosmetic creams, which eventually built her a beauty empire that fueled her activism and philanthropy. Her legacy persists to this day. According to figures published by Experian, more than 31% of minority small-business owners are women. And beauty shops account for 5.8% of minority-owned businesses.
One of America's great entrepreneurial stories, Walker's brand is also an icon in beauty. Now part of the Sundial family of brands, Madam C.J. Walker Beauty Culture has launched at Sephora.
Sundial notes that the prestige hair care launch—"serving today's woman according to her specific hair texture needs"—comprises 25 SKUs exclusively in Sephora stores and on Sephora.com. The products are formulated with dual-oil encapsulations that restore and maintain the health of kinky, coiled, curly, wavy and straight/heat-styled hair.
The line includes three styling collections, including Brassica Seed & Shea Oils Collection (Smoothing/Style-Extending), Coconut & Moringa Oils Collection (Frizz Fighting/Humidity-Blocking) and Jamaican Black Castor & Murumuru Oils Collection (Curl-Defining/Moisture-Sealing), and one treatment collection, Dream Come True Collection (Scalp & Strand Nourishing).
Each can be used for treatment and conditioning boosts and refreshes in between full washes, according to Sundial, as well as blended for more personalization according to hair needs.
The dual encapsulation technology allows the products to deliver two natural oils—one for repair, the other for style-enhancement—for targeted, time-released nutrients. The brassica seed oil serves as a natural silicone alternative, providing antioxidants for enhanced shine, smoothness and softness without buildup.
"We aim to give this brand back to the world in the elevated, iconic manner deserving of a woman who defied the limitations of her time and accomplished what no American woman had done before—in hair care, beauty or business," said Richelieu Dennis, CEO of Sundial Brands. "That spirit of audacity, inspiration, empowerment and ingenuity still lives in women today and is reflected in every part of this brand."
Initiatives like these show that the opportunities to engage the multicultural beauty market are significant—if done well.