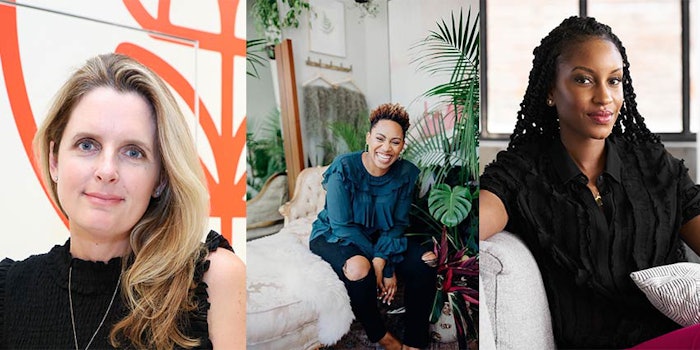 COVID-19, Black Lives Matter and conscious beauty have reshaped beauty retail, boosting e-commerce, prompting store changes and best practices, boosting sustainability, shifting consumer needs, and increasing representation among BIPOC-led brands.
During Beauty Accelerate Virtual, a panel of retail experts will offer a look forward to the ways in which retail is changing and what it means for brands.
Annie Jackson co-founder and COO of Credo, will offer her insights on the retailer's busy year, which has included the launch of its Exa brand and the introduction of sustainable packaging guidelines.
Kristian Edwards, DrPH, founder of BLK + GRN, will discuss how she has experienced strong growth in 2020 while also struggling to keep products in stock. She will also address her brand's mission.
Larissa Jensen, vice president, beauty industry adviser to The NPD Group, will discuss how sales have trended and what trends have emerged during this turbulent year.
Brittney Ogike, founder and CEO of BeautyBeez, will outline the complexities of growing a new business during a pandemic and will share lessons learned.

Ellen Friedman, executive vice president, RPG, will outline how retail is shifting, including a rethink on sampling and other elements of the consumer experience.
More about our speakers:
Brittney Ogike's

BEAUTYBEEZ

, launched in North Hollywood in 2019, is the premier beauty retailer for women of color, championing inclusive beauty by building a community that celebrates the vastness of multicultural beauty. The retailer features 200+ brands within beauty, bath-and-body, skin essentials and hair care, including wigs and extensions.
Annie Jackson began her career at Estee Lauder, was on the team that launched Sephora USA and Japan, served as Director of Global Product Marketing for Benefit Cosmetics, and led merchandising for color cosmetics at Sephora within JCPenney. Alongside Shashi Batra, she co-founded clean beauty retail pioneer Credo Beauty.

KristianEdwards

,

DrPH

, is a professor of public health and founder of

BLK

+

GRN

, a marketplace for wellness seekers who want to buy from Black artisans and live green—without compromise. She holds a Bachelor's degree from Yale University, a Master's degree from the Yale School of Public Health, and a Doctorate degree from Johns Hopkins School of Public Health.
Larissa Jensen joined The NPD Group following marketing roles at The Estée Lauder Companies, Inc. She contributes expertise to The NPD Group Blog and major media outlets including The New York Times, The Wall Street Journal, USA Today, Women's Wear Daily, Vogue, The Business of Fashion and Global Cosmetic Industry.
With 29+ years of experience at RPG, Ellen Friedman leads client strategy with a creative vision to create and enhance the customer experience and deliver sales results. Friedman oversees all aspects of the display and retail process from business development, project management, design, engineering, manufacturing, technology integration and quality assurance.