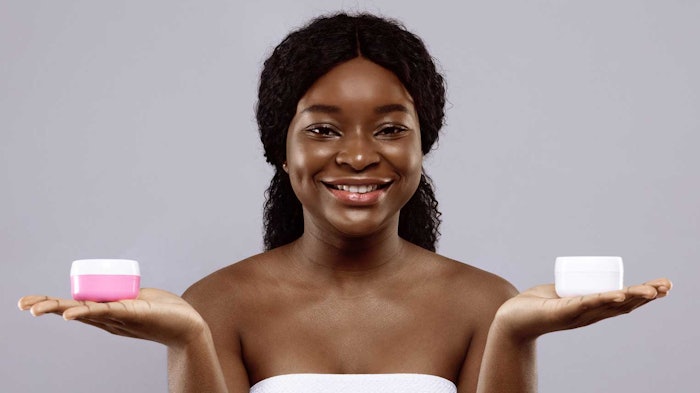 The countdown begins ... Coming soon, Cosmetics & Toiletries (C&T) will excitedly present the C&T Allē Awards during an exclusive Awards Dinner, to be held on Sept. 28., 2022, at the Metropolitan Pavilion in NYC.
Co-located with Beauty Accelerate, the dinner will give innovations ranging from cosmetic ingredients and product formulas, to digital technologies and test methods their time to shine.
>>> Register now for Beauty Accelerate to get the Early Bird rate.<<<
Who will win? The competition was tight, and this year's contenders were put through a grueling review by our esteemed panel of judges. Check out these finalists in the "active ingredients" category.
Rahn AG: Myramaze-Essence, Radicare-Eco and Defensil Pure (3 categories)
Myramaze-Essence: By activating the sensory receptors of the skin and nose, this sensocosmetic active ingredient can elicit a more positive mood in persons under stress by instantly lowering levels of stress hormones, generating exceptional radiance and reinstating the skin's natural glow.
Radicare-Eco: This powerful antioxidant is inspired by sophisticated protection mechanisms found in leaves and fruit husks of plants. It protects hair and scalp against deleterious urban airborne particulate matter and UV. Ex vivo studies revealed highly significant inhibition of keratin oxidation in all hair layers. Hair integrity was improved without weighing down as seen in conventional conditioner treatment. Furthermore, the ingredient improves the gloss of bleached and chlorine-stressed hair, and intensifies the color tone in hair dyes.
Defensil Pure: Dry, atopic skin suffers from physical damage and a weakened skin barrier, opening the door to undesired bacteria. This ingredient promotes the growth of beneficial bacteria on the skin surface and supplants undesirable microorganisms to moisturize particularly dry skin. It strengthens the skin barrier, improves the complexion, and counteracts atopic eczema. The ingredient is obtained by the fermentation of organic gold millet.
Lubrizol: Argireline Amplified peptide
This peptide is a multifunctional ingredient with an intense anti-aging power that visibly transforms tired, dull, aging skin into a more healthy, glowing and youthful complexion. In addition to improving the appearance of expression wrinkles, tests have shown its efficacy in delaying and reversing the effects of aging in all skin layers. In vivo tests showed skin looked five years younger after five days of treatment with 5% ingredient. The product is 99.5% of natural origin.
Vitalab Srl: Vita Up-Gravity
This regenerating ingredient of biotechnological origin regulates skin bio-mechanical forces stimulating the synthesis of key factors involved in skin tensile-strength, which are weakened during aging. By orchestrating shape and elongation forces, it promotes new matrix deposition and the synthesis of regenerative factors for resilient and ageless skin. Face and neck wrinkles are attenuated, and skin elasticity is improved. With its action on skin bio-mechanical forces, the ingredient trains the user's fibroblast to youth.
Shiny Brands Group Co., Ltd.: FRSAB
Developed in collaboration with HungKuang University, FRSAB is formulated using 5 essential oils with high anti-oxidant activities. Through IRB-approved in vivo fumigation test, FRSAB significantly decreased superoxide radicals and peroxide in subjects' blood by 32.1% and 43.5%, respectively, within 10 min. It also effectively increased skin firmness by 15% and improved skin texture after a 10-day application, earning FRSAB several patents and awards for its innovation and research.
>>> Register now for Beauty Accelerate to get the Early Bird rate.<<<
Givaudan Active Beauty: Patchoul'up
This eco-designed active is crafted from responsibly sourced upcycled Indonesian patchouli leaves. After distillation for fragrance extraction, leaves go through subcritical water extraction, giving a highly active fraction that holistically addresses dry scalp and removes dry flakes, contributing to consumers' health and well-being. Patchoul'up acts on four synergistic levels to deliver efficacy as it: rebalances sebum production; regulates stratum corneum desquamation; smoothly eliminates scalp flakes; and normalizes the scalp microbiome.
Croda Inc.: Nutrinvent Balance
This ingredient employs a novel encapsulation technology to ensure targeted delivery and controlled release of actives onto the scalp and hair. It provides instant sebum reduction on the scalp from the first application. The product meets sustainable credentials including vegan suitable and 98% natural content according to ISO 16128, and can help reduce water consumption during use.
IFF-Lucas Meyer Cosmetics: Dendriclear
This ingredient challenges existing mechanisms of action to rethink the battle against acne. Composed of a patented lysine dendrimer obtained via a green chemistry process, the product selectively weakens the acneic C. acnes strains to favor growth of non-acneic strains and gently rebalance the acnebiome (acne microbiome) of acne-prone skin. With this breakthrough microbiota-friendly mechanism of action, the ingredient helps recover a healthier microbiome and reduces the appearance of acne for clear and flawless skin.
Seppic: Hydrachrysum
This innovative and natural active is made of plant cell lysates from the everlasting flowers, produced with Seppic's Celtosome sustainable plant cells technology. The ingredient breaks the vicious "inflamm'dryness" cycle, providing innovative hydration. Thanks to its unique composition, it allows dry skin to return to homeostasis and improves barrier function. The product ensures intense and long term moisturization while increasing the numbers of lacunae—extracellular water tanks that are advanced markers of hydration.
Geltor: Elastapur
This world's-first bio-identical human elastin ingredient was sustainably developed through a 100% plant-based fermentation process using zero human or animal inputs. A key element of human skin, elastin, brings the gift of elasticity through its unique ability as a protein to stretch and recoil. Through this product, the world's only pure human elastin ingredient for topical skin care has been unlocked and is available for the first time in unmatched purity and biocompatibility.
Synergy Life Science: CannaSorb CB-Active
By optimizing the solubility of cannabidiol, the activity increases greatly. This active is a non-regulated, hemp/CBD extract that is completely water soluble. Upon genetic expression testing, just 5% of the ingredient in water proved to be more than 10× effective than CBD itself on pain, inflammation, circadian rhythm, wound healing, extracellular matrix, immune response and more.
DSM Personal Care: Quali Vitamin B12
This naturally derived biotech ingredient is produced with the highest standards and is totally reliable, fully traceable and sustainable. New studies demonstrate that its unique mechanism of action significantly reduces inflammasome and inflammatory cytokines that cause itching, redness and sensitive skin. Additionally, it inhibits mast cell degranulation, thereby helping to protect against inflammation-induced skin barrier damage as well as relieving sensitive and irritated skin, resulting in healthy-looking skin and a vibrant appearance.
>>> Register now for Beauty Accelerate to get the Early Bird rate.<<<
Solésence: Kleair
This novel zinc oxide technology was designed for use as an active ingredient in skin care and cosmetics. The product maximizes key physical qualities of zinc oxide to deliver better-performing, mineral-based, clean, non-nano UV and environmental protection that offers superior aesthetics on skin. This innovation makes critical best-in-class skin health products accessible to people of all skin tones, while introducing new textures and formats in the mineral space.
Evonik Corp.: Sphinox Defenda
Inspired by the diversity of ceramide structures, this ingredient is a unique derivative of naturally occurring phytosphingosine, offering various skin defense and protection benefits. As an innovative bioactive sphingolipid, the product protects the skin from UV-induced DNA damage while fighting environmental aggressions, accelerating skin regeneration and re-balancing the skin tone after summer stress.
EverCare: Assure+
The sun care market is experiencing a shift toward high SPF zinc oxide-based sunscreens. However, formulating to reach high SPF values with UVA claims requires new boosters. This ingredient is a natural booster for mineral SPF formulations to help achieve high SPF and UVA-PF protection without compromising on aesthetics. Extracted from the fast-growing Pongamia species using eco-friendly, green principles, the product is produced with high purity, allowing for minimal use to protect the integrity of formulas.
Premium Organic: Alpin Heilmoor Extract
Inspired by traditional uses, this ingredient is derived through environmentally friendly sourcing and extraction. The product has been shown to effectively act on multiple levels to impart oral epithelial barrier-strengthening properties. It protects against Porphyromonas gingivalis invasion and is a potent anti-inflammatory. At a clinical level, the ingredient also showed a whitening effect, and reduced dental plaque and gingival inflammation.