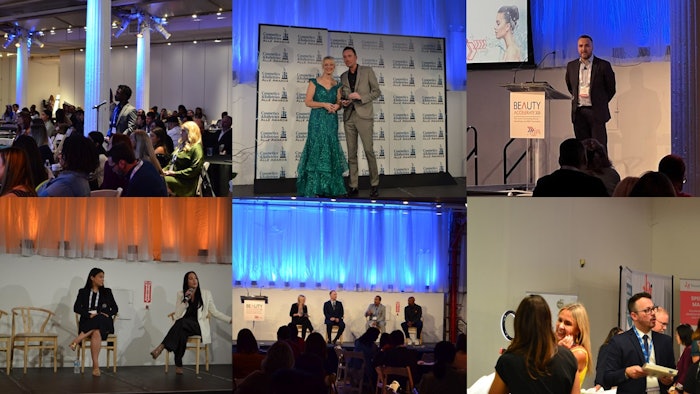 Well, it happened. After a three-year hiatus, Beauty Accelerate returned in-person in NYC September 28-29, 2022, at the Metropolitan Pavilion, featuring newsmaker brands, R&D innovators, market analysts and retail thought leaders offering actionable insights as we head toward 2023. 
This year's iteration proved once again that dynamic speakers and innovation partners across marketing, R&D and the supply chain can generate meaningful, actionable conversations about the state and future of beauty.
So ... Beauty Accelerate will be expanding its footprint, with a global virtual event in 2023 and an LA-based in-person iteration in 2024. 
In addition, our Cosmetics & Toiletries (C&T) Allē Awards will be returning in 2024, bringing behind-the-scenes ingenuity in cosmetic R&D into the spotlight, with entries ranging from ingredients and formulas to test methods and digital tech. The exclusive awards dinner will again be co-located with the next live Beauty Accelerate event.
"We're skipping a year to allow time for innovation," explained Rachel Grabenhofer, managing scientific editor of C&T. "For many companies, consumer demand has tightly compressed the R&D cycle but we recognize the process to research, test and optimize products before they hit the market takes time."
Eligible entries for the 2024 awards include those launched or implemented between June 1, 2022 and Dec. 1, 2023. The Allē Awards will also open up a new product categories for entries—stay tuned for this exciting update.
Recapping 2022
This year's event featured marquee names like GOOP, Allure Store, Euromonitor, Danessa Myricks Beauty, NPD Group, Glow Recipe, NielsenIQ, Olaplex, Estee Lauder, Spate, Beekman 1802, Fekkai, Bloomeffects, BeautyStat and many more.
The event also featured a boutique expo floor, highlighting the latest concept products to inspire attendees' innovation, as well as packaging, ingredients and services to accelerate their businesses. 
In addition, Beauty Accelerate 2022 played host to the first Cosmetics & Toiletries (C&T) Allē Awards. The premiere was a smashing success, setting the stage for the 2024 sequel.
Special thanks to all of this year's attendees, speakers, sponsors and attendees. We can't wait for what's next!