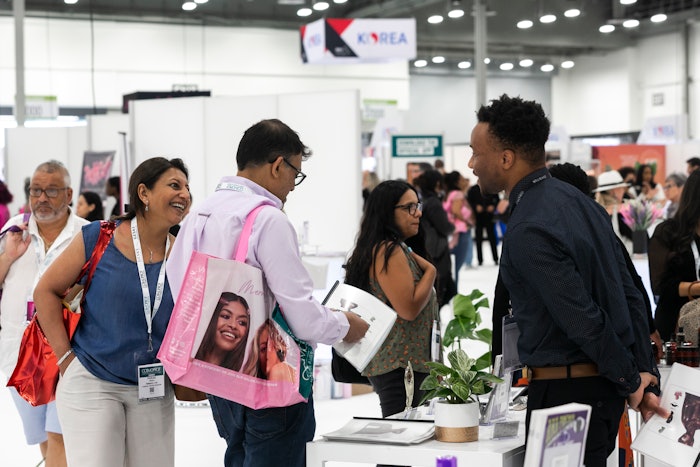 Cosmoprof North America will celebrate its 20th edition July 11-13, 2023 at the Las Vegas Convention Center in Las Vegas.
The show will return to a one-hall format (the West Hall in LVCC) to ease navigation between different product sectors.
Cosmoprof will feature finished products for retail in the following categories:
Hair care
Skin care
Makeup
Nails 
There will also be special areas including Discover Beauty, Discover Beauty Spotlights, Discover Black-Owned Beauty, Discover Green and The Beauty Vanities.
Highlights of Cosmoprof NA:
CosmoTalks features a series of seminars and panels on various topics in the beauty industry. 
(New) CosmoTalks panel "The Evolution of Influencer Marketing on Social:" Shares insights on successful marketing strategies across multiple platforms, helping brands build awareness and achieve next-level success.
The Cosmoprof North America 20th Anniversary Soiree: Hosted on the first day of the event, this will celebrate two decades of bringing the beauty industry together and will feature a presentation of the Cosmoprof North America & Cosmopack North America Awards winners. 
CosmoTrends: In partnership with Beautystreams, this will highlight the latest trends and cutting-edge innovations in the beauty market and will be supported through a CosmoTalks session and an onsite installation.
Cosmopack, being held in conjunction with Cosmoprof NA, features solutions for the entire beauty supply chain. 
Cosmopack will feature raw materials and ingredients, private label and contract manufacturing, primary and secondary packaging, machinery and other solutions.
Cosmoprof NA is also partnering with City of Hope, one of the country's top ten comprehensive cancer centers. The Beauty Industry Spirit of Life Celebration kick offs the week at Resort's World on July 10th.
Nina Daily, executive director of the professional beauty association, said, "The professional beauty space is growing and innovating like never before. And Cosmoprof North America allows leading brands the prime opportunity to pave the future for the beauty industry as a whole."
Ed McNeill, SVP of USA Beauty LLC, adds, "This year's edition boasts an unprecedented number of sponsored buyers, retailers, and distributors, both domestic and international, such as Bloomingdale's, Walmart, Nordstrom, Costco, Neiman Marcus, Macy's, The Detox Market, Belk, Thirteen Lune and Sally Beauty."
Enrico Zannini, general manager of BolognaFiere Cosmoprof, said, "We are proud of our exclusive programs, such as Country Pavilions, which are supported by foreign governments (such as Italy and South Korea), who recognize the importance of creating exposure for their brands in the U.."