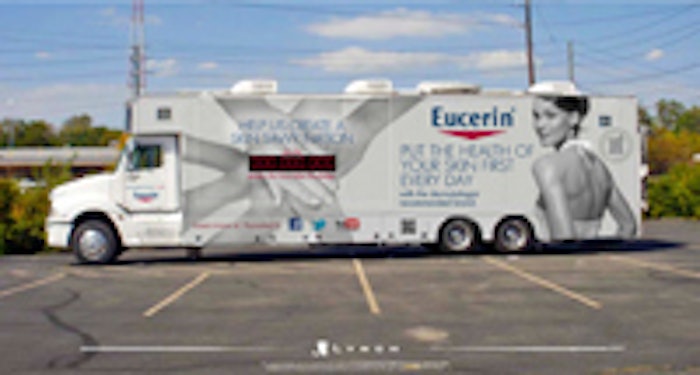 Wellness—it's become a beauty industry buzzword that everyone has heard more and more in the past few years, but what does it mean to consumers? Beiersdorf skin care brand Eucerin recently kicked off its year-long Skin First Movement tour to encourage consumers to consider skin care a vital part of overall health and wellness, and while it's true that brands have long worked to connect these concepts for consumers, this movement tour will talk directly to consumers about the implications of proper skin care in health and well-being, including tips, demonstrations and more. According to a press release for the event, the brand is utilizing a variety of Internet, social and mobile media platforms such as Facebook, Twitter and its website to help spread these ideas amongst consumers, noting, "The platforms will help women across America make their skin care a part of their daily health care routine, ultimately impacting their overall wellness."
To further connect the ideas of wellness and skin, Eucerin parterned with talk show Live! With Regis and Kelly for the Run Across America, featuring ultra-marathoner Dean Kamazes running from California to the show's New York studio in an effort to inspire people to get out and active for their health. And blogger and writer Sara Kate Gillingham-Ryan will travel the country in the Eucerin SkinFirst Express, a vehicle used to promote the brand's message mobiliy that will invite dermatologists onboard in certain cities to provide skin consultations to consumers.
All of this a savvy marketing effort to not just connect skin care and health, however, but specifically Eucerin skin care and health. While promoting the connection between good skin maintenance, healthy living and wellness, it also reinforces the brand's position to easily offer these benefits to consumers as part of their everyday lives with its products. And the more involved and integrated a brand can become in consumers' mind when it comes to their health and wellness, the more importance consumers will associate with that brand.