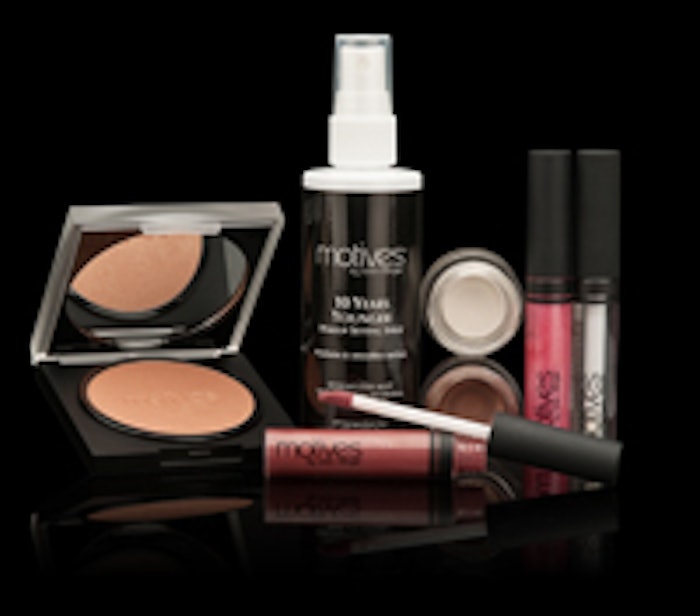 "I don't stop when I'm tired; I stop when I'm done." This was one of the quotes recently displayed on Loren Ridinger's Twitter feed (@lorenridinger), and let me tell you, that is a quote Ridinger lives by. Talk about ambition—in addition to being a successful Internet and fashion entrepreneur, as well as co-founder of Marketamerica.com, Ridinger is now on track to conquer the world of mineral cosmetics with her new Motives Mineral Cosmetics line, Ambition.
I was fortunate enough to sample the entire Motives Ambition mineral cosmetics line, and I just simply cannot get enough of any of the products in the collection. Geared specifically to successful, determined women trendsetters, Ambition by Motives is comprised of pressed powders, blushes, eye shadows and lipsticks in radiant colors with long-lasting skin benefits. "Beneficial, not just superficial," is how Ridinger describes them.
Made from micronized minerals, Motives' custom mineral powders contain pure pigments that feel light and natural on the skin. And, when combined, these products benefit the skin and leave a silky smooth, flawless finish that gives the complexion a naturally radiant, healthy glow.
I keep all the Motives products right beside me in my desk drawer at work to freshen up before an important meeting, or before a night on the town. The bright and stunning colors of the Motives Sparkle Pot eye shadows are my favorite. I also love the natural look of the Motives Mineral Pressed Blush.
"We all aspire to achieve greatness, and, by believing in ourselves, we can make our dreams become a reality. My hope is when all women wear these products, they will feel empowered," Ridinger has said. For me personally, mission accomplished!
Ambition, the newest Motives Mineral Cosmetics line and Motives custom mineral cosmetics, are available at www.motivescosmetics.com , as well as through certified Motives consultants, who also can be found online.