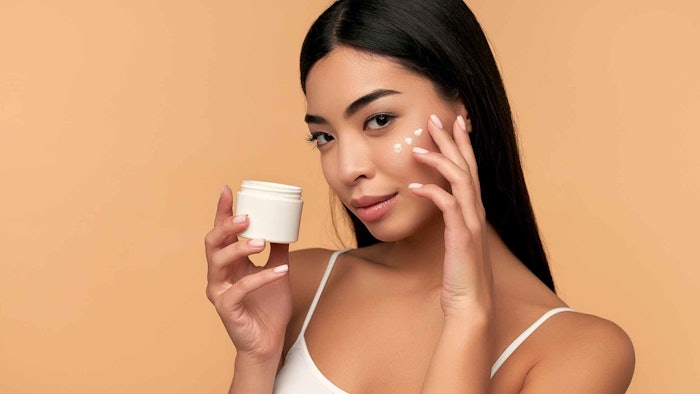 Hayashibara, part of the Nagase Group, applies its enzyme technologies to transform unstable and insoluble substances into personal care ingredients with greater stability and increased solubility. The resulting ingredients are more formulation friendly and can be used in a wide variety of products.
See archived: A Balancing Act; Stabilizing Vitamin C for Skin Benefits
Cosmetic-grade Pullulan
Pullulan is a naturally produced polysaccharide with good adhesive and foam-retention properties when dissolved in water. These properties can create a luxurious, smooth texture for skin care, hair care and cleansing products, leaving a natural silicone-like after feel on the skin, per the company.
With its film-forming ability, pullulan also creates easily dissoluble films and facial masks, making it an effective and stable carrier for active ingredients, colors and fragrances. Its instant lifting effect is applicable for anti-aging skin care effects.
The cosmetic-grade pullulan is readily soluble in water and it is stable over a broad pH range. It is a non-petroleum, sustainable plant-based polymer made by fermenting starch. The ingredient is halal, China compliant and Ecocert COSMOS approved.
See related: Tula Debuts Radian Skin Brightening Serum Concealer
Lissenare
Lissenare (INCI: Hydrolyzed Corn Starch (and) Water (aqua)) is a functional saccharide derived from starch — mainly the well-balanced isomaltooligosaccharide represented by panose and isomaltose. It prevents flaking in hair styling products by improving flexibility while also providing firm hold.
The ingredient additionally improves the tensile strength and suppleness of damaged hair. The product is gentle, sustainable and environmentally friendly, halal and China compliant.
AA2G Stabilized Vitamin C
AA2G (INCI: Ascorbyl Glucoside) is a stabilized vitamin C derivative synthesized from vitamin C and glucose using naturally existing enzymes extracted from microorganisms. The ingredient is hydrolyzed in the skin to form vitamin C and glucose gradually, providing the same biological activity in the body as vitamin C with a longer, more sustained effect.
As the company explains, vitamin C (ascorbic acid) has multiple functions in the human body but is relatively unstable and easily oxidized in aqueous solutions, which is followed by rapid degradation. In contrast, AA2G is a conjugate consisting of one molecule of glucose linked at the C-2 hydroxyl radical of vitamin C. It is non-reducible and stable to oxidative conditions.
When used in skin creams, the product delivers healthier and younger looking skin by activating properties of natural enzymes in the skin. In addition to its skin-brightening properties, the ingredient is applicable to moisturizers and sunscreens for everyday use. This includes cosmetics to prevent photo-aging and wrinkles.