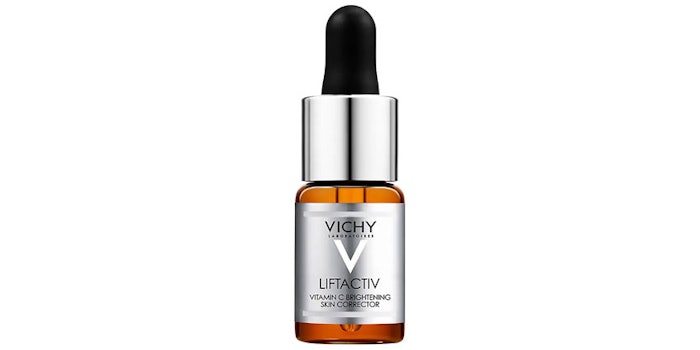 Vichy's Liftactiv Vitamin C Skin Brightening Corrector is a strong formula including 15% pure vitamin C, vitamin E, fragmented hyaluronic acid and Vichy-brand mineralizing thermal water. After 10 days of product application, skin's complexion is said to look brighter and more even. Skin also is reported to feel firmer, lifted, rested and hydrated.
Additional claims include:
For brighter and firmer skin;
Brightens, corrects and smooths skin in just 10 days;
Easy to use, non-sticky and penetrates quickly;
Hypoallergenic; tested on sensitive skin; and
Minimalistic formula; no perfume and no silicone.
Users are instructed to place four to five drops of the product in the palm of their clean hand. Then, to apply it once per day (morning or evening) using the fingertips on freshly cleaned and dried skin, avoiding the eye and lip area. Following use of the corrector, a minimum SPF 15 product should be used. For best results, application for 10 consecutive days is recommended.
Further, the product can reportedly be used whenever skin needs "a shot of brightness," although it is not recommended for use with any other abrasive skin peel or products containing acids as this may lead to skin irritation.
Consumers are cautioned their initial reaction to the product may be a slight tingling sensation as skin acclimates to the vitamin C. This is considered normal; however, if stinging or burning is experienced, to discontinue use.
This column will review the ingredient listing for claims substantiation and functionality.
Water Base
The formula is a water-based system containing the solvents alcohol and dipropylene glycol, which also acts as a masking ingredient.
Actives and Benefit Ingredients
The active ingredients are vitamin C and glycerol, a humectant and hygroscopic, respectively; plus hydrating hyaluronic acid. Vitamin C is one of the most powerful antioxidants. It has been shown to protect against photoaging-induced oxidative damage and has anti-aging benefits including increasing collagen synthesis, stabilizing collagen fibers and decreasing collagen degradation. It also decreases melanin formation and reduces pigmentation.
Additional Ingredients
Maritime pine bark/bud extract has antimicrobial and antioxidant properties. Laureth-23 is a surfactant, and sodium hydroxide serves as a buffer. Finally, tocopherol is an antioxidant and neohesperidin dihydrochalcone is a fragrance ingredient.
Conclusions
In my view, the ingredients in the formula support the claim for brightening and evening skin pigmentation; however, with a high concentration of vitamin C (ascorbic acid), it does pose a risk for skin sensitization.
Ingredients: Water (aqua), Ascorbic Acid, Alcohol Denat., Dipropylene Glycol, Glycerin, Laureth-23, Neohesperidin Dihydrochalcone, Sodium Hydroxide, Tocopherol, Hydrolyzed Hyaluronic Acid, Pinus Pinaster Bark/Bud Extract Code. F.I.L: B199063/1.
Source: https://www.vichyusa.com/skin-care/skin-care-product-type/face-serum/liftactiv-vitamin-c-serum-3337875560931.html