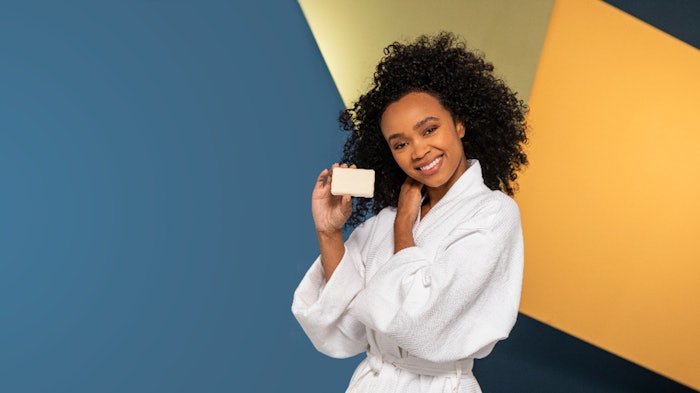 Image source: Stephenson
Stephenson has developed a melt and pour syndet base, Syndopour 200-MB (INCI: Not Provided), which will be showcased at in-cosmetics Global 2022.
Related: 10 Solid Format Products Launched in 2021
Sustainable Palm Oil (RSPO)-certified, Syndopour 200-MB is mild, 100% soap-free and dermatologically tested. It gives formulators and manufacturers the ability to create a variety of mild, pH-balanced hair, body and facial bars, tailored to sensitive skin and scalps. Other applications include moisturizing shave bars and solid beauty bars.
As a melt and pour syndet base, Syndopour 200-MB reportedly exhibits good lather and high foaming properties, providing a starting point for a range of pH-neutral bars that are easy on the skin. It is a product specifically designed to help consumers conserve water, reduce carbon footprint and reduce the use of plastics, as it can be packaged in card cartons or wrapped in recyclable paper.
Syndopour 200-MB's formulation can be customized and tailored by using additives and fragrances. The melt and pour base allows accessibility to produce hot pour syndet bars without large-scale manufacturing equipment. The formulation's ingredient list includes sodium cocoyl isethionate, propylene glycol, glyceryl stearate, water and glycerin.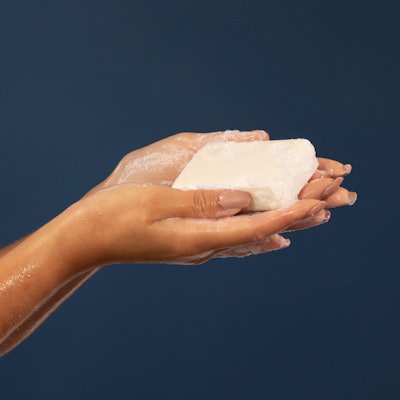 "This first-of-its-kind melt and pour syndet base joins our melt and pour range," said Michaela Daubney, product manager at Stephenson. "Syndopour 200-MB complements our solid conditioner base and was created on the back of our extruded shampoo base two years ago. Sustainability is a key business driver for Stephenson as consumers continue to look at ways to limit their plastic packaging use and conserve water. With the ever-increasing demands of eco-conscious customers coupled with dynamic behavioral trends in the personal care market, the arrival of the revolutionary melt and pour syndet base directly responds to these trends."
Daubney continued: "Brands and manufacturers have an opportunity to drive the eco-trend with innovative concepts for low packaging, solid and waterless formats, and refillable products. Operators ranging from individual crafters to major global brands in the personal care sector can now enhance their ranges through the considerable environmental benefits of Syndopour 200-MB combined with value, versatility and premium quality."