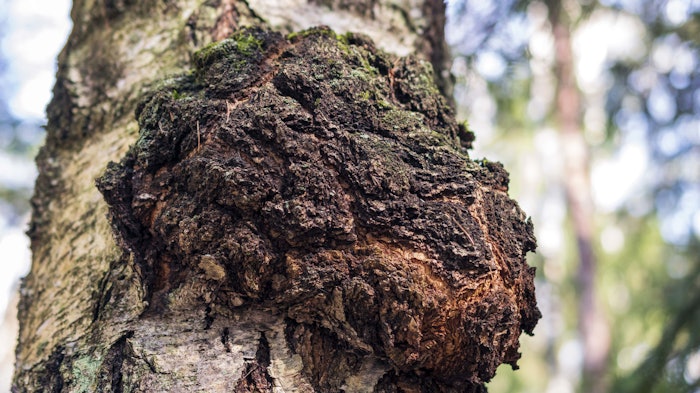 Integrity Ingredients Corporation (IIC), a supplier of sustainable, clean beauty ingredients, has added Chaga Mushroom Liquid Extract (INCI: Glycerin (and) Water (Aqua) (and) Inonotus Obliquus (Mushroom) Extract) and Chaga Mushroom Liquid Extract BW (with birch water—seasonal) (INCI: Glycerin (and) Betula Alba Juice (and) Inonotus Obliquus (Mushroom) Extract to its Arctic Botanical portfolio, touting the mushroom's antioxidant and anti-aging benefits.
See archived: Trending Ingredient; Mushroom and Fungi Finds
Chaga mushroom is wildcrafted from the pristine region of the Lower North Shore within the Boreal Forest in Quebec, Canada. The mushroom boasts an oxygen radical absorbent capacity (ORAC) score of 146,700 for antioxidant strength—the highest ORAC score ever recorded in any natural food, according to the company.
Due to the harsh subarctic climate in which it grows, chaga mushrooms have developed strong adaptogenic properties for survival that translate into anti-aging benefits, the company reports.
Chaga mushrooms are also brimming with essential minerals, including zinc, copper, magnesium, selenium and potassium, along with vitamins B, C and E that IIC says provide a multitude of skin care benefits.
For instance, zinc's anti-inflammatory properties are said to soothe sensitive, dry skin and enhance collagen synthesis to regenerate cells and connective tissues. It has antiseptic and astringent properties to help reduce acne, balance oil production and reduce the appearance of enlarged pores. Zinc also balances skin tone and helps to moderate hyperpigmentation.
The copper in chaga mushroom helps to promote collagen production, while magnesium reportedly helps to maintain skin moisture and elasticity, as well as reinforce the skin barrier. Selenium protects the cells from damaging oxidative stress. Finally, potassium maintains electrolyte balance, keeping the skin internally moisturized, the company reports.
Chaga mushrooms are also rich in polyphenols and flavonoids that protect the skin, help to reverse signs of aging and neutralize damaging free radicals.
IIC's Chaga Mushroom Extracts are available as botanical extract in a glycerin base and as an extract combined with natural birch water. The company suggests applications including skin care, body care, eye and lip products, and color cosmetics.