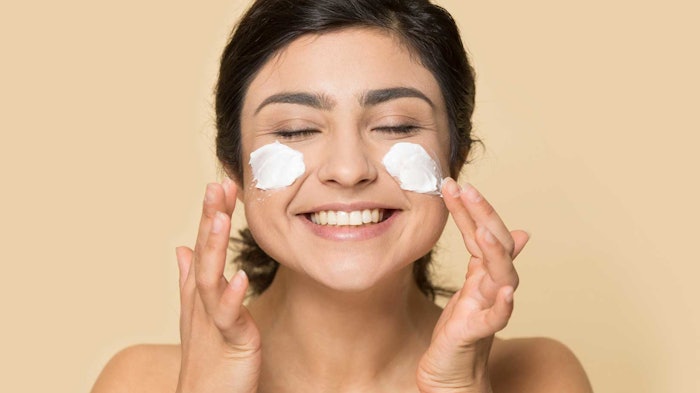 Between the pandemic, war, political divide and climate change, stress has taken over daily life, which is not good for the mind, body or skin. As Gattefossé explains, citing Byrdie,1 hormones rise and trigger oil glands to produce more oil, which can trigger acne flares.
See archived: Evoking Emotion; Stress Less with Skin Care
To provide "cocooning" and rejuvenating moments, Gattefossé developed a beauty routine comprising six formulas: a mask, cream, anti-spot spray, targeted treatment for breakouts, serum and night cream. Described as a light and fresh skin care collection, the products are said to guarantee an instant healthy glow and give the user a boost from morning to night.
Lemon Curd Mask
The vibrant yellow, lemon curd-textured fruit acid face mask is reportedly stable at a low pH. It features Gattefossé's Emulium Dolcea MB (INCI: Cetearyl Alcohol (and) Glyceryl Stearate (and) Jojoba Esters (and) Helianthus Annuus (Sunflower) Seed Wax (and) Sodium Stearoyl Glutamate (and) Water (Aqua) (and) Polyglycerin-3) ingredient to create a gourmand and thick texture.
Glypure 70 (INCI: Glycolic Acid 70%) and Lemon Secrets (INCI: Citrus Limon (Lemon) Fruit Extract) are said to give a renewed and luminous complexion. Users simply apply it to dry skin, leave it on for 10 min, then rinse.
Zero Shine Cream
This soft, formidable cream is designed to reduce shine, mattifying skin without drying it out. The creamy texture penetrates quickly and leaves a comfortable and matte film. Cytobiol Iris A² (INCI: Propanediol (and) Water (Aqua) (and) Alcohol (and) Iris Florentina Root Extract (and) Zinc Sulfate (and) Retinyl Palmitate) helps to fight shine and reduce imperfections, while Plurol Stearique MB (INCI: Polyglyceryl-6 Distearate) provides a dry, powdery after-feel.
Anti-Spot Body Spray
Body areas such as the décolleté, back and shoulders also can present with imperfections. This ultra-fluid bi-gel formula was created using Emulfree CBG MB (INCI: Isostearyl Alcohol (and) Butylene Glycol Cocoate (and) Ethylcellulose), and was specifically designed to purify these areas without leaving a sticky or greasy film to make it easier to get dressed after applying.
Targeted Treatment
This natural transparent gel is said to make pimples a thing of the past. Cytobiol Iris A² and Original Extract Lemon Bio (INCI: Citrus Limon (Lemon) Fruit Water) help to purify the skin and minimize breakouts. The formula texture also is adapted for a pump or roll-on applicator for targeted application.
Visibly Clean Serum
The fluid texture of this serum is said to make it ideal for fighting imperfections. It reportedly spreads easily, penetrates quickly and leaves a soft, thin, protective film, as acne-prone skin also needs protection. Emulium Dolcea MB, which has demonstrated moisturizing properties, along with high quantities of propanediol guarantee hydration,  Gattefossé reports. In addition, the skin is purified and made clearer thanks to Cytobiol Iris A² and Original Extract Lemon Bio.
Perfect Night Skin Cream
Lastly, this multifunctional night cream is said to allow the user to wake up every morning with "perfect skin." Formulated with Emulium Mellifera MB (INCI: Polyglyceryl-6 Distearate (and) Jojoba Esters (and) Polyglyceryl-3 Beeswax (and) Cetyl Alcohol), this formula is designed to penetrate quickly and leave a fine, comforting protective film on the skin. Cytobiol Iris A² and Gatuline Renew (INCI: Butylene Glycol (and) Water (Aqua) (and) Cryptomeria Japonica Bud Extract.) form an active combo to leaves the skin clear, matte, smoothed and hydrated.
References
1. https://www.byrdie.com/what-is-stress-acne-4775239#citation-2