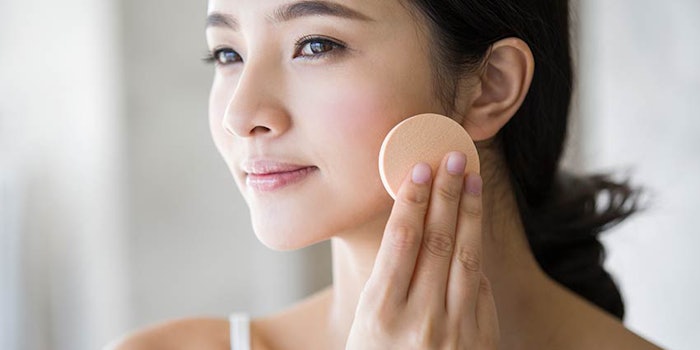 in-cosmetics Global proved that textures, sensory materials and experiential concepts are driving new innovations.
1. A New Player in Beauty
The Beauté by Roquette range of products shown at in-cosmetics included solutions for improving the sensorial benefits of products, offering starches that provide softness as a safe alternative to mineral powders. In addition, the company presented a new plant-based thickener system that reportedly provides a creamy texture with a velvety skin feel for skin care and color cosmetics.
2. Joyful Hybrid Textures
IFF Lucas Meyer Cosmetics presented SOS Intense Repair, which comprises 20% gylcerine without a greasy feel. The so-called "cocooning cold cream" comprises a hybrid texture with elements of a gel and a balm, offering protection, soothing and nourishing. The formulation comprises Lecigel, Pro-Lipo Neo, SCB Macadamia Oil, Suprem' and Biophilic H, the latter of which recently released new data.
According to a recent company study comprising 250 women from China, the United States and France, those who tried Biophilic H associated it with joy and other positive associations.
3. Transformational Product Formats
Lipotec/Lubrizol presented a range of demo products that highlighted shifting sensory elements. For instance, the Acai Berry Smoothie Facial Lotion was designed to be stored in the freezer. While the formulation won't freeze, it does offer an energizing cooling sensation that soon morphs into a warm and soft moisturizing lotion. The product contained Actiphyte acai berry for the prevention of skin dryness and premature aging, Actiphyte pomegranate to protect the collagen structure and Antarcticine marine ingredient to promote skin regeneration and protection in cold temperatures.
A Facial Gel-to-Oil Mask, meanwhile, initially featured a rich gel texture, which quickly transforms upon application to a nourishing oily film. The formulation offered skin defense and anti-wrinkle activity, according to the company.
4. Natural/Organic Sensory Innovation
Ingredion highlighted its Nativacare natural polymers that offer benefits in products such as spreadability and flowability for a smooth, rich and luxurious texture in applications such as body powder, loose and compact makeup, color cosmetics, dry shampoo, creams and lotions, gels and balms, liquid talc, and sun care products.
The range comprises three certified organic products and two Ecocert-approved ingredients. In applications, they can boost and stabilize viscosity throughout a product's shelf life and improve skin feel after use.
5. Fragrant Sensorial Experiences
During a private party at the Hermitage Amsterdam during in-cosmetics Global, Givaudan Active Beauty presented Sensoria, a new sensory concept that merges ethical sourcing, cosmetics and fragrance in a single product.
The formulation comprises 10-15% fragrance, in addition to active ingredients, including Vetivyne, which is derived from vetiver grown in Haiti by a local cooperative. After the vetiver roots are processed to derive aromatic oil for use in brands such as Diptyque and Love Beauty and Planet, the "exhausted" plant material is reprocessed, or upcycled, using a water-based process to derive Vetivyne.
The multifunctional patent-pending ingredient reportedly restores the whole skin lipids synthesis and increases hydration, decreases skin fatigue, reduces perilabial wrinkles and boosts fragrance long-lastingness.
The Sensoria formulation also comprises Neurophroline, an Ayurvedic extract with stress blocking and anti-pollution activity; BisaboLife, soothing and sustainable bisabolol; and BlurHD, a gardenia extract with anti-aging and antioxidant properties.
The formulation is housed in black and gold droplet packaging and is intended to rejuvenate the skin, while also imparting a fine fragrance aroma. The multifunctional concept marks the intersection of technology, sustaina­bility and multifaceted beauty products that offer several benefits simultaneously.