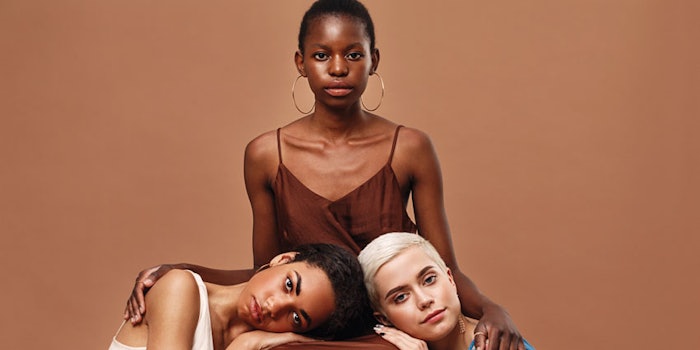 2020 beauty consumers are complex. They demand efficacious products that enhance their overall personal well-being, protect the environment and—thanks to social media—contain on-trend ingredients while omitting those dubbed "unsafe." It's enough to make a brand leader's head spin.
Beauty and personal care ingredients catering to these unyielding consumer demands were on full display during the 2019 California Society of Cosmetic Chemists (CASCC) Suppliers' Day and in-cosmetics North America shows.
1. Bio-hacking Skin Care and Body Care
Skin care ingredients are going beyond the surface in order to work with genes and DNA to combat signs of age, lackluster complexions and skin dehydration.
One such ingredient is Lubrizol's Dawnenergy (INCI: not provided), a nona- or oligo-peptide developed to awaken the cells of the skin by activating their "alarm clock." The ingredient has reportedly been shown to increase the JARID1a protein and clock genes, visibly improving the skin's complexion via revitalizing and anti-aging activities.
Keeping with the trend, Chemyunion's Agen (INCI: canola oil (and) Malus domestica fruit extract (and) Zingiber officinale (ginger) extract) works through the regulation of miRNAs to reduce and slow down signs of skin aging, including wrinkle appearance, improved skin resistance and fostering a more uniform skin tone.
IBR-Hairdorm (INCI: Narcissus tazetta bulb extract) was created by IFF Lucas Meyer Cosmetics to slow down hair growth, consequently keeping the user's body hair-free for a longer period of time. IBR-Hairdorm works by allegedly inhibiting hair cell proliferation and restraining hair shaft elongation. According to the company, the ingredient promotes entry into the catagen stage, the regression phase of the growth cycle of body and scalp hair.
Lipotrue's Marsturizer (INCI: Bacillus ferment), is a bacterial ferment obtained from an acidophile microorganism that lives in the Spanish river Rio Tinto, often referred to as "Mars on Earth" because of its similar extreme conditions, the company explained. In formulations, Marsturizer reportedly regenerates the skin by addressing redness and increasing firmness and elasticity.
The ingredient, meant for face and body applications, increases moisturization and decreases transepidermal water loss (TEWL) by reinforcing and strengthening the skin barrier through the up regulation of lipids and the cornified envelope related to genes. It reportedly protects keratinocytes from dehydration and up regulates the gene expression of calcium channels.
2. Demystifying the Microbiome
Ingredients meant to support, protect and rebalance the skin's microbiota are becoming increasingly sought after among brands and consumers.
SymReboot L19 (maltodextrin (and) Lactobacillus ferment), from Symrise, is a processed, easy-to-handle bacterium with an intact membrane and beneficial compounds. When applied to the surface of skin cells, the material initiates cross-talks specific to live probiotics. The technology reportedly soothes the skin and "boosts its instinctive defense" by regulating of microbiota pathways and strengthening the barrier function.
IBR-Dragon (plant INCI name: Hylocereus undatus fruit extract), from IFF Lucas Meyer Cosmetics, was created to support rebalance in skin microbiota in order to promote a radiant, healthy-looking appearance. In addition, the ingredient ostensibly boosts natural skin protection against the aggressions of daily life.
GoBiotics' Biolin/P (INCI: inulin (and) alpha-glucan oligosaccharide), preBiulin product line and preBiulin AGA (INCI: inulin), distributed by Ultra Chemical, are natural prebiotics focused on rebalancing the skin's microbiota. The vegan, COSMOS-certified prebiotics are based on inulin extracted from chicory root and work by selectively supporting protective organisms to help restore the microbiota layer and prevent certain skin conditions.
Each product within the preBiulin product line offers different benefits to both skin and hair and, with certain products, formulation enhancements. Various features include skin hydration, microbiota support, skin and hair conditioning, thickening and opacifying.
preBiulin AGA is a natural prebiotic created to help rebalance the skin's microbiota and offer skin hydration that reportedly outperforms hyaluronic acid. Additionally, it is said to counteract "the damage that can happen to skin as a result of preservatives."
3. Innovation from Canada
The Canadian wilderness is proving to be rife with cosmetic ingredient innovation, ideal for brands seeking out natural ingredients with an interesting backstory. 
For the full article, check out Global Cosmetic Industry's January digital magazine.